« OAS Examines Climate Change Mitigation and Adaptation in the Caribbean | Home | Cans and Bottles for Electricity »
By Keith R | January 21, 2007
Topics: Health Issues, Occupational Safety & Health, Tobacco Control | 2 Comments »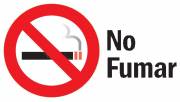 An Unusual Survey/Una Encuesta Distinta

In December the Public Health Ministry (Ministerio de Salud Pública – MSP) of Uruguay released the results of a survey regarding public attitudes about tobacco issues and the 2005 decree on smoking in enclosed public places such as bars, restaurants, schools, discotheques, shopping malls, casinos, etc. (only in effect since March 2006). The survey, sponsored in part by the Pan American Health Organization (PAHO), shows substantial public understanding in Uruguay of the health risks associated with smoking and acceptance of the decree and its enforcement, despite lingering doubts about its effectiveness in getting smokers to quit or cut down on smoking.
The public smoking decree was part of a package of measures taken in 2005 in the name of implementing Uruguay' commitments under the WHO Framework Convention on Tobacco Control Convention (FCTC). In May 2006 the President sent a draft law to parliament to codify the measures (laws are far more difficult to amend or repeal than are decrees).
The survey is unusual for several reasons. First, most PAHO-sponsored tobacco-related studies have tended to be historical — they study past trends, not current opinion. I hope this is not the last such study of existing and/or proposed LAC tobacco control measures — public health policies that have a better grasp of the public's understanding of the issues and acceptance/rejection of policy responses is always desirable.
Second, this is the first LAC poll I know of (if there are others I can be shown, I would be happy to be corrected) to look at implementation/enforcement of a specific national tobacco control measure — and more importantly, to be publicized by the government. This may be because the results favored the government's regulations, but be that as it may, I applaud the transparency and would urge other LAC governments to do likewise if they undertake such attitudinal studies, whether the results favor the government or not.
Third, frankly, the survey results themselves were eye-opening. Many LAC governments have justified reluctance or slowness to take tough action against tobacco products on the lack of public support for such measures. Is this because President Tabaré Vázquez, an oncologist, has made the case for tough tobacco controls more effectively than other LAC leaders? Or could it be that other LAC governments have under-estimated public acceptance of such measures? Probably only more surveys of this nature elsewhere in the region will answer that.
En diciembre el Ministerio de Salud Pública (MSP) de Uruguay lanzó los resultados de una encuesta con respecto a actitudes públicas sobre el tema de tabaquismo y el decreto de 2005 sobre fumar en lugares públicos como bares, restaurantes, escuelas, discotecas, shoppings, casinos, etc. (solamente en efecto desde el marzo de 2006). La encuesta, patrocinada en parte por la Organización Panamericana de la Salud (OPS), demonstra consciencia substancial del público uruguayo de los riesgos asociados con fumar y aceptación del decreto y de su aplicación, a pesar de dudas persistentes sobre su eficacia en conseguir a fumadores parar o reducir en fumar.
El decreto sobre fumar en público era parte de un paquete de medidas tomadas en 2005 en nombre de poner en ejecución las compromisos de Uruguay bajo el Convenio Marco de la OMS sobre el Control del Tabaco (FCTC). En mayo de 2006 el Presidente envió al parlamento un proyecto de ley para codificar las medidas (los leyes son más difíciles lejano de enmendar o abrogación que los decretos).
La encuesta es rara por varias razones. Primero, los estudios relacionados con el tabaco patrocinados por OPS han tendido para ser históricos — estudian más allá de las tendencias, no de la opinión actual. Espero que éste no sea el último tal estudio de las medidas de control existentes y/o propuestas del tabaco de ALC — las políticas de salud pública que entienden mejor la comprensión del público de las asuntos y su acuerdo/desacuerdo con las politicas son siempre deseables.
En segundo lugar, ésta es la primera encuesta de ALC conozco (si hay otros que algien puede compartir conmigo, yo se placería ser corregido) que examina la implementacion de / cumplimiento con una medida nacional específica de control del tabaco — y más importantemente, que fue publicado por su gobierno. Esto puede ser porque los resultados favorecieron las medidas del gobierno, pero sea que como puede, aplaudo la transparencia e impulsaría otros gobiernos de ALC para hacer lo mismo si emprenden tales estudios attitudinal, si los resultados favorecen el gobierno o no.
Tercero, francamente, los resultados mismos de la encuesta me sorprendieron. Muchos gobiernos de ALC han justificado desgana o lentitud para tomar la acción dura contra productos del tabaco en la carencia del apoyo público para tales medidas. ¿Son esto resultados posibles porque el presidente Tabaré Vázquez, un oncologo, ha hecho el caso para los controles duros del tabaco con más eficacia que otros líderes de ALC? ¿O podría ser que otros gobiernos de ALC han subestimado la aceptación pública de tales medidas? Probablemente solamente más exámenes de esta naturaleza en otras naciones de ALC contestarán esta pregunta.
The Survey Results/Los Resultados

The survey involved 695 people picked randomly from throughout the country, aged 18 or older. The stated margin of error is ±3.7%.
La encuesta fue realizada con una muestra elegida aleatoriamente, compuesta por 695 personas distribuidas en todo el país, mayores de 18 años de edad. El margen de error es 3,7%.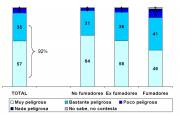 Understanding of the Risks/Conocimiento de los riesgos. This first graphic (click to enlarge) examines how convinced the Uruguayan public is about the health risks of tobacco. Uruguayans were asked: "In the last few months in Uruguay there has been a debate about the effects of tobacco smoke on people's health, both on smokers as non-smokers. What do you think? Do you believe that for people who do NOT smoke that exposure to smoke from tobacco is very hazardous, hazardous, a little hazardous or not hazardous?" A strong majority (92%) agreed that tobacco smoke is either hazardous or very hazardous, although the split between the two degrees was more even (46% very hazardous, 41% simply hazardous) among smokers than it was among non-smokers or ex-smokers.
Esta primera gráfica (haga un clic para ver una versión mas grande) examina la convicción del publico uruguayo en cuanto a los riesgos de tabaco. Los uruguayos fueron preguntados: "En los últimos meses en Uruguay ha habido polémica respecto a los efectos del humo de tabaco para la salud de las personas, tanto para las que fuman como para las que no fuman. ¿Ud. que opina? ¿Cree que para las personas que NO fuman la exposición al humo de tabaco ajeno es muy peligrosa, peligrosa, poco peligrosa o nada peligrosa?" Una mayoría plena (92%) acordaron que el humo de tabaco es peligroso o muy peligroso, aunque la división entre los dos campos fue mas igual (46% contestaron "muy peligrosa" y 41% "peligrosa") entre los fumadores que entre los no-fumadores o ex-fumadores.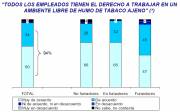 Smoking in the Workplace/Fumar en el ambiente laboral. The question represented in this graphic (click to enlarge) touched upon the right to a smoke-free workplace. Respondents were asked "I am going to read a couple of phrases and you tell me whether you agree or disagree with them: 'All employees have the right to work in an environment free of tobacco smoke.'" Overall, 94% either strongly agreed or agreed — even among smokers it was 92%, although it was more evenly split between strongly agree and simply agree than it was among non-smokers and ex-smokers.
La pregunta representada en esta gráfica (haga un clic para ver una versión mas grande) trata el derecho de los empleados a un ambiente laboral libre de humo de tabaco. Los consultados fueron preguntados ""Le voy a leer un par de frases y le pediría que dijera si está de acuerdo o en desacuerdo con las mismas: 'Todos los empleados tienen el derecho a trabajar en un ambiente libre de humo de tabaco ajeno." En conjunto, 94% fueron de acuerdo o muy de acuerdo — aun entre los fumadores fue 92%, aunque la división fue mas igual entre los de acuerdo y los muy de acuerdo que fue entre loa no-fumadores y los ex-fumadores.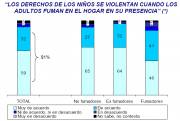 Smoking with Children Present/Fumar en la presencia de niños. In the question whose results are presented in this graph (click to enlarge), respondents were asked "I am going to read a couple of phrases and you tell me whether you agree or disagree with them: 'The rights of children are violated when adults smoke at home in their presence." The vast majority (91%) of all respondents agreed, the difference being the strength of their agreement. 65% and 64% of non-smokers and ex-smokers strongly agreed, but only 46% of smokers strongly agreed.
En la pregunta con los resultados presentados en esta gráfica (haga un clic para ver una versión mas grande), preguntaron a los respondedores: "Le voy a leer un par de frases y le pediría que dijera si está de acuerdo o en desacuerdo con las mismas: 'Los derechos de los niños se violentan cuando los adultos fuman en el hogar en su presencia.'" La mayoría plena (91%) de los consultados concordaron, pero había una diferencia en la fuerza de su concordancia. 65% y 64% de los no-fumadores y los ex-fumadores contestaron "muy de acuerdo," pero solamente 46% de los fumadores respondieron así.
Knowledge of the Decree/Conocimiento del Decreto. The survey found that 98% of the respondents were aware of the decree. This is unusually high for any public health measure in any LAC nation. While the fact that it has meant a major shift in daily habits could account for much of this, it also probably reflects a concerted effort by the Vázquez Administration to publicize the measure and its implementation.
98% de los consultados en la encuesta respondieron que conocen el decreto. Este resultado es raro para una medida de salud publica en una nación de ALC. Mientras tanto mucho del resultado se puede atribuir al hecho que el decreto ha hecho un cambio significativo en los hábitos diarios del publico, también probablemente refleja una esfuerza fuerte del gobierno de Vázquez concienciar el publico a la medida y su implementación.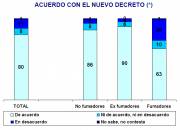 Acceptance of the Decree/Acuerdo y desacuerdo con el decreto. This graph (click to enlarge) addresses acceptance of the new decree. Respondents were asked "independent of compliance with the decree, do you agree or disagree with it?" In all cases a strong majority agreed with it — 86% of nonsmokers, 90% of ex-smokers (interesting that they were the strongest supporters!) and 63% of smokers — and an overall average of 80%.
Esta gráfica (haga un clic para ver una version mas grande) trata el acuerdo del publico con el nuevo decreto. La pregunta fue "independientemente del cumplimiento del decreto, ¿Ud. está de acuerdo o en desacuerdo con el mismo?" En todos los casos una plena mayoría fueron de acuerdo — 86% de los no-fumadores, 90% de ex-fumadores (¡que interesante que los ex-fumadores lo respaldan tan fuertemente!) y 63% de los fumadores — para un promedio de todos los respondedores de 80%.
Compliance/Complimiento. The bar graph at right (click to enlarge) addresses perceptions about current compliance with the decree. People were asked "and by what you know or have observed, do you believe the decree is complied with?" The answers were pretty consistent, whether the person surveyed was a non-smoker, ex-smoker or smoker: a majority (58%) of all respondents said that compliance is full while another 30% said it is being complied with only a few exceptions.
La gráfica al lado derecho (haga un clic para ver una versión mas grande) examina percepciones sobre el cumplimento del decreto. La pregunta fue "y por lo que Ud. sabe o ha podido observar, ¿cree que el decreto se cumple?" Las respuestas fueron bastante consistente, no importa si eran no-fumador, ex-fumador o fumador: la mayoría (58%) de todos los respondedores dijo que la conformidad es plena mientras que otro 30% dijeron que se está conformando con solamente algunas excepciones.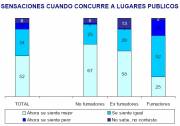 Impact of the Decree/El impacto del decreto. The question reflected in this bar graph (click to enlarge) was: "Independently of whether there is more, the same or less [smoking in public places], when you meet in those public places that now do not permit smoking, would you say that you feel better, the same or worse than when smoking was permitted there?" Most non-smokers (67%) and ex-smokers (58%) answered that they felt better, while a majority of smokers claimed that they felt no different.
Esta gráfica (haga un clic para ver una versión mas grande) representa las respuestas a la siguiente pregunta: "E independientemente de si sale más, igual, o menos; cuando concurre a estos lugares públicos donde ahora no puede fumar, ¿diría que se siente mejor, igual o peor que cuando se permitía fumar?" La mayoría de los no-fumadores (67%) y los ex-fumadores (58%) contestaron que sentían mejor, mientras la mayoría de fumadores insistieron que no sentían una diferencia.
Another question addressed the claim made by some bar and restaurant owners when the decree was announced that people would go out less because of the new restrictions and their business would suffer as a result. In the survey, people were told: "In interviews such as this one we have encountered different reactions to the decree. In your personal case, would you say that since the prohibition on smoking in public places came into effect, are you going out more than before (to bars, restaurants, discotheques), the same as before, or less than before?" A sound majority (70%) responded that it had not led them to go out less, 10% actually claimed that they now go out more, and 14% said that they go out less (the latter percentage was 22% among smokers).
Otra pregunta trató la pretension hecha por algunos dueños de bares y de restaurantes cuando el decreto fue anunciado, de que la gente saldría menos debido a las nuevas restricciones y su negocio sufriría consecuentemente. En la encuesta, los consultados fueron dicho: "En entrevistas como esta now hemos encontrado con que las personas han reaccionado distinto respecto al decreto. En su caso personal, ¿diria que a partir de la entrada en vigencia de la prohibicion de fumar en lugares publicos sale mas que antes (a restaurantes, bares y discotecas), igual que antes o menos que antes?" Una mayoría plena (70%) contesto que no resultaba en ellos salir menos, 10% afirmaron que ahora salen mas, y 14% dijeron que salen menos (este porcentaje fue 22% entre los fumadores).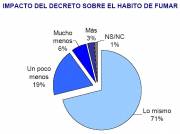 This question reflected in the pie graph at right (click to enlarge) was asked only of smokers: "Since the decree entered into effect, would you say that you continuing smoking as much as before, a little less than before, much less than before, or more than before?" Most answered (71%) "the same," while 19% answered "a little less."

Esta gráfica representa las respuestas a una pregunta dirigida a los fumadores (haga un clic para ver una versión mas grande): "Desde la entrada en vigencia del decreto, Ud. diría que ¿siguió fumando lo mismo que antes, fumó un poco menos que antes, fumó mucho menos que antes, o fumó más que antes?"
— Keith R
Tags: bars, casinos, compliance, decree, decreto, discotecas, discotheques, encuesta, escuelas, ex-fumadores, ex-smokers, FCTC, fumadores, health risks, libre de humo, MSP, no-fumadores, nonsmokers, OPS, PAHO, public health, restaurants, salud pública, saude, schools, shopping malls, shoppings, smoke-free, smoking, sondagem, survey, tabaco, tabagismo, tabaquismo, Tabaré Vázquez, tobacco, Uruguay
2 Responses to "Support for Uruguay's Tough Tobacco Controls / Apoyo Ciudadano para las Medidas Contra Tabaquismo en Uruguay"
Anonymous Says:
January 22nd, 2007 at 10:42

Buscando alguna informacion relacionada con Chile, me tope con este articulo que comenta como los uruguayos aprueban la medidas para reducir el consumo de tabaco….

Anonymous Says:
January 23rd, 2007 at 15:11

Support for Uruguay's tough tobacco controls…

In December the Public Health Ministry of Uruguay released the results of a survey regarding public attitudes about tobacco issues and the 2005 decree on smoking in enclosed public places such as bars, restaurants, schools, discotheques, shopping malls…
Leave a Reply