« Helping Poor Countries Deal with Chronic Non-Communicable Diseases | Home | Eco-Certification for Tourism: The Role of Blue Flag, Part III »
By Keith R | July 27, 2007
Topics: Advertising/Promotion, Health Issues, Tobacco Control | No Comments »
I started this one some months ago when the study results were presented in PAHO's technical journal. I have nearly erased or replaced it several times since, thinking that Congress would finally break the logjam and make this analysis…well…moot. They haven't yet — the latest attempt last week crashed and burned.
But perhaps if more Argentines read about the study's findings, they would pressure legislators to find the courage to act. Even if not, the findings provide some potentially useful insights for other Latin American and Caribbean (LAC) policymakers (are you listening, RD?), so I'm finally releasing it from the backlog queue.
Despite requests by President Kirchner and entreaties from Health Minister Ginés González García, the Argentine Congress continues to dither about adopting a comprehensive national tobacco control law. The President first sent a draft bill to Congress nearly two years ago, and initially Administration officials optimistically predicted it would emerge as law, relatively unamended, within a few months. It seems that members of Congress are hesitant to confront powerful interests arrayed against the bill before the next national election.
One of the arguments being used to block final action on the bill is the alleged economic costs of the bill — loss of business to restaurants required to go smoke-free, loss of jobs in the tobacco-growing regions of Argentina (especially Jujuy), etc. Bill proponents should counter with arguments about the costs of not acting — in deaths, disease, impaired function and productivity, health care costs, etc.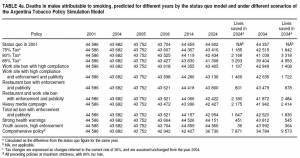 One of the studies they could utilize in making that argument was described earlier this year in an article published in PAHO's Revista Panamericana de Salud Publica ("Pan American Public Health Review").
The study* utilized a simulation model for tobacco control policies developed in recent years for US officials known as SimSmoke, modified using Argentina data on population, fertility, mortality, smoking prevalence, and tobacco control policies in effect between 2001 and 2004. The resulting "Argentina Tobacco Policy Simulation Model" (ATPSM) projected changes in smoking prevalence and smoking-attributable deaths through 2034 utilizing different policy measures (tax changes, price changes, clean air laws, media campaigns, cessation programs, youth access policies) separately or in combination. The development of the ATPSM was funded by PAHO.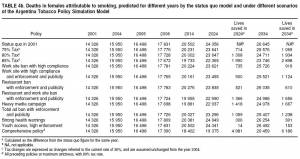 The simulation predicted that the largest reductions (as much as 45%) in smoking prevalence and premature mortality when a comprehensive tobacco control policy was utilized consisting of an 80% tax rates, a heavy media campaign and maximum strictness and enforcement of (1) a ban on smoking in workplaces; (2) a ban on smoking in restaurants; (3) a total advertising ban; (4) tough health warnings; (5) restrictions on youth access to tobacco products. Such a comprehensive package of measures would save as many as 16,000 lives per year.
However, reductions of as much as 30% could be achieved with just large increases in taxes on tobacco products.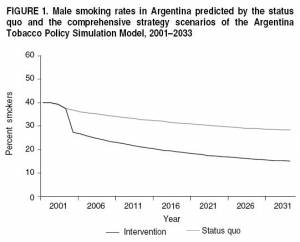 The authors go to great pains to explain their data sources and discuss how gaps were handled. For the most part, their data looks as good as it gets in a LAC nation.
A notable vulnerability, however, is the lack of detailed local data on smoking initiation and cessation rates, so the authors were forced to assume rates similar to those found in the US. Unfortunately, cessation programs and support in Argentina are not nearly as far along as in the US and initiation ages and rates may differ significantly due to cultural variances.
All this probably means, however, is that the simulation underestimates the number of lives that might be saved by tougher tobacco controls. Nonetheless, the authors recommend that public health officials in Argentina work diligently to close these data gaps.
The authors also recommend that similar simulation exercises be undertaken for other LAC nations to awaken them to the need for action and aid them in planning a comprehensive public health strategy. I would second that motion.
— Keith R
* Ferrante D, Levy D, Peruga A, Compton C, Romano E. The role of public policies in reducing smoking prevalence and deaths: the Argentina Tobacco Policy Simulation Model. Rev Panam Salud Pública. 2007;21(1):37–49.
Tags: advertising ban, Argentina, ban, health warnings, premature mortality, SimSmoke, smoking prevalence, tabagismo, tabaquismo, tobacco cessation, Tobacco Control, tobacco policy
Subscribe to My Comments Feed
Leave a Reply