« BNDES Creates R$200 mil. Program to Stimulate Carbon Credits | Home | UNDP Launches Unique Carbon Facility »
By Keith R | June 11, 2007
Topics: Health Issues | No Comments »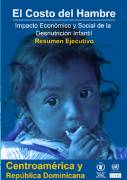 At the recent General Assembly of the Organization of American States (OAS) held in Panama, the UN's World Food Programme (WFP) and Economic Commission for Latin America and the Caribbean (ECLAC/CEPAL) presented a joint study they did — the first of its kind in Latin America and the Caribbean (LAC) — that attempts to calculate the economic impacts of child undernutrition, utilizing Central America (minus Belize) and the Dominican Republic (DR) as a case study.
Their startling conclusion: it probably produces a drag of as much as 6.4% on their combined annual gross domestic product (GDP) through impacts on education, health care costs and lost productivity! [This is an average: the estimated GDP impact for Guatemala and Honduras are as high as 10%, and as low as 2% for Costa Rica and Honduras.]
The study also suggests that if these seven nations focussed on eradicating child undernutrition (well, almost — down to 2.5%) by 2015 instead of sticking to their Millennium Development Goal (MDG) of halving it, they as a group would realize a savings to their economies of over two billion dollars, half of that realized just in Guatemala.
The PDF version of the study for download is available only in Spanish.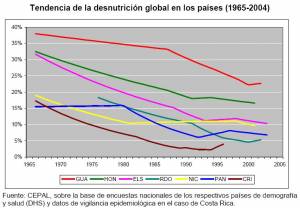 From the United Nations Economic Commission for Latin America and the Caribbean (ECLAC):
Study Finds Child Hunger Costs Central America Billions of Dollars Every Year

A new study has found that child undernutrition in Central America and the Dominican Republic in 2004 alone cost those economies US$6.7 billion – or 6.4 percent of the region's entire Gross Domestic Product (GDP) – a burden that severely undermines international and national efforts to eradicate hunger and poverty.

The in-depth study, which was carried out by the United Nations World Food Programme (WFP) and the Economic Commission for Latin America and the Caribbean (ECLAC), is the first of its kind in the region. Its findings were presented at a parallel event during the Organization of American States General Assembly in Panama yesterday, attended by several heads of state and government, as well as by UN Secretary-General Ban Ki-moon.

"This study is a wake up call to the international community that widespread child hunger is not only a moral and humanitarian issue, but has economic consequences as well," said WFP Executive Director Josette Sheeran. "Clearly, we will not be able to eradicate poverty in the region or in the world for that matter, until we take effective steps to tackle hunger and malnutrition."

"Undernutrition has very serious long-term costs, which are not limited to an individual's life-cycle given the impact on intrauterine growth during pregnancy of malnourished women," said José Luis Machinea, ECLAC Executive Secretary. "This cycle will more probably be repeated in their offspring and poverty will be perpetuated generation after generation if we don't act to remedy the situation."

The study calculates the effects of hunger and undernutrition on health, education and productivity and then estimates the costs which include increased health care and education needs as well as decreased economic activity through lower productivity. It finds that 90 percent of the economic losses are caused by a higher incidence of mortality as a result of hunger-related illnesses and lower educational levels.

The results of the study add to the growing urgency of efforts to eradicate undernutrition – measured in this case by weight for age – which results in irreparable physical and mental damage in children.

According to the study, the cost of child undernutrition varies between 1.7 percent and 11.4 percent of GDP for individual countries. It's expected that the country-by-country analyses will be launched in the near future in the respective countries. In the region as a whole, there are 880,000 underweighted children, representing 14 percent of children under five in Central America and the Dominican Republic.

Last year, WFP provided food aid to more than 5.6 million people in ten countries in the Latin America and Caribbean region. These included more than 1.8 million children in Food-for-Education programmes and over 850,000 mothers and children benefiting from maternal-child health and nutrition interventions.

The authors underlined that the study reflects the economic effects of not acting in a timely manner to deal with nutrition. At the same time, they noted that the blame for current levels of undernutrition lies not with current governments but with decades of accumulated inaction.

"We know that the Latin American region produces three times the amount of food need to feed its population," said WFP Regional Director Pedro Medrano. "This means there are grounds to hope and an opportunity for governments and society to help children under age five to break the vicious cycle of poverty and hunger."

"Any program that can effectively reduce the levels of under-nutrition will not only improve the quality of life of those affected, but will also increase productivity" Machinea added. "The larger the problem the bigger the challenge, while at the same time the potential benefits to a country's productive capacity stands to be greater."

Desde la Comisión Económica para América Latina y el Caribe (CEPAL):
La desnutrición infantil cuesta a Centroamérica miles de millones de dólares cada año

Un nuevo estudio ha descubierto que la desnutrición infantil en Centroamérica y la República Dominicana costó tan solo en el año 2004, 6.7 mil millones de dólares a las economías de esos países, lo que equivale al 6.4 por ciento del Producto Interno Bruto (PIB) de la sub-región, siendo esta una carga que afecta severamente lose esfuerzos nacionales e internacionales para erradicar el hambre y la pobreza.

Este estudio pormenorizado, que fue llevado a cabo por el Programa Mundial de Alimentos (PMA) y la Comisión Económica para América Latina y el Caribe (CEPAL), es el primero en su clase en la región y fue presentado ayer domingo en Panamá, en un evento paralelo a la Asamblea General de la Organización de Estados Americanos (OEA), donde acudieron varios Jefes de Estado y el Secretario General de las Naciones Unidas Ban Ki-moon.

"Este estudio es un llamado de atención a la comunidad internacional para que se dé cuenta de que la desnutrición infantil no es solamente un problema moral y humanitario, sino también es un problema económico", dijo Josette Sheeran, Directora Ejecutiva del PMA. "Resulta evidente que mientras no avancemos efectivamente en la erradicación del hambre y la desnutrición infantil, no vamos a poder erradicar la pobreza, ni en la región, ni en el mundo", sostuvo Sheeran.

"La desnutrición tiene graves costos a largo plazo que no se limitan al ciclo de vida de un solo individuo dado el impacto en el crecimiento intrauterino durante el embarazo de mujeres desnutridas", dijo José Luis Machinea, Secretario Ejecutivo de la CEPAL. "Este ciclo muy probablemente se repetirá en los hijos e hijas de estas personas, y a menos que hagamos algo para remediar esta situación, la pobreza se seguirá perpetuando de una generación a otra".

El estudio calcula los efectos de la desnutrición en la salud, educación y productividad, para entonces estimar los costos, que incluyen aumento en la atención de salud y necesidades en la educación así como la disminución de la actividad económica debida a la baja productividad. Se descubrió que el 90 por ciento de las pérdidas económicas son causadas por una más alta incidencia de la mortalidad como resultado de enfermedades relacionadas a la desnutrición, así como a bajos niveles de educación.

Los hallazgos del estudio refuerzan el sentido de urgencia que debe dársele a los esfuerzos por erradicar la desnutrición, (medida como la relación peso por edad) que genera irreparables daños físicos y mentales en niños y niñas.

Según el estudio, el costo de la desnutrición infantil varía entre el 1.7 por ciento y el 11.4 por ciento del PIB en los países estudiados. Se espera que los estudios a nivel de país sean lanzados en sus respectivas capitales en el futuro cercano. En la región hay 880,000 niños con bajo peso que representan el 14 por ciento de los infantes de menos de 5 años de Centroamérica y la República Dominicana.

El año pasado, el PMA distribuyó alimentos a más de 5.6 millones de personas en 10 países en América latina y el Caribe, incluyendo 1.8 millones de niños en programas de alimentación escolar.

Los autores destacaron que el estudio refleja los efectos económicos que resultaron de no actuar a tiempo para enfrentar la desnutrición. Igualmente los autores subrayaron que la culpa por los actuales niveles de desnutrición no recae sobre los actuales gobiernos sino en décadas acumuladas de inacción.

"Sabemos que la región Latinoamericana produce el triple de los alimentos que requiere para alimentar a toda su población", dijo Pedro Medrano Director Regional del PMA para América Latina y el Caribe. "Eso significa que hay espacio para la esperanza y también, que nuestros gobiernos y nuestras sociedades tienen la oportunidad de ayudar a esos niños y niñas menores de 5 años, a romper el ciclo vicioso de la pobreza y el hambre".

"Todo programa que logre reducir efectivamente los niveles de desnutrición mejorará no solo la calidad de vida de los afectados sino también aumentará la productividad", añadió Machinea. "Cuanto mayor sea el problema, mayor será el reto y así también los beneficios potenciales de aumentar la capacidad productiva de un país".
Tags: América Central, Central America, CEPAL, Costa Rica, desnutrición, Dominican Republic, ECLAC, El Salvador, GDP, Guatemala, Honduras, Nicaragua, OAS, PIB, public health, República Dominicana, salud pública, saude, undernutrition, WFP
Subscribe to My Comments Feed
Leave a Reply