« Brazil Creates a National Consumer Defense School | Home | Investing in Composting »
By Keith R | August 13, 2007
Topics: Health Issues | No Comments »
When you read my post last week about colon cancer rates rising in Buenos Aires Province (PBA), did you wonder what the rates are for other types of cancer in the rest of Argentina?  I did (but then, I am curious like that).  So I went hunting for the information.
It appears that most Argentine provinces do not have a cancer registry (yet), and that what data on cancer mortalities that exists for all provinces is several years old (2001).  But in the process of seeking out data, I ran across an interesting report* released earlier this year by an Argentine think tank, the Center for the Implementation of Public Policies for Equity and Growth (Centro de Implementación de Políticas Públicas para la Equidad y el Crecimento – CIPPEC) utilizing that existing data in an interesting fashion.
CIPPEC starts by looking at the misconception held by many worldwide that cancer is a disease that affects richer, more developed nations.  As I mentioned in my discussion of the recent World Bank report on non-communicable chronic disease, this is not so globally and in the case of Latin America and the Caribbean (LAC), cancer kills more people than the infectious/parasitic diseases many people think are the main culprits.
Argentina Compared to the Rest of the World

CIPPEC wondered, though, whether they would find any similar linkage between economic development and cancer mortalities within Argentina — for example, does the relatively wealthy province of PBA demonstrate greater relative cancer mortalities than the poorest provinces?  Are there certain types of cancers found in the better-off provinces vs. the poorer ones?  Are there correlations with particular socioeconomic indicators?

CIPPEC started by looking at how cancer mortalities differ in Argentina from other nations — comparing with world estimates, Canadian rates (as an OECD representative) and Ghana (as an example of a non-LAC developing nation).  As you can see from the two tables at right (click each to enlarge), four of Argentina's top five deadliest cancers for men and women match the global top five for each gender, but not in the same order.  In the case of men, the five deadliest cancers were the same as Canada's top five, but not in the same order.  It is also worth noting that whereas the top five deadliest in Canada account for some 80% of all cancer deaths in that country, in Argentina they only account for just over half.
In national terms, the top five cancers among men in Argentina are lung (23%), prostate (11.9%), colon-rectal (10%), stomach (6.7%) and pancreas (5.3%).  Among Argentine women, the top five are breast (20.4%), uterine (10.7%), colon-rectal (9%), lung (6.9%) and pancreas (5.5%).
What Are the Trends by Province?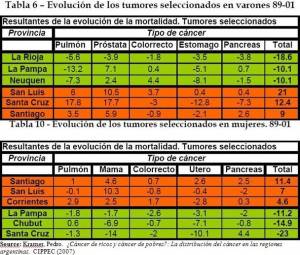 The report then looks at the evolution of reported mortalities for each gender for the top five types of cancer among the provinces during a 12-year period, 1989-2001, to discern which ones showed improvements and which worsened, both by individual type and overall for the five cancer types combined.  The data suggests overall that the three most improved (green in the chart) for the top five cancers affecting men combined were La Rioja, La Pampa and Neuquen, and three showing the greatest growth in these cancers (orange in chart) are San Luis, Santa Cruz and Santiago del Estero.
The best and worst provinces for women over the same period differed.  The three most improved were La Pampa, Chubut and Santa Cruz; the three worsening the most were Santiago del Estero, San Luis and Corrientes.
The report does caution reading too much into these figures: there are questions about the quality of the mortality data for La Rioja, and Santa Cruz's population is so small that a change in just a few cases reported produces large swings.
Looked at from a regional, vs. provincial, perspective, the overall improvement for men in the five deadliest cancers for Argentine men during that period were in Buenos Aires, the "center-west" region (Mendoza, San Juan, San Luís) and the "center" region (Córdoba, Santa Fe, Entre Rios, La Pampa).  The situation worsened for Argentine men in Patagonia (Chubut, Neuquén, Rio Negro, Santa Cruz, Tierra del Fuego), the Northeast (Corrientes, Chaco, Formosa, Misiones) and northwest (Catamarca, Jujuy, La Rioja, Salta, Santiago del Estero, Tucumán).
For Argentine women it's more clear-cut: the Northeast and Northwest were the centers of worsening, while the rest of the country improved.
Which Cancers Affect Which Provinces?
The report also looked in greater detail at provincial differences for particular cancers — pancreas for both men and women, prostate and stomach for men, and breast and uterine for women.  Why these?  Pancreas was picked because it tends to show up in people over age 60 — and thus in better-off populations that live longer — but has no effective screening strategy.  Prostate  cancer also tends to show up in older men, but can be dealt with if detected and treated early (which tends not to happen among the poor and those not receiving regular, detailed check-ups).  Uterine cancer and stomach cancers were selected because they tend to show up earlier and cause death more among the poor, who are screened less and tend not to be treated early.
Below are three of the resulting maps developed by CIPPEC (click on each to see a larger version), the first for breast cancer, the second for uterine, third for prostate.  In each map the orange shows that type of cancer has increased in that particular province, green means it has dropped, white means no change, red signifies the province with the worst increase, dark green the one with the most improvement.
Correlations, Questions and Suggestions
The report then looks at basic demographic, socioeconomic and health indicators — such as population changes, population over age 65, population without health care coverage, hospital beds per 10,000 inhabitants, doctors per 10,000, etc. — to see if there are any correlations.  After much number crunching — and a caution that this study only suggests associations and correlations, but cannot prove cause-effect — the study concludes that:
just like obesity, cancer affects both rich and poor provinces in Argentina;
nonetheless the distribution of certain types of cancer match up well with poorer provinces that have a less developed health care infrastructure;
cancers that can be treated successfully if screened and detected early (such as breast and prostate) show significant drops in the better-off provinces, but little elsewhere.
The report concedes that the current situation may have changed significantly since 2001 and thus better, more comprehensive and more up-to-date data is needed.  Even so, it suggests that the national Health Ministry and the provinces need to look closely at the cancer profiles of each province and design education, screening and treatment strategies appropriate to the situation in each province.
— Keith R
_____________________________________
Desde el Centro de Implementación de Políticas Públicas para la Equidad y el Crecimiento (CIPPEC):
¿Cáncer de ricos y cáncer de pobres?

Distribución del Cáncer en las regiones argentinas

Un estudio de CIPPEC reveló que en algunas provincias argentinas la población se muere a causa de tumores que pueden ser detectados precozmente y son propios de poblaciones más pobres. Así, en la Argentina, las inequidades sanitarias entre las provincias se multiplican cada vez más, incluso en la mortalidad por cáncer.

Un estudio del Programa de Salud de CIPPEC (Centro de Implementación de Políticas Públicas para la Equidad y el Crecimiento) permitió corroborar que las poblaciones con mayores índices de necesidades básicas insatisfechas (NBI) incrementaron su mortalidad por tumores típicos de poblaciones subdesarrolladas, siendo las regiones del Noroeste y Noreste las más afectadas. Por ejemplo, la región patagónica logró una reducción de 23.8 puntos en el cáncer de estómago -un tumor asociado en general con la pobreza- a diferencia de los 8.1 puntos que logró la región del Noreste.

Considerando algunos de los tumores para los cuales existen estrategias efectivas de detección precoz (cáncer de cuello uterino, cáncer de mama y colorrectal), se observó que en cuatro de las seis regiones del país ha disminuido la mortalidad para este grupo de tumores. Nuevamente, las regiones Patagónica y Metropolitana presentan las máximas reducciones, en tanto que las regiones más desprotegidas – Noroeste y Noreste- no han logrado reducir la mortalidad por estas afecciones.

El estudio analiza la evolución de la mortalidad por tumores entre 1989 y 2001 en las distintas provincias del país, considerando la relación entre tipos de cáncer y diferentes niveles de desarrollo socioeconómico y sanitario. Para ello, se analizaron datos de una investigación realizada por el Ministerio de Salud de la Nación, el Instituto universitario especializado Dr. Angel Roffo y la Agencia de Cooperación Internacional de Italia.

El documento de CIPPEC permite sumar a las tasas de mortalidad materna e infantil otro componente en la lista de inequidades sanitarias que caracterizan a las provincias argentinas. Una vez más, es fundamental la presencia de políticas nacionales que establezcan prioridades asociadas con las necesidades específicas de las provincias.
* Kramer, Pedro. ¿Cáncer de ricos y cáncer de pobres?: La distribución del cáncer en las regiones argentinas. Published by CIPPEC.  2007.  31 pp.
Tags: Argentina, breast cancer, Buenos Aires, Canada, cancer, Catamarca, Chubut, CIPPEC, colon cancer, colon-rectal cancer, Córdoba, Corrientes, Entre Rios, Ghana, health care coverage, Jujuy, La Pampa, La Rioja, lung cancer, Mendoza, mortalidad, mortalities, Neuquen, pancreas, Patagonia, prostate cancer, public health, Rio Negro, Salta, salud pública, San Juan, San Luis, Santa Cruz, Santa Fe, Santiago del Estero, saude, stomach cancer, Tucumán, tumors, uterine cancer
Subscribe to My Comments Feed
Leave a Reply