« Buenos Aires Province Formally Launches Sustainable Hotel Certification System | Home | Toward a Sustainable Energy Matrix for Peru? / ¿Hasta nueva matriz de energía sostenible en el Perú? »
By Keith R | January 28, 2009
Topics: Health Issues | No Comments »
I've mentioned before the quality graphics related to environmental issues offered by the UN Environment Programme's (UNEP) GRID-Arendal center in Norway. Here's another one just released by them that is more on the health side of the environment-health interface which I found quite striking.  Click on the image to see a larger version.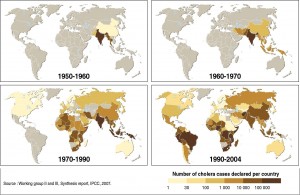 GRID-Arendal says this as background to the graphic:
Increasing floods in between dry periods represent ideal conditions for spreading diseases such as cholera. In Nouakchott, the capital of Mauritania located in the desert, precipitations – when they occur – are always accompanied by a cholera epidemic, especially in poor areas where waste matter is not managed. Cholera had almost disappeared globally by the mid 1950s, but it reappeared and spread throughout the world during the last few decades. The World Health Organization (WHO) fears that a rapidly changing climate, combined with declining socio-economic conditions in the poorest part of the population, will contribute to an increasing spread of the disease.
Tags: cholera, Climate Change, cólera, GRID-Arendal, PNUMA, public health, salud pública, saude, UNEP, WHO
Subscribe to My Comments Feed
Leave a Reply