« More Brazilian Cities Move to Recycle C&D Waste | Home | OECS Needs to Get Serious About Environmental Management »
By Keith R | September 28, 2007
Topics: Health Issues, Pharmaceutical Issues | No Comments »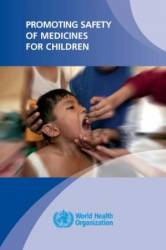 Pharmacovigilance and medicine safety issues in children are relevant to everyone who has an interest in and cares about the health of children.
In order to gain full marketing authorization, the law in most countries requires pharmaceutical firms to demonstrate that they have tested their medicines in healthy volunteers and patients for possible adverse effects. These clinical trials must be approved by ethics committees and appropriate regulatory authority, and volunteers must give prior informed consent after being briefed about possible risks.
However, the approval process for both ethics committees and regulators is usually far tougher when the trials might involve children, and it is often difficult to get informed consent from children and/or their parents or guardians. As a result, few clinical trials include children and data on possible adverse effects is minimal.
Furthermore, for many medicines — particularly new and/or complex ones — safety assessment does not end with clinical trials. After launching the product in the market, companies, physicians, hospitals, etc. are asked to keep tabs on and report adverse reactions.
Truth is, though, in many countries outside of North America and the European Union (EU) (including many, if not most Latin American and Caribbean nations) such pharmacovigilance is not widely or well practiced, and even where such a system is in place, well-funded and with a high degree of participation, adverse events involving children tend to be under-reported for a variety of reasons.
Last but not least, specific legislation/regulation designed to address the issues involving medicine safety for children does not really exist outside North America and the EU. It certainly is lacking in LAC nations.
This set of guidelines on the issue being offered by WHO thus fills an important gap. As I have said here before, WHO guidelines are often copied, referenced or simply cut-and-pasted wholesale into national laws and regulations in LAC nations. Thus if you follow, or are involved in, health, pharmaceutical or children's issues in LAC, this should be required reading. I certainly am adding it to the Health section of the Temas Recommended Reading List.
The WHO publication is basically divided into three parts: (a) making the case for improving safety monitoring for medicines for children; (b) outlining possible ways to achieve it; (c) outlining what national pharmacovigilance programs should do and commitments WHO is undertaking to improve the situation.
______________________________
From the World Health Organization (WHO):
WHO stresses need to ensure the safety of children's medicines

The lack of thorough and reliable clinical data on the way medicines affect children requires strengthened safety monitoring and vigilance of medicinal products. This is the fundamental message of Promoting safety of medicines for children, released today by the World Health Organization (WHO).

The publication gives an overview of the problem and offers solutions on how best to address side effects from medicines in children; namely, through improved reporting systems and collaboration between governments, regulatory authorities, research institutions and the pharmaceutical industry. The publication is part of a broad effort WHO is initiating to expand children's access to quality-assured, safe and effective medicines.

"We need to learn more about the way children's bodies react to medicines so we can improve global child health. That's why it's extremely important to keep track of potential side effects in child populations. Ultimately, this will save lives and build up a knowledge base for the future," said Dr Howard Zucker, WHO Assistant Director-General for Health Technology and Pharmaceuticals.

A large proportion of side effects or adverse reactions to medicines in the adult population are due to irrational use or human error and are therefore preventable. In the case of children, even more factors come into play. The main challenge is the lack of clinical data. This results in fewer medicines being developed, produced and marketed specifically for children. Often, children are given medicines that have only been tested in adults and are not officially approved for use in child populations (this is known as "off-label use").

Non-availability of appropriate pediatric formulations forces health care providers to resort to administering portions of crushed or dissolved tablets or the powder contained inside a capsule without any specific indication of the required dosage. For that reason, according to the report, potentially harmful medication errors may be three times more common in children than in adults.

An appropriate format or structure for a child's medicine is also important. Small children sometimes choke or asphyxiate while trying to swallow big tablets. For instance, earlier this year four children under 36 months died from choking on albendazole tablets (used to combat worms) during a de-worming campaign in Ethiopia.

New and innovative medicines on the market provide indications for children but still lack evidence of long-term benefit and risk. Side effects associated with antiretroviral medicines, for example, have been reported to occur in up to 30% of HIV-infected children on antiretroviral therapy. Most of those side effects could be reversed by modifying the dosage or changing to an alternative medicine.

The report estimates that less than 10% of all serious adverse reactions to medicines are reported globally. In part, this is due to the fact that many developing countries have not yet established medicine safety monitoring and reporting systems; and when they have these are usually under-resourced. Because children – particularly very young ones – are less articulate in describing symptoms and their non-verbal communication is often misunderstood or ignored, even serious adverse reactions in children often go unreported to health practitioners or authorities.

Intended for policy-makers, manufacturers, medicines control bodies and researchers, Promoting safety of medicines for children provides a series of recommendations to address medicine safety for children.

For instance, all countries should establish national and regional monitoring systems for the detection of serious adverse medicine reactions and medical errors in children. When such reporting systems exist, it is crucial that manufacturers follow up on adverse reactions to their products once they are on the market.

In addition, regulatory authorities need to make an effort to refine the science of clinical trials in children, create an active post-marketing surveillance programme and develop public databases of up to date information about efficacy and safety in pediatric medicines.

To assist countries, WHO will:

publish an official WHO List of Essential Medicines for Children;
continue to create awareness in countries and in the research community on the urgent need to monitor the use of medicines in children;
identify research gaps in children's medicines; and
create protocols on monitoring adverse effects for child-specific medicines.
Tags: adverse reactions, albendazole, antiretroviral medicines, ARVs, children, clinical data, clinical trials, Ethiopia, medicamentos, medicine safety, medicines, pediatric formulations, pediatric medicines, pharmaceuticals, pharmacovigilance, post-marketing surveillance, side effects, WHO Essential Medicines List
Subscribe to My Comments Feed
Leave a Reply