« ANVISA Proposes Ban on Endosulfan, Partial Ban on Acephate | Home | And Now, the Tourism Sustainability Council »
By Keith R | September 8, 2009
Topics: Tobacco Control | No Comments »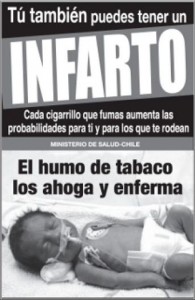 Chile's Health Ministry (Minsal) today issued a decree adding a new health warning message and picture to those that must be displayed on cigarette packs sold in that country on a rotating basis.  As of 12 November, cigarette packs placed on the Chilean market must include the image at right on no less than 50% of the large sides of the packs.
For those who do not read Spanish, the top of the message says "You too can have a heart attack.  Each cigarette that you smoke increases the probabilities for you and for those around you."  The bottom portion, with the baby on a respirator, says "Tobacco smoke chokes them and makes them sick."
Earlier this year the Pan American Health Organization (PAHO) called for all Latin American and Caribbean (LAC) nations to adopt such pictorial pack warnings, and recent Brazilian research indicates that they are effective.  For examples of messages used by other Latin American nations, see these past posts on Brazil, Uruguay and Venezuela.
Tags: Brazil, Chile, cigarettes, control de tabaco, Health Ministry, health warnings, heart attack, infarto, labeling, Ministerio de Salud, Minsal, PAHO, tabaquismo, Tobacco Control, Uruguay, Venezuela
Subscribe to My Comments Feed
Leave a Reply