« An Interesting Way to Educate Mexicans About Endangered Species | Home | Directional Signals in Brazilian Federal Waste Policy »
By Keith R | August 17, 2009
Topics: Tobacco Control | No Comments »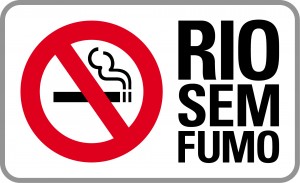 If you've ever been to Rio de Janeiro (RJ), you know that it's not exactly a nonsmoker's paradise.  Despite all the health warnings and studies issued over the years, quite a bit of smoking still occurs in public places within the state.
Not for much longer.
Or at least that's the stated legislative intent of the measure signed into law today by RJ Governor Sérgio Cabral.  With the so-called Lei Rio Sem Fumo ("Smokeless Rio Law"), RJ joins neighboring São Paulo (SP) to severely restrict smoking in public areas.  The law is to take effect in 90 days.
The Law bans smoking of any product (whether derived from tobacco or not) in "environments of collective use, whether public or private" if partially or totally enclosed, wherever people stay or circulate.  The Law says that this explicitly covers workplaces, culture environments, leisure environments, religious environments, sport or training environments, common areas in condominiums, nightclubs, theaters, cinemas, bars, luncheonettes, boats, restaurants, food courts, hotels, inns, shopping centers/malls, banks, supermarkets, butcher shops, bakeries, pharmacies, government offices, health institutions, schools or study environments, museums, libraries, exhibition spaces, public or private collective transport (including planes and ferries), official cars and all types of taxis.
Not covered are open-air public spaces and walkways, private homes, hotel rooms, religious cults that use smoking products as part of their ritual, movie and television filming sets, and tobacco shops (which are defined in the Law as those establishments where at least 50% of the annual income comes from the sale of tobacco products).
Proprietors of those responsible for these places or vehicles are held responsible for compliance.  They must post warnings about the law and smoking ban.  If they view an employee, user or consumer violating the Law, and if they refuse to comply, retire them from the premises, if necessary with the help of police force.
Fines for infractions will be between 1,548 and 15,486 Fiscal Reference Units of the State of Rio de Janeiro (UFIRs-RJ).  The UFIR-RJ is an amount reset every year in relation to the Brazilian Real (R$), so in theory this allows the fines to adjust for inflation.  Currently the UFIR-RJ is set at R$1.9372, so these fines would be worth R$2,999-29,999 (about US$5,233-17,193 at current exchange rates).
______________
Desde a Assembleia Legislativa do Rio de Janeiro (ALERJ):
LEI ANTIFUMO É SANCIONADA E PASSA A VALER EM 90 DIAS

Agora é lei: daqui a 90 dias, o consumo de cigarros, cigarrilhas, charutos e cachimbos de qualquer produto fumígeno estará proibido no estado do Rio em locais de uso coletivo, públicos ou privados. A determinação é da Lei 5.517/09, sancionada pelo governador Sérgio Cabral e publicada no Diário Oficial do Poder Executivo desta terça-feira (18/08). A norma, que recebeu 10 emendas de deputados, se aplica aos ambientes total ou parcialmente fechados em qualquer dos seus lados por paredes, divisória, teto ou telhado, ainda que provisórios, onde haja permanência ou circulação de pessoas. As emendas mais importantes incluíram entre os locais ou situações onde a prática do fumo continuará liberada os quartos de hotéis e pousadas e as encenações teatrais e locais de filmagens ou gravações para cinema ou TV. O líder do Governo, deputado Paulo Melo (PMDB), destaca a importância da sanção. "Com esta lei, o Governo atende ao clamor da sociedade pela prevenção dos males causados pelo tabagismo, coibindo o uso indiscriminado do cigarro", destacou o parlamentar.

Nos locais onde o fumo se tornará proibido, como por exemplo, ambientes de trabalho, de estudo, lazer, áreas comuns de condomínios, bares, boates, hotéis, pousadas e repartições públicas, deverá ser afixado aviso da proibição, com indicação de telefone e endereço dos órgãos estaduais responsáveis pela vigilância sanitária e pela defesa do consumidor. O texto da lei ressalta ainda que a lei não se aplica aos cultos religiosos em que produtos fumígenos façam parte do ritual, às vias públicas e aos espaços ao ar livre, além de residências e tabacarias, que, no entanto, passarão a ter que comprovar a sua condição. Para poder divulgar seu espaço destinado ao consumo de fumígenos, os estabelecimentos deverão ter mais de 50% de sua receita advinda da venda desses produtos.

A nova norma também responsabiliza e pune por descumprimento os proprietários ou responsáveis por estabelecimentos comerciais ou meios de transporte público onde o consumo de cigarros continuar a ser praticado. As multas poderão variar de R$ 3 mil a R$ 30mil – penalidade que poderá ser contestada no prazo de 30 dias. Segundo dados divulgados pelo Instituto Nacional do Câncer (Inca), todos os anos, ao menos sete brasileiros que nunca fumaram morrem por doenças decorrentes da exposição à fumaça do tabaco. Por ano, são 2.655 mortos.
Tags: açougues, aeronaves, airplanes, ambiente de trabalho, ambientes de cultura, ambientes de estudo, ambientes de lazer, bakeries, bancos, banks, bares, bars, bibliotecas, boates, boats, Brazil, butcher shops, cachimbos, casas de espetáculos, centros comerciais, charutos, cigarrilhas, cigarros, cinemas, collective transport, condomínios, condominiums, controle do tabaco, drogarias, embarcações, escolas, espaços de exposições, exhibition spaces, farmácias, ferries, filmagens cinematográficas, filmagens televisivas, food courts, government offices, health clinics, hoteis, hotel rooms, hotels, inns, instituições de saúde, lanchonetes, leisure environments, libraries, luncheonettes, museums, museus, nightclubs, official cars, padarias, pharmacies, pousadas, praças de alimentação, produtos fumígenos, religious cults, repartições públicas, restaurantes, Rio de Janeiro, Rio Sem Fumo, São Paulo, schools, shopping centers, shopping malls, sports and training centers, supermarkets, tabacarias, tabagismo, táxis, teatros, theaters, Tobacco Control, tobagismo, transporte coletivo, UFIRs, viaturas oficiais, workplaces
Subscribe to My Comments Feed
Leave a Reply