« A New Twist to Recyclables for Electricity Programs | Home | São Paulo to Ban 14 Pesticides? »
By Keith R | September 21, 2009
Topics: Tobacco Control | No Comments »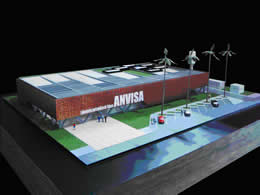 Brazil's National Sanitary Vigilance Agency (Anvisa) announced today that in 2010 it will construct a Control Laboratory for Tobacco-Derived Products on Ilha do Fundão, the artifical island home to "University City" and the Federal University of RJ (UFRJ) in the metropolis of Rio de Janeiro.
The R$8 million Laboratory will be the reference center for Latin America in the World Health Organization's (WHO) Tobacco Laboratory Network (TobLabNet) and will conduct testing of the components of cigarettes and other tobacco products. Currently such tests are conducted outside the region.
______________
Desde a Agência Nacional de Vigilância Sanitária (Anvisa):
Laboratório vai investigar componentes do cigarro

A luta contra o tabagismo vai ganha um reforço a partir do próximo ano. A partir de 2010, a Agência Nacional de Vigilância Sanitária (Anvisa) inicia a construção do Laboratório de Controle de Produtos Derivados do Tabaco. A unidade, com sede no Rio de Janeiro, na Ilha do Fundão, vai integrar a Rede Mundial de Laboratório de Tabaco (TobLabNet), e será referência para os países da América Latina e Caribe na análise de produtos derivados do tabaco. Atualmente, as análises dos componentes do cigarro tem que ser feitas fora do Brasil, já que não há tecnologia no país para isso.

Anualmente 200 mil brasileiros morrem em decorrência de doenças relacionadas ao tabaco. A previsão do custo é de R$ 8 milhões.
Tags: América Latina, Anvisa, Brasil, cigarettes, cigarros, Ilha do Fundão, Latin America, Rio de Janeiro, tabaco, tabagismo, tobacco, tobacco products, TobLabNet
Subscribe to My Comments Feed
Leave a Reply