« IBAMA Fines Firms Not Registered in CTF | Home | Brazil Bans Electronic Cigarettes »
By Keith R | August 25, 2009
Topics: Tobacco Control | 1 Comment »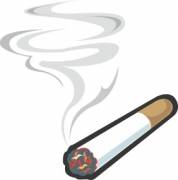 Today Ceará (CE) became the latest Brazilian state (after São Paulo and Rio de Janeiro) to severely restrict smoking in public areas.  The governor signed a law that prohibits smoking any product, whether derived from tobacco or not, in "collective enclosures" except in segregated areas that have a physical barrier separating them from nonsmokers with technical solutions that exhaust the smoke-filled air directly to the outdoors.
The CE law (much like Rio's) specifically defines "collective enclosures" to include workplaces, culture environments, religious environments, sporting environments, entertainment environments, common areas in condominiums, nightclubs, theaters, cinemas, bars, luncheonettes, boats, restaurants, food courts, hotels, inns, shopping centers, banks, supermarkets, butcher shops, bakeries, pharmacies, government offices, health institutions, schools, museums, libraries, exhibition spaces, public transport, and taxis.
Tags: açougues, ambientes de trabalho, bakeries, bancos, banks, bares, bars, bibliotecas, boates, Brasil, Brazil, butcher shops, casas de espetáculos, Ceará, centro comerciais, cinemas, collective enclosures, condomínios, condominium, drogarias, escolas, espaços de exposições, farmácias, food courts, government offices, hoteis, hotels, inns, lanchonetes, libraries, museums, museus, nightclubs, padarias, pharmacies, pousadas, praças de alimentação, public transport, repartições públicas, restaurantes, restaurants, schools, shopping centers, smoking, supermarkets, supermercados, tabagismo, táxis, teatros, theaters, transporte coletivo, workplaces
One Response to "Ceará Limits Public Smoking"
Jeremy Says:
April 12th, 2010 at 18:03

These public smoking bans are becoming absurd. Smokers need to speak up before tobacco products are made completely illegal.
Leave a Reply