« The Largest Basin Clean-up Loan in Latin America | Home | São Paulo's Car Emissions Inspection Regime Unconstitutional? »
By Keith R | June 11, 2009
Topics: Tobacco Control | No Comments »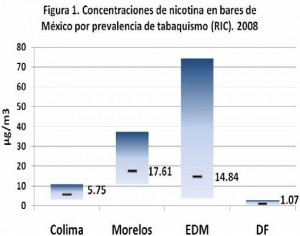 Mexico's National Public Health Institute (INSP) has released a study of health effects of exposure to environmental tobacco smoke (ETS, sometimes also referred to as "passive smoking" or secondhand smoke") in bars and restaurants.  The study checked 633 workers at 219 establishments in the the Federal District (DF, which comprises Mexico City and its environs) and capitals of three states — Colima, Mexico (EDM) and Morelos — during their daily high-traffic periods in August-September 2008.  [EDM and Morelos border the DF, while Colima is in Western Mexico.]  In each establishment INSP set up passive nicotine monitors, interviewed the workers about their health and took blood pressure readings at the beginning and end of their work shifts.
The INSP study was intended not only to measure the exposure of workers in such establishments to ETS and identify possible health impacts thereof, but also to evaluate the efficacy of the DF's law protecting non-smokers.
The study found that nicotine levels for restaurants in the DF was substantially lower than those in the three state capitals — in fact, the levels in DF bars was 15 times lowers than that in bars in nearby EDM, while exposure in DF restaurants was half that of EDM restaurants, even though smoking rates of the two jurisdictions are similar (see the two graphics – click to view a larger version).  The study found that the presence of special ventilation and smoke extraction systems in the states did not significantly impact nicotine exposure.
The study also found that the blood pressure of workers with high concentrations of tobacco smoke was substantially higher than that of workers in those with low concentrations.  This was particularly so for non-smoking employees.
INSP concludes, not surprisingly, that the DF's law has been a success and its example should be followed at the national level.  It points to the low smoke exposures in the DF, despite the fact that it has the highest smoking prevalence in Mexico.  It argues that the study demonstrates that special ventilation and smoke extraction systems do not eliminate health risks, so the institution of smoke-free environments in most public places and workplaces — as the DF has done —  "is the only option."
______________
Desde el Instituto Nacional de Salud Publica (INSP):
El Instituto Nacional de Salud Publica llevo a cabo un estudio en bares y restaurantes de las capitales de los estados de Colima, Morelos, Estado de México, así como el Distrito Federal de Agosto a Septiembre de 2008. El estudio fue diseñado para medir la exposición al humo de tabaco ambiental en bares y restaurantes, identificar posibles efectos sobre la salud y evaluar la eficacia de la Ley de Protección a la Salud de los No Fumadores del DF, implementada en Febrero de 2008.

Los bares y restaurantes fueron visitados al azar durante el turno de mayor afluencia de clientes. En cada establecimiento se colocaron monitores pasivos de nicotina para medir la exposición al humo de tabaco ambiental durante el turno. Al mismo tiempo los trabajadores llenaron una encuesta general de salud y se les midió la presión sanguínea al inicio y al final del turno de trabajo. Participaron 219 establecimientos en las cuatro ciudades y un total de 633 trabajadores. Las concentraciones de nicotina en los bares del DF fueron substancialmente menores que las observadas en cualquiera de los Estados.

Comparado con el Estado de México el Distrito Federal tiene casi 15 veces menos concentraciones de nicotina, a pesar de que ambos estados tienen prevalencias de tabaquismo similares. De igual forma, los restaurantes del DF presentaron las concentraciones más bajas de nicotina comparado con los demás estados. La exposición en el DF es 50% de las concentraciones observadas en el Estado de México. El uso de mecanismos de ventilación o sistemas de extracción no redujo significativamente la exposición.

Adicionalmente, encontramos que los trabajadores de establecimientos con concentraciones muy altas de humo de tabaco ambiental presentaron presiones arteriales más altas que los trabajadores en establecimientos con concentraciones bajas. Esta asociación es más evidente en trabajadores no fumadores.

La exposición al humo de tabaco ambiental representa un riesgo para la salud. La implementación de restricciones al consumo de tabaco en aéreas interiores, como las propuestas en la Ley de Protección a la Salud de los No Fumadores del Distrito Federal, es la única herramienta efectiva para eliminar el riesgo a la salud derivado de la exposición al humo de tabaco ambiental. En nuestro estudio el Distrito Federal tuvo las menores concentraciones de humo, a pesar de tener la prevalencia de tabaquismo activo más alta del país, lo que refleja la utilidad de la Ley y el compromiso de todos los actores sociales para cumplir con ella. Los mecanismos de ventilación o extracción de aire no eliminan la exposición ni los riesgos a la salud. La implementación de lugares 100% libres de humo de tabaco a nivel federal es la única opción real para eliminar el humo de tabaco de estos lugares.
Tags: bares, bars, Colima, DF, Distrito Federal, environmental tobacco smoke, Federal District, humo de tabaco, IMSP, Mexico, Mexico City, Morelos, nicotina, nicotine, passive smoking, public health, restaurantes, restaurants, salud pública, secondhand smoke, smoking, tabaquismo
Subscribe to My Comments Feed
Leave a Reply