« If You Can't Find It Here, You May Not Find It | Home | Mexico Takes Stock of its Wetlands »
By Keith R | February 6, 2008
Topics: Tobacco Control | No Comments »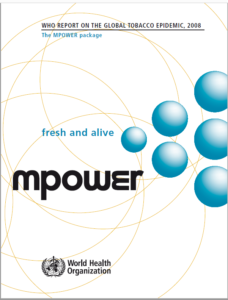 The World Health Organization (WHO) has released its first global report on tobacco control efforts.  While there is progress to report, there's also clearly alot of work remaining.
Some of the key messages:
Only 5% of the global population is protected by comprehensive national smoke-free legislation and 40% of countries still allow smoking in hospitals and schools;
Only 5% of the world's population lives in countries with comprehensive national bans on tobacco advertising and promotion;
Just 15 countries, representing 6% of the global population, mandate pictorial warnings on tobacco packaging;
Services to treat tobacco dependence are fully available in only nine countries, covering 5% of the world's people;
Tobacco tax revenues are more than 4000 times greater than spending on tobacco control in middle-income countries and more than 9000 times greater in lower-income countries. High- income countries collect about 340 times more money in tobacco taxes than they spend on tobacco control.
Regarding Latin America and the Caribbean (LAC), the report:
provides comparative tables of various types of control measures adopted and enforced  (click on images below to see full-sized versions of these), while noting 14 LAC nations don't provide the type of data needed to assess them fully and properly;
provides fuller country profiles for Argentina, Brazil and Mexico;
notes that just 10 countries account for 2/3 of the world's smokers, and Brazil is one of them;
notes that 21 LAC nations have ratified the Framework Convention on Tobacco Control (FCTC), but key players (in terms of population and market size) are missing;
praises Uruguay for not only being the first LAC nation to go 100% smokefree, noting that the measure has won broad public support (and thus undermined the argument that strong measures against secondhand smoke are politically unpopular), but also being only one of two countries worldwide (the other being New Zealand) that rank high in enforcement of the public smoking ban;
uses Mexico as an example of spending on tobacco dependence harms the poor, noting the poorest 20% of households in Mexico spend nearly 11% of their household income on tobacco (this reminds me of the recent FGV survey in Brazil);
uses a Brazilian survey of its youth as part of its argument for the effectiveness of using strong health warnings on tobacco packages;
spotlights Brazil's government smoking cessation program as a good example for others, noting that between 2004-2006 the program enacted in 22 of Brazil's 27 states helped 500,000 smokes to quit, with both counseling and pharmaceutical products such as nicotine patches and bupropion provided at no cost to the patient.
Tags: Argentina, Brazil, bupropion, control de tabaco, FCTC, health warnings, Mexcio, nicotine patches, OMS, produtos fumígenos, secondhand smoke, smoking, smoking cessation, tabagismo, tabaquismo, Tobacco Control, tobacco products, Uruguay, WHO
Subscribe to My Comments Feed
Leave a Reply