« What the Other Guy Blogs About: Renewable Energy in Chile | Home | BNDES Finances "Green Polyethylene" Production »
By Keith R | May 11, 2009
Topics: Tobacco Control | No Comments »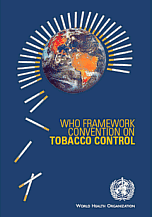 There's an interesting article today in IPS exploring why Argentina has yet to ratify the World Health Organization's (WHO) Framework Convention on Tobacco Control (FCTC) even though it signed the agreement and the federal executive has repeatedly asked the Senate for the ratification.  In a nutshell, Senators from seven tobacco-growing provinces (Catamarca, Chaco, Corrientes, Jujuy, Misiones, Salta, Tucumán) are blocking it in the name of protecting jobs.
I have just one problem with the piece, though.  It has a glaring error in the opening paragraph, where it claims that Argentina is the only Latin American nation that has not yet ratified the FCTC.  Wrong!  The Dominican Republic, a Latin American nation, has neither signed nor ratified the Convention, and Cuba and El Salvador, also Latin American nations, have not yet ratified.
I might further note that the Bahamas, Haiti, St. Kitts & Nevis, and St. Vincent and the Grenadines, which are usually included in the grouping "Latin America and the Caribbean", also have not yet ratified.
Tags: Argentina, Bahamas, Catamarca, Chaco, control de tabaco, Corrientes, Cuba, Dominican Republic, El Salvador, FCTC, Haiti, Jujuy, Misiones, OMS, public health, República Dominicana, Salta, salud pública, smoking, St. Kitts and Nevis, St. Vincent and the Grenadines, tabaquismo, Tobacco Control, Tucumán, WHO
Subscribe to My Comments Feed
Leave a Reply