« The Main Causes of Accidential Poisoning in Jamaica's Children | Home | The Tourism Sustainability Scorecard / La Ficha de Evaluación de Sostenibilidad Turística »
By Keith R | May 28, 2009
Topics: Tobacco Control | No Comments »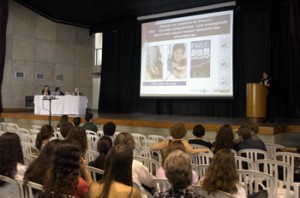 The World Health Organization (WHO) chose the theme for the 2009 celebration of World No-Tobacco Day on 31 May as "Show the Truth. Picture Warnings Save Lives."  How is Brazil celebrating the day?  The National Cancer Institute (INCA) released the preliminary results of a study they say shows that picture warnings on cigarette packs are effective.
The study is part of the work of the International Tobacco Control Evaluation Project (ITC Project) involving 20 countries (the other two Latin America nations involved are Mexico and Uruguay) coordinated by Canada's University of Waterloo.
According to the preliminary results released by INCA, 48.2% of Brazilian smokers said the pack warnings make them more likely to quit smoking.  "The printed images and phrases prevented 39.1% of smokers from reaching for a cigarette when they were about to smoke in the last 30 days. And 61.6% of smokers (and 83.2% of non-smokers) said that the warnings made them think, a little or a lot, about the health risks caused by smoking, "said Cristina Perez of INCA's Tobacco Control Division.
The study in Brazil  is following 1,800 smokers and nonsmokers in three state capitals (Rio de Janeiro, São Paulo, Porto Alegre) for at least three years.  Each time a tobacco control policy is changed, the same people will be interviewed, allowing a comparison of data over time.  The first phase of the Brazilian study is due to be completed in mid-2009; the second phased will be launched in 2010 to look at the impact of the new pack images just introduced.
The ITC Project coordinator, Canadian Geoffrey Fong, praised Brazil for the aggressiveness of its tobacco control campaigns.  He revealed, however, that the country is fourth in terms of public awareness about the health risks of smoking suggested by the warnings. "This means that despite the excellent quality of Brazilian images – admittedly the strongest in the world – people are not paying sufficient attention."  He suggested that Brazil should follow Canada's lead and print the warnings on both back and front of the pack, rather than just on the back as it now does.   He also suggested that the visibility that the images would be displayed on the shelves of retail outlets of tobacco products.
______________
Desde o Instituto Nacional de Câncer (INCA):
Pesquisa do INCA revela que imagens dos maços desestimulam fumo

O tema escolhido pela Organização Mundial de Saúde (OMS) para celebrar o Dia Mundial sem Tabaco, em 31 de maio deste ano, foi "Mostre a verdade. Advertências Sanitárias salvam vidas", com o objetivo de reforçar as campanhas de alerta aos males do tabagismo. O Brasil possui, desde 2001, uma das campanhas de advertências sanitárias mais avançadas do mundo e iniciou, recentemente, em parceria com a Universidade de Waterloo, no Canadá, pesquisa para medir, de forma contínua, o grau de impacto dessas ações na população.

O Projeto de Avaliação do Controle do Tabaco no Brasil, que está sendo aplicado pela primeira vez no país, integra o International Tobacco Control Evaluation Project (ITC Project), pesquisa internacional, coordenada pela Universidade de Waterloo, sobre políticas de controle do tabaco que se estende por outros 19 países.

Resultados preliminares do estudo brasileiro foram divulgados pelo INCA na quarta-feira, 27/5, como parte das comemorações do Dia Mundial sem Tabaco. Segundo a técnica da Divisão de Controle do Tabagismo do Instituto, Cristina Perez, 48,2% dos fumantes disseram que as advertências nos maços de cigarros os torna mais propensos a deixar de fumar. "As imagens e frases impressas impediram que 39,1% dos fumantes pegassem um cigarro quando eles estavam prestes a fumar, nos últimos 30 dias. E 61,6% dos fumantes (e 83,2% dos não-fumantes) disseram que as advertências os fizeram pensar, um pouco ou muito, sobre os riscos à saúde provocados pelo tabagismo", revelou Perez.

A pesquisa está sendo realizada em três capitais – Rio de Janeiro, São Paulo e Porto Alegre – com um universo de 1.800 pessoas, fumantes e não-fumantes, que serão acompanhadas por no mínimo três anos. A cada mudança na política de controle do tabaco no país, as mesmas pessoas serão entrevistadas, o que permitirá a comparação temporal dos dados. A primeira etapa da pesquisa brasileira será concluída ainda no primeiro semestre deste ano. Para 2010, está previsto o início da segunda fase, que vai avaliar o impacto das novas imagens de advertência, que começaram a ser veiculadas este mês.

O coordenador do ITC Project, o canadense Geoffrey Fong, elogiou os resultados brasileiros. "Comparado aos 16 países já pesquisados pelo ITC, como Alemanha, Holanda, França, EUA, Canadá e Austrália, entre outros, o Brasil é líder quando o assunto é vontade de parar de fumar nos próximos seis meses", explica Fong. Mas ele revela que o país fica em quarto lugar quanto à consciência da população sobre os riscos do fumo à saúde, sugeridos pelas advertências. "Isto quer dizer que, apesar da ótima qualidade das imagens brasileiras – reconhecidamente as mais fortes do mundo – as pessoas não estão prestando a devida atenção. Por isso, as advertências causariam mais efeito se estivessem mais à vista do fumante, sendo estampadas não só no verso, mas também na parte da frente das embalagens", propõe o canadense. Outra vantagem, destacada por Fong, é a visibilidade que as imagens passariam a ter nas prateleiras dos pontos de venda dos produtos derivados do tabaco. Leia mais sobre a pesquisa do ITC.

Estudo realizado na Austrália demonstrou que em 94% das vezes os maços de cigarro eram colocados sobre as mesas de bares e restaurantes com a frente para cima. "Ao manusearem os maços, as pessoas vêem nove vezes mais a frente que a parte de trás", revela o coordenador do ITC Project.

No Brasil, a pesquisa realizada pelo INCA é financiada pela Secretaria Nacional de Políticas sobre Drogas (Senad) e conta com o apoio da Aliança de Controle do Tabagismo (ACT) e do Laboratório de Neurobiologia da Universidade Federal do Rio de Janeiro (UFRJ).

Entenda as advertências sanitárias

As atuais imagens de advertências sanitárias, reguladas por lei desde 2001, são resultado de um trabalho coordenado pelo Instituto Nacional de Câncer (INCA), que reuniu profissionais das áreas de prevenção e controle do tabagismo, dependência química, epidemiologia, regulação dos produtos de tabaco (Agência Nacional de Vigilância Sanitária) e pesquisadores de comunicação e design da Pontifícia Universidade Católica (PUC), do laboratório de Neurobiologia da Universidade Federal do Rio de Janeiro (UFRJ) e do laboratório de Neurofisiologia do Comportamento da Universidade Federal Fluminense (UFF).

Estudos científicos demonstram que advertências sanitárias mais eficientes são as que geram reações emocionais negativas, como o medo e a repulsa, pois são as que mais favorecem uma redução da frequência e intensidade do consumo e que mais motivam os fumantes a tentarem deixar de fumar.

A Convenção-Quadro para o Controle do Tabaco, tratado internacional do qual o Brasil é Estado Parte, determina, em seu artigo 11, que os países adotem advertências sanitárias nas embalagens dos produtos de tabaco. Vários países optaram por advertências sanitárias com imagens fortes, como Austrália, Bélgica, Canadá, Chile, Hong Kong, Índia, Jordânia, México, Nova Zelândia, Panamá, Reino Unido, Romênia, Singapura, Suíça, Tailândia, Uruguai e Venezuela, além da Comunidade Européia.

No Brasil, após o lançamento das primeiras advertências com fotos, pesquisas mostraram que 80% dos fumantes manifestaram apoio à medida e o desejo de que elas fossem mais impactantes. Os fumantes apontaram também que as advertências que retratavam situações mais dramáticas eram as mais motivadoras para deixar de fumar.

De acordo com a Medida Provisória n.º 2.190-34 de 23 de agosto de 2001, todo fabricante ou importador de produtos de tabaco é obrigado a inserir nas embalagens as frases de advertência, acompanhadas de fotografias que ilustram as consequências do tabagismo. Estas devem ocupar 100% de uma das maiores faces das embalagens, além de exibir o número do Disque Saúde – Pare de Fumar (0800 703 7033). Nos pontos de venda, as advertências sanitárias devem ocupar 10% do espaço de publicidade.

A indústria do tabaco têm até 5 de agosto de 2009 para substituir as imagens de advertência antigas pelas novas.

Seminário discute com público jovem as novas advertências sanitárias

O Seminário "Advertências Sanitárias nos Maços de Cigarros – Defesa ou Afronta à Dignidade Humana?" foi realizado pelo INCA na manhã desta quinta-feira, 28/5, na Pontifícia Universidade Católica do Rio de Janeiro.

Com a intenção de aproximar o tema do público mais jovem, alvo preferido da indústria do tabaco, o evento contou com o apoio do reitor da PUC-RJ, padre Jesus Hortal Sanchez, e do coordenador do curso de Controle do Tabagismo da PUC-RJ, Barros Franco. Também estiveram presentes o diretor-geral do INCA, Luiz Antonio Santini, o presidente da Fundação do Câncer e da Academia Nacional de Medicina, Marcos Moraes, representantes da Anvisa e da Secretaria Nacional de Políticas sobre Drogas (Senad).

Diante de uma platéia atenta, formada essencialmente por estudantes e professores, técnicos do INCA e o coordenador do ITC Project, Geoffrey Fong, mostraram os estudos de avaliação das advertências sanitárias, desenvolvidos no Brasil e nos demais países integrantes da pesquisa internacional.

A chefe da Divisão de Controle do Tabagismo, Tânia Cavalcante, aprovou a iniciativa: "É importante que o público universitário seja mobilizado a participar do debate sobre o papel das advertências no controle do tabagismo, o impacto gerado por elas, seu processo de desenvolvimento e as evidências mundiais de sua utilização. Convocamos principalmente os estudantes das áreas de Comunicação, Artes e Design", declarou.

Nos pilotis da Universidade, foi montado um estande para distribuição de folhetos informativos e um grande maço de cigarro, em cujo interior um ator "preso e sufocado pela fumaça" fazia performances para impressionar o público.
Tags: ACT, advertencias sanitarias, Anvisa, Brasil, Brazil, cigarros, Dia Mundial sem Tabaco, fumantes, health warnings, INCA, maços de cigarros, OMS, Porto Alegre, PUC, Rio de Janeiro, São Paulo, SENAD, tabagismo, Tobacco Control, UFF, UFRJ, University of Waterloo, WHO
Subscribe to My Comments Feed
Leave a Reply