« Día Mundial sin Tabaco 09: Los logros y retos en Venezuela | Home | Brazil Invests in International Research Cooperation on Second Generation Biofuels »
By Keith R | May 29, 2009
Topics: Tobacco Control | No Comments »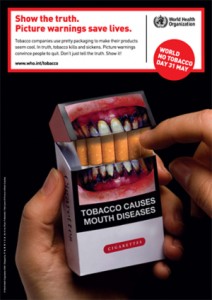 From the Pan American Health Organization (PAHO):
PAHO Calls for Pictorial Warnings on Tobacco Packaging

Countries urged to follow the lead of Brazil, Canada, Chile, Panama, Uruguay and Venezuela

Graphic images depicting the sickness and suffering caused by tobacco use should be mandatory on packaging for all tobacco products, the Pan American Health Organization (PAHO) said today on the eve of World No Tobacco Day, 31 May.

"We're calling on our member countries to enact laws and regulations that require picture warnings that tell the truth about the health effects of tobacco," said PAHO Director Dr. Mirta Roses. "Tobacco companies should not be allowed to fool people into thinking that smoking is anything but harmful and ugly."

Although tobacco is the world's leading preventable cause of death-killing more than 5 million people yearly-many people do not understand the specific health risks.

Research has shown that picture-based warnings can raise awareness of these risks and are effective in motivating smokers to quit and in reducing the appeal of tobacco use for people who are not yet addicted.

In Brazil, which began requiring pictorial warnings in 2002, 54 percent of smokers changed their opinions on the health consequences of smoking as a result of the warnings, and two-thirds of smokers said the warnings made them want to quit. Calls to a toll-free "quit line" in Brazil increased nearly ninefold following implementation of graphic health warnings.

Similarly, in Canada, 58 percent of smokers said they thought more about the health effects of smoking because of the warnings, 44 percent said the warnings increased their motivation to quit, and 27 percent said they smoked less inside their homes as a result of picture warnings.

Other advantages of picture-based tobacco warnings include:

They communicate health risks to people who cannot read.
They detract from the attractiveness of tobacco packaging and therefore act as a deterrent to new users, who are often young and image-conscious.
They are overwhelmingly supported by the public.
The cost to governments is minimal.

Currently, six countries in the Americas require picture warnings on tobacco products: Canada (since 2001), Brazil (since 2002), Venezuela (since 2005), and Chile, Panama, and Uruguay (since 2006). Peru is expected to require them starting in mid-2009.

Most other countries in the hemisphere have some regulations but do not require pictorial warnings and have not yet implemented other key measures specified in the WHO Framework Convention on Tobacco Control (FCTC), such as banning deceitful terms and requiring health warnings to cover at least 30 percent of the principal display areas on tobacco packaging. Twenty-six countries in the Americas and more than 160 worldwide have ratified the FCTC, making it one of the most widely embraced treaties in U.N. history.

"Now that some of our countries have become leaders in tobacco control, others need to follow their example," said PAHO Director Roses.
________________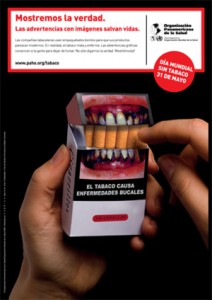 Desde la Organización Panamericana de la Salud (OPS):
OPS urge poner advertencias con imágenes en los paquetes de tabaco

Se pide a los países que sigan el ejemplo de Brasil, Canadá, Chile, Panamá, Uruguay y Venezuela

Imágenes gráficas que enseñan la enfermedad y el sufrimiento causados por el uso del tabaco deberían ponerse obligatoriamente en los empaquetados de todos los productos del tabaco, señaló hoy la Organización Panamericana de la Salud (OPS) en vísperas del 31 de mayo, Día Mundial Sin Tabaco.

"Estamos haciendo un llamado a nuestros Estados Miembros para que promulguen leyes y regulaciones que requieran advertencias con imágenes que muestren la verdad de los efectos del tabaco sobre la salud", dijo la Directora de la OPS, Dra. Mirta Roses. "No hay que dejar que las compañías de tabaco engañen a las personas haciendo creer que fumar es algo menos que dañino y repulsivo".

Aunque el tabaco es la primera causa prevenible de muerte en el mundo, matando a más de cinco millones de personas al año, muchos no entienden sus riesgos específicos sobre la salud.

Investigaciones han mostrado que las advertencias con imágenes pueden incrementar el conocimiento sobre estos riesgos y son efectivas para motivar a que los fumadores dejen de fumar y en reducir el aliciente sobre el uso del tabaco entre personas que aún no son adictas.

En Brasil, donde se comenzaron a requerir advertencias con imágenes en el 2002, un 54 de fumadores cambiaron sus opiniones sobre las consecuencias sanitarias de fumar como resultado de estas advertencias, y dos tercios de los fumadores dijeron que las advertencias les hicieron querer dejar de fumar. El número de llamadas a una línea telefónica gratuita en Brasil, habilitada para ayudar a dejar de fumar, aumentó en nueve tras la implementación de las advertencias sanitarias gráficas.

También en Canadá, un 58 por ciento de fumadores dijeron que debido a las advertencias pensaron más sobre los efectos sanitarios de fumar; un 44 por ciento señaló que las advertencias incrementaron su motivación para dejar de fumar; y el 27 por ciento dijeron que estaban fumando menos dentro de sus casas como resultado de las advertencias gráficas.

Otras ventajas de las advertencias con imágenes en los paquetes de tabaco incluyen que:

Comunican los riesgos sobre la salud a personas que no saben leer.
Quitan atractivo a los paquetes de tabaco y por lo tanto actúan como freno para nuevos usuarios, que a menudo son jóvenes e impresionables con imágenes.
El público las apoya mayoritariamente.
El costo para los gobiernos es mínimo.

Actualmente, seis países de las Américas requieren advertencias con fotos en los productos del tabaco: Canadá (desde el 2001), Brasil (2002), Venezuela (2005), y Chile, Panamá, y Uruguay (desde 2006). Se espera que Perú las empiece a requerir este mismo año.

La mayor parte del resto de los países en el hemisferio tienen algunas regulaciones pero no requieren advertencias gráficas y no han implementado aún otras medidas clave especificadas en el Convenio Marco de la OMS para el Control del Tabaco tales como prohibir términos engañosos y requerir que advertencias sanitarias cubran al menos un 30 por ciento del área principal de los paquetes de tabaco. Veintiséis países en las Américas y más de 160 en todo el mundo han ratificado el Convenio Marco, haciéndolo uno de los tratados más ampliamente apoyados en la historia de Naciones Unidas.

"Ahora que algunos de nuestros países se han convertido en líderes en control del tabaco, otros necesitan seguir su ejemplo", dijo la Dra. Roses.
Tags: advertencias con imágenes, Brasil, Brazil, Canada, Chile, control de tabaco, Día Mundial sin Tabaco, FCTC, Framework Convention on Tobacco Control, OMS, OPS, PAHO, Panama, pictorial warnings, smoking, tabaco, tabaquismo, Tobacco Control, tobacco packaging, Uruguay, Venezuela, WHO, World No-Tobacco Day
Subscribe to My Comments Feed
Leave a Reply