« Brazilian Resistance to Beer in PET Bottles | Home | New Cigarette Health Warnings/Images in Chile »
By Keith R | September 30, 2008
Topics: Cosmetics/Personal Care Products, Health Issues | No Comments »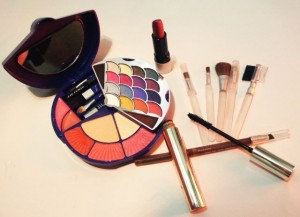 A key focus of the recent Tenth Meeting of Sanitary Authorities of the Americas in the Cosmetics, Personal Hygiene and Perfume Sector (Reunión de Autoridades Sanitarias de las Américas del Sector de Higiene Personal, Perfumería y Cosméticos – RASA) in São Paulo and the need for cosmetovigilance in the region.
What is RASA and what is cosmetovigilance?  RASA is a loosely organized annual meeting of health authorities that regulate the cosmetics, perfume and personal hygiene product sector.  The most recent meeting included representatives from Argentina, Brazil, Chile, Costa Rica, Cuba, Ecuador, El Salvador, French Guiana, Guatemala, Guyana, Mexico, Nicaragua, Panama, Paraguay, Peru, Uruguay and from the Commission of the Andean Community (CAN, the common market of Bolivia, Colombia, Ecuador and Peru).
As for cosmetovigilance, it's a post-marketing surveillance system for monitoring adverse effects and quality problems with cosmetics, personal hygiene products and perfumes.  Not all nations have formal cosmetovigilance systems and procedures (most LAC nations do not – yet), and some that do have only rudimentary systems.  And perhaps just as importantly, the systems already in place do not communicate well with each other (if at all).
The manager for cosmetics of Brazil's National Health Surveillance Agency (Anvisa) presented to RASA how Brazil's Health Surveillance Notification System (Notivisa) has worked since its creation in late 2006 regarding cosmetics, personal hygiene products and perfumes.   Brazil received 45 notifications regarding adverse events regarding cosmetics during 2007, which, as Ms. Sallum pointed out, is a very small amount given the size of Brazil's cosmetics market (third largest in the world in 2007).  Most events involved improper use of cosmetics.  She illustrated by discussing the practice by some Brazilians of mixing formaldehyde with cosmetics, which has spread to other LAC nations.  An Argentine representative confirmed this was true, and that Argentina had consulted with Anvisa about the problem.
Costa Rica, Mexico and Panama also briefly discussed how they handle post-marketing surveillance for cosmetics.
Does all this discussion mean that RASA members will now move toward a regional cosmetovigilance system?  No, not any time soon.  For now, the members accepted Chile's suggestion that all RASA authorities fully disclose their post-marketing surveillance measures on their websites.  But given the interest expressed in Brazil's system and in the value of information-sharing on adverse effects among health authorities, some sort of rudimentary regional cosmetovigilance system may be only a few years away — perhaps building on efforts within MERCOSUR to start such cooperation at the subregional level.  More on that in a future Temas Blog post!
_____________________
Desde a Agência Nacional de Vigilância Sanitária (Anvisa):
Países da América Latina discutem qualidade dos cosméticos

A cosmetovigilância, ou seja, o monitoramento dos efeitos adversos e queixas técnicas relacionados aos cosméticos, produtos de higiene pessoal e perfumaria, foi um dos temas abordados nesta quarta-feira (25), durante o primeiro dia de discussões da 10ª Reunião de Autoridades Sanitárias do Setor de Cosméticos da América Latina.

A gerente de cosméticos da Anvisa, Josineire Sallum, apresentou aos mais de 100 participantes de 18 países o funcionamento do Sistema de Notificações em Vigilância Sanitária (Notivisa). Em operação desde o final de 2006, o Notivisa recebeu em 2007, segundo Josineire, 45 relatos de eventos adversos ocasionados por cosméticos. "Os números são pequenos frente à quantidade de indústrias e à dimensão do nosso país", afirmou.

Josineire ressaltou ainda que a grande maioria dos problemas notificados é ocasionada pelo uso inadequado dos produtos. "Uma prática que se tornou comum no Brasil, e acabou se espalhando por outros países como a Argentina, é o uso do formol misturado aos cosméticos para servir como alisante capilar", exemplificou. A representante da Argentina no encontro, Mônica Bobbi, confirmou. "Tivemos muitos problemas relacionados ao uso do formol, mas felizmente pudemos contar com a experiência da Anvisa no assunto", disse.

Autoridades sanitárias do México, Costa Rica e Panamá, entre outros, também contaram como é feita a vigilância pós-comercialização de cosméticos nesses países. Embora a maioria não possua um sistema de notificação como o do Brasil, os eventos adversos relatados são bem parecidos, e dizem respeito ao uso inadequado, falta de atenção ao ler os rótulos ou ocorrência de reações alérgicas.

Mercado

Durante a abertura da 10ª Reunião de Autoridades Sanitárias do Setor de Cosméticos da América Latina, o diretor-presidente da Anvisa, Dirceu Raposo de Mello, destacou a importância da interação entre os representantes do continente sul americano. "Esse é um segmento econômico muito importante porque gera renda e empregos para o país e felicidade para quem compra os produtos", afirmou. "A harmonização dos procedimentos é necessária para garantir acesso a produtos de qualidade, por um preço justo".

O presidente da Associação Brasileira da Indústria de Higiene Pessoal, Perfumaria e Cosméticos (Abihpec) mostrou a amplitude do mercado dos países da América Latina. Segundo ele, em 2007, a região consumiu 46 bilhões de dólares de cosméticos, produtos de higiene e limpeza e gerou mais de 5,5 milhões de oportunidades de trabalho. "Nossa expectativa é representar, daqui 5 anos, um quinto do mercado no cenário nacional", completou.

A 10ª Reunião de Autoridades Sanitárias do Setor de Cosméticos da América Latina ocorre em São Paulo e termina no sábado (27), data de abertura da Feira Cosmética, no Parque de Exposições do Anhembi.
Tags: Abihpec, allergic reactions, América Latina, Andean Community, Anvisa, Argentina, Brasil, Brazil, Comunidad Andina, cosméticos, cosmetics, cosmetovigilance, cosmetovigilância, Costa Rica, Cuba, Ecuador, efeitos adversos, El Salvador, eventos adversos, formaldehyde, French Guiana, Guatemala, Guyana, Latin America, Mexico, Nicaragua, Notivisa, Panama, Paraguay, perfumaria, perfumes, personal hygiene products, Peru, post-marketing surveillance system, productos de higiene personal, produtos de higiene pessoal, public health, RASA, reações alérgicas, salud pública, saude, Uruguay, vigilancia sanitaria
Subscribe to My Comments Feed
Leave a Reply