« Street Signs from Recycled Plastic | Home | Rioluz Saves R$4 mil./yr by Reuse/Recycling »
By Keith R | September 24, 2007
Topics: Health Issues, Tobacco Control | No Comments »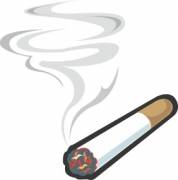 A recent article* published in Salud pública de México, the magazine of Mexico's National Institute of Public Health (INSP) examines trends in four key smoking indicators in Mexico, as revealed through its National Addiction Surveys (MNAS) conducted in 1988, 1993, 1998 and 2002. The author argues that, even though the data do not fit well with a model developed by the World Health Organization (WHO) to track countries' evolution through the stages of "the smoking epidemic," Mexico is indeed in the advanced stages of the epidemic.
Taken together, the four MNAS provided a total of 43,914 observations. Only about 88% of these could be used for this particular study, however, because of significant data gaps in the 1993 survey. The choice of four indicators also hinged in large part on their availability in all four surveys. The four indicators chosen were:
never smokers — people who answered "no" to the MNAS question "have you ever smoked during your lifetime?"
daily smokers — although each MNAS phrased it differently, they did provide indications of which respondents were or were not daily smokers.
smoking intensity among regular smokers — in essence, the surveys asked those who acknowledged being daily smokers to estimate how many cigarettes they smoke per day.
daily smokers attempting to quit — people who responded yes to the MNAS question "have you ever tried to quit smoking?"
What the Analysis Shows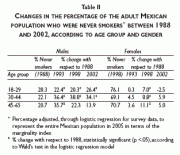 All four MNAS show about 3/4 of women are never-smokers, whereas among men it varies between 1/4 and 1/3. The last three MNAS show a statistically significant 10-18% increase of never-smokers among the population as a whole when compared to 1988 (click on first table at right to enlarge), with a huge (near 30%) jump among males and a smaller, more erratic increase among females.
As for age groups (click on second table at right to enlarge), the only consistently intense increase in never-smokers occurred in men between 30 and 44, while men 45 and older showed a peak increase in 1993 that tapered off in subsequent MNAS. The shifts in never smokers among women was only statistically significant in 1998.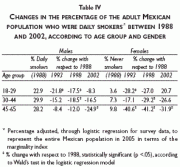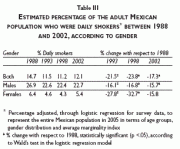 Regarding daily smokers (click on tables at right to enlarge), while the percentages went down after 1988 for both men and women, the drop for men stabilized at about 22%, while the rate for women began to creep back up in the latest MNAS.
When looked at by both gender and age group, all three age categories experienced drop-off among men, although it was more pronounced among those 45 and older. Among women, after an initial drop in prevalence, there was actually an increase among young women (18-29) in the final survey.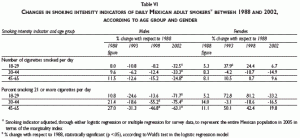 How much do Mexican daily smokers smoke? The 2002 MNAS showed that smoking intensity among daily smokers (click on table at right to enlarge) was an adjusted average of 6.4 cigarettes per day, with women smoking an average of 0.5 cigarettes more than men. During the period under examination, there appears to have been a steady decline in number of cigarettes smoked per day among men, but little change among women.
Among heavy smokers (defined as those smoking 21 or more cigarettes per day), women have a higher percentage than men (7.8% vs. 4.9%), and the reduction over time is clearly sharper among men than women.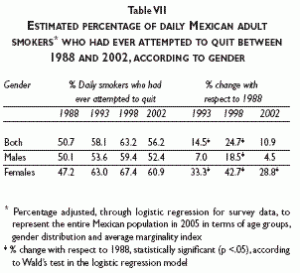 As for those attempting to quit, most daily smokers, regardless of gender, say that they had attempted to quit at least once (click on table to enlarge). Remember, this is about attempting to quit, not necessarily succeeding. Women were consistently more likely to try to quit than men. When examined by age group, by 2002 young women (18-29) had a much higher shift in attempting to quit (56.5% more than in 1988) than did middle age (30-44) (39.6%), and older women actually slipped (-10.6 compared to 1988).
What Does It Mean
The author acknowledges at least two important limitations to the data. First, as mentioned above, because of inconsistencies between surveys in the sections dealing with tobacco consumption, only the four parameters can be fruitfully compared — and they do not provide a comprehensive picture. We don't have good data on casual smokers or people who have successfully quit, for example.
Second, the first three surveys focussed on urban populations, whereas the 2002 MNAS tried to reflect the Mexican populace as a whole. Thus there were some questions about comparability which the author tried to adjust for.
The author also points out that the 2002 MNAS came only two years after the comprehensive anti-tobacco measures adopted by the federal government, so the next comprehensive may find more dramatic changes.
That said, how best to summarize the findings? On the positive side, the overall totals for never-smokers has increased over time, while the overall prevalence of daily smokers (particularly among those 45+) and heavy daily smokers, and the overall intensity of their smoking, has dropped. On the negative side are (1) the rise in never-smokers among men during the study period is not matched proportionally by women; (2) the drop in intensity comes mostly from men, not women.
In short, a general downward smoking trend among men and perhaps the start of an upward turn among women.
Franco-Marina suggests that cross-referencing with socioeconomic data would probably find a strong economic linkage — that daily smoking prevalence and intensity is more affected by the price of cigarettes relative to wages and salaries. Thus, he suggests, all the more important that the government takes steps to keep prices high enough to serve as a deterrent.
* FRANCO-MARINA, Francisco. Tendencias del tabaquismo en adultos en México: análisis de las Encuestas Nacionales de Adicciones. Salud pública Méx. [online], pp. s137-s146.
Tags: addiction, adicción, cigarettes, consumo de tabaco, encuesta, heavy smokers, INSP, Mexico, OMS, public health, salud pública, saude, smoking, survey, tabaco, tabagismo, tabaquismo, tobacco consumption, WHO
Subscribe to My Comments Feed
Leave a Reply