« More Leadership by Example | Home | Consumer Protection in LAC IV – Consumer NGOs in LAC »
By Keith R | April 23, 2007
Topics: Health Issues, Pharmaceutical Issues | No Comments »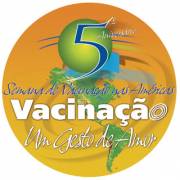 This week the Pan American Health Organization (PAHO) is sponsoring the fifth annual "Vaccination Week" (VWA) throughout Latin America and the Caribbean (LAC) to try to substantially improve the region's immunization levels and coverage.
Are you up-to-date on your immunizations?
Are your kids?
Are the elderly in your life (aunts, uncles, grandparents, elder friends and colleagues) vaccinated against the greatest risks to their health (some vaccines can literally mean the difference between life and death for certain high-risk categories of children and elderly)?
From PAHO:
Countries Gear Up for Vaccination Week in the Americas

Fifth Anniversary of immunization drive set for April 21-28

The countries of the Americas are preparing a huge promotional effort for the fifth year of Vaccination Week in the Americas, which this year aims to immunize some 55 million persons.

The regional launching of the initiative is scheduled Saturday, April 21 in Puerto Iguazu, on the tri-national border between Argentina, Brazil, and Paraguay, with the Ministers of Health of the three countries joining Pan American Health Organization Director Dr. Mirta Roses and other health officials.

Forty five countries and territories are participating in the week by launching a variety of vaccination campaigns, along with other health activities and social communication campaigns to increase awareness of the importance of immunization. The focus of Vaccination Week is to improve vaccination coverage in areas where it is low, to immunize indigenous communities, and to promote the use of new and existing vaccines.

Endorsed by all member countries of PAHO in 2003, the effort has already succeeded in reaching over 147 million children, women, men, and older adults, especially in difficult to reach populations, isolated border communities and municipalities with low immunization coverage.

The immunization outlook in the Americas has improved in the five years since Vaccination Week began as a joint campaign initiated by Andean countries. Each country has set its own targets and goals, ranging from initiatives to target high-risk populations, implement rubella elimination campaigns and follow-up measles vaccination, to the introduction of new vaccines, such as seasonal influenza, pentavalent, and rotavirus.

Inequities remain a barrier to reaching those left behind in the Region, and this is a challenge Vaccination Week addresses by focusing on principles of equity, access, and Pan Americanism, with the following objectives:

Increase and strengthen routine immunization coverage;
Improve coverage in isolated and vulnerable populations;
Continue to promote basic health care through integrated activities;
Keep immunization on the political agendas of Member States;
Improve the awareness of the general population about diseases and vaccines, including the new vaccines on the market; and
Focus on the risk of importation of vaccine-preventable diseases such as measles, rubella and polio.

Among the specific goals of countries participating in Vaccination Week in the America's are:

As part of the Regional goal to eliminate rubella and congenital rubella syndrome by 2010, Guatemala will vaccinate over 7 million men and women against measles and rubella.
Bolivia will launch a national yellow fever campaign, with a target population of over 4 million men, women, and children aged 2-44 years. Ecuador will immunize over 3 million people with yellow fever vaccine. Peru also plans to vaccinate against yellow fever and to improve routine immunization coverage in disadvantaged areas. Paraguay will immunize against yellow fever its border municipalities with Bolivia and Brazil.
In order to control neonatal tetanus and diphtheria, Paraguay will vaccinate 1 million men and women aged 20-29 years. Nicaragua will also reach half a million boys and girls 10-14 years of age as well as women of childbearing ages with Td (tetanus and diphtheria toxoid.)
Countries will also vaccinate against influenza. Argentina will vaccinate over 1 million children and older adults, while Colombia will vaccinate almost 500,000 people. Paraguay will vaccinate children aged 6-23 months, adults aged over 60 years, bird farmers, and other high-risk groups. Brazil will vaccinate 100 percent of its population over 60 years of age against influenza, and Uruguay will vaccinate 40 percent of children 6-24 months of age and 30 percent of adults over 65 years of age. Chile will carry out a national campaign against seasonal influenza, vaccinating almost 3 million children from 6 to 23 months, adults over 60, women in their second semester of pregnancy, people with chronic diseases and health workers.
To maintain the achievement of the eradication of wild poliomyelitis in the Americas, Cuba will vaccinate over 300,000 children over 3 years of age with a booster dose of polio vaccine. Honduras will vaccinate over 1 million and Nicaragua almost 700,000 children under the age of 5.
The Dominican Republic will vaccinate almost 500,000 children and adults against measles and rubella as part of its follow-up campaign. El Salvador will vaccinate 100,000 schoolchildren with measles-rubella vaccine, and Cuba will vaccinate 200,000 young adults with this vaccine.
El Salvador will focus its efforts on vaccinating border districts, poor urban areas, and districts with low coverage. Paraguay will also reach marginal urban areas and rural areas through a catch up campaign.
Ecuador will vaccinate half a million students against hepatitis B.
Venezuela plans to re-introduce rotavirus vaccine, vaccinating 40,000 children 2 months of age with their first dose.
Indigenous communities will be the focus of vaccination in Brazil and Paraguay vaccinating 120,000 and 20,000 indigenous people respectively.
Mexico will reach over 10 million children up to 5 years of age, women of childbearing age, adolescents and other adults with a number of vaccines and health interventions. Also, the Dominican Republic, Honduras, and Nicaragua will integrate other health activities during VWA, giving Vitamin A supplementation and anti-parasitic drugs.
Caribbean countries will launch social communication campaigns to raise awareness about vaccination in the general population. Under the possibility of disease importation by travelers to the World Cricket Cup 2007, all heads of the Expanded Programs on Immunization (EPI) in the Caribbean countries and territories signed the Paramaribo Declaration, highlighting the need for surveillance activities and reaching high-risk populations through vaccination.
In the main communities along the Mexico-US border advocacy actions will be boosted to increase current immunization efforts. Representatives of governments, local authorities and international agencies will participate in press conferences, health fairs and visits to community health centers.

PAHO has invited everyone to participate in the fifth anniversary celebration of Vaccination Week, noting that the World Health Organization's European Region will also hold its second Immunization Week in April and that other regions are considering participation.

Based on successes in the Americas, as well as other Regions' growing interest in maintaining the achievements of immunization, improving coverage in under-served populations, and maintaining immunization on the political agenda, Vaccination Week is spreading and could eventually become a global initiative.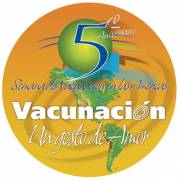 Desde la Organización Panamericana de la Salud (OPS):
Récord panamericano en vacunación previsto para semana

Todo listo para el 5 aniversario de la Semana de Vacunación en las Américas (21-28 de abril)

Los países de las Américas se están preparando para celebrar la Semana de Vacunación en las Américas (SVA), por quinto año consecutivo, del 21 al 28 de abril del 2007. El esfuerzo conjunto de la semana este año aspira a llegar a más de 55 millones de personas en el hemisferio.

El lanzamiento regional de la iniciativa tendrá lugar el sábado 21 de abril en Puerto Iguazú, en la triple frontera entre Argentina, Brasil y Paraguay, con las máximas autoridades de salud de los tres países y con la Directora de la Organización Panamericana de la Salud, Dra. Mirta Roses Periago.

En la semana participan 45 países y territorios, con el lanzamiento de varias campañas de vacunación integradas con otras actividades de salud y campañas de comunicación social, con un marcado énfasis a mejorar la cobertura de vacunación en áreas donde es baja, y en la inmunización de comunidades indígenas. y con baja cobertura.

En virtud de los éxitos en el hemisferio, así como por el creciente interés de otras regiones en mantener los logros en inmunización, mejorar la cobertura en poblaciones desprotegidas y salvaguardar las inmunizaciones en la agenda política, la Semana de Vacunación con el apoyo de la OPS ya se ha extendido a Europa y podría llegar a convertirse en una iniciativa mundial en promoción y protección de la salud a través de la inmunización.

Suscrita por todos los países miembros de la Organización Panamericana de la Salud (OPS) en el 2003, el esfuerzo ya ha alcanzado a más de 147 millones de niños, mujeres, hombres y adultos mayores, habiéndose enfocado en poblaciones difícilmente accesibles, comunidades fronterizas aisladas y municipalidades con una baja cobertura de inmunización.

El escenario de las inmunizaciones en las Américas ha mejorado en los últimos cinco años desde que empezó el esfuerzo, originado por los países Andinos. Los países han tomado ventaja de esta iniciativa para llegar a poblaciones de alto riesgo, implementar campañas para la eliminación de la rubéola y para dar seguimiento a la vacunación para el sarampión, así como para introducir nuevas vacunas como las de la gripe estacional, la pentavalente y la del rotavirus. Pero las inequidades constituyen aún una barrera para llegar en la Región a los que quedan atrás. Esto es un desafío que la SVA seguirá confrontando, manteniendo sus principios de equidad, acceso y panamericanismo con vistas al logro de las siguientes metas:

Incrementar y fortalecer la cobertura rutinaria por vacunación.
Mejorar la cobertura en poblaciones aisladas y vulnerables.
Continuar con la promoción de cuidados básicos de salud mediante acciones integradas.
Mantener la inmunización en las agendas políticas de los Países Miembros y hacerles partícipes en una celebración de la salud que enfatiza solidaridad.
Mejorar el conocimiento de la población general sobre enfermedades y vacunas, incluidas las nuevas vacunas disponibles, y
Enfocar en el riesgo de la importación de enfermedades prevenibles por vacunación tales como sarampión, rubéola y polio.

Todos los países se han marcado el objetivo de vacunar a más de 55 millones de personas. Algunas de las metas nacionales incluyen las siguientes:

Como parte del objetivo regional de eliminar la rubéola y el síndrome de la rubéola congénita para el 2010, Guatemala vacunará a más de 7 millones de hombres y mujeres contra el sarampión y la rubéola.
Bolivia lanzará una campaña nacional contra la fiebre amarilla con la idea de llegar a más de 4 millones de hombres, mujeres y niños con edades comprendidas entre los 2 y los 44 años. Ecuador vacunará a más de 3 millones de personas con la vacuna de la fiebre amarilla. Perú también planea vacunar contra la fiebre amarilla e incrementar la cobertura rutinaria de vacunación en áreas desfavorecidas. Paraguay inmunizará contra la fiebre amarilla a sus municipalidades fronterizas con Bolivia y Brasil.
Al objeto de controlar el tétano neonatal y la difteria, Paraguay vacunará a un millón de hombres y mujeres de 20 a 29 años. Nicaragua también llegará a medio millón de adolescentes entre 10 y 14 años así como a mujeres en edad fértil con Td (toxoide tetánico y diftérico).
Los países también vacunarán contra la influenza. Argentina vacunará a más de 1 millón de niños y adultos mayores mientras que Colombia vacunará a casi 500.000 personas. Paraguay vacunará a niños de entre 6 y 23 meses, a adultos mayores de 60 años, a criadores de aves y a otros grupos de alto riesgo. Brasil vacunará al 100% de su población mayor de 60 y Uruguay vacunará al 40% de los niños entre 6 y 24 meses de edad, y al 30% de los adultos mayores de 65 años. Por su parte, Chile ejecutará una campaña nacional contra la influenza estacional, vacunando a cerca de 3 millones de niños de 6 a 23 meses, adultos mayores de 60 años, mujeres en el segundo trimestre de gestación, personas con enfermedades crónicas y a trabajadores de la salud.
Para mantener el logro de la erradicación de la poliomielitis salvaje en las Américas, Cuba vacunará a 300.000 niños mayores de 3 años con una dosis reforzada de la vacuna de la polio. Honduras vacunará a más de 1 millón y Nicaragua a casi 700.000 niños menores de 5 años.
La República Dominicana vacunará a casi 500.000 niños y adultos contra el sarampión y la rubéola como parte de su campaña de seguimiento. El Salvador inmunizará a 100.000 escolares con la vacuna del sarampión-rubéola, y Cuba vacunará a 200.000 jóvenes.
El Salvador enfocará sus esfuerzos de vacunación en distritos fronterizos, áreas urbanas pobres y zonas con baja cobertura. Paraguay también llegará a áreas urbanas marginales y zonas rurales dispersas con una campaña de renovado seguimiento y alcance. Ecuador vacunará a medio millón de estudiantes contra la hepatitis B.
Venezuela planea re-introducir la vacuna del rotavirus, vacunando a 40.000 niños de 2 años con su primera dosis.
Las comunidades indígenas serán foco de las vacunaciones en Brasil y Paraguay, donde se vacunarán a 120.000 y 20.000 indígenas respectivamente.
México alcanzará a más de 10 millones de niños menores de 5 años, mujeres en edad fértil, adolescentes y otros adultos personas con un gran número de vacunas y actividades integrales de salud. Asimismo, la República Dominicana, Honduras y Nicaragua integrarán otras actividades de salud en el transcurso de la SVA, facilitando suplementos de Vitamina A y medicamentos antiparasitarios.
Los países del Caribe lanzarán campañas de comunicación social para incrementar el conocimiento de la población en general en materia de vacunación. Ante la posibilidad de importación de patógenos debido a la Copa Mundial de Críquet 2007 (CMC 2007), todos los Gerentes del Programa Ampliado de Inmunización (PAI) de los países y territorios caribeños firmaron la declaración de Paramaribo, donde se establece la necesidad de actividades de vigilancia y de alcance a poblaciones de alto riesgo mediante la vacunación.
En las principales comunidades fronterizas entre Estados Unidos y México se incrementarán las acciones de concienciación al objeto de reforzar los esfuerzos de inmunización en curso. Representantes de ambos gobiernos, autoridades locales y de organizaciones internacionales participarán en los eventos de lanzamiento, conferencias de prensa, ferias de salud y visitas a clínicas comunitarias.

La OPS invita a todos a que se hagan partícipes de la celebración de este quinto aniversario. La Región Europea también auspiciará su segunda Semana de Vacunación en abril, y otras regiones lo están considerando para el futuro.

En virtud de los éxitos en el hemisferio, así como por el creciente interés de otras regiones en mantener los logros en inmunización, mejorar de la cobertura en poblaciones desprotegidas y salvaguardar las inmunizaciones en la agenda política, la Semana de la Vacunación de todos los países de las Américas, con el apoyo de la OPS, podría llegar a convertirse en una iniciativa de alcance mundial.
Tags: Americas, anti-parasitic drugs, Argentina, Bolivia, Brasil, Brazil, Caribbean, Caribe, Chile, Colombia, comunicación social, comunidades indígenas, congenital rubella syndrome, Cuba, difteria, diphtheria, Dominican Republic, Ecuador, El Salvador, febre amarela, fiebre amarilla, Guatemala, hepatitis B, Honduras, immunization, indigenous peoples, influenza, inmunización, measles, medicamentos antiparasitarios, Mexico, neonatal tetanus, Nicaragua, OPAS, OPS, PAHO, Paraguay, Paramaribo Declaration, pentavalent, Peru, polio, poliomyelitis, rotavirus, rubella, rubéola, sarampión, síndrome de la rubéola congénita, social communication campaigns, tétano neonatal, Uruguay, vaccination, vacunación, Venezuela, Vitamin A, World Cricket Cup, yellow fever
Subscribe to My Comments Feed
Leave a Reply