« World Bank Case for a Stronger LAC Commitment on Climate Change | Home | Judges Agree: LAC Bench Needs Jurists Better Prepared for Environment Cases »
By Keith R | January 25, 2009
Topics: Climate Change, Health Issues | No Comments »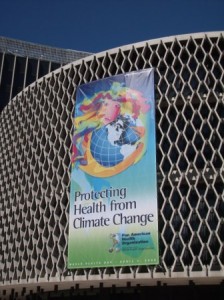 The World Health Organization's (WHO) Executive Board (EB) at its session in Geneva last week approved the WHO Secretariat's proposed work plan on climate change and health.  The basic elements of the work plan are:
Awareness Raising
Develop tools, guidance, information and training packages to support awareness and advocacy campaigns to protect health from climate change at national and regional levels;
Develop and run a global awareness-raising and advocacy campaign [WHO and its regional arm, the Pan American Health Organization (PAHO), started this last year with a World Health Day campaign focused on the topic] aiming to put health at the center of the climate change mitigation and adaptation agenda at the international level;
Partnerships
Participate in relevant mechanisms and coordination activities within the UN system, with particular attention to the UN Framework Convention on Climate Change (UNFCCC) and the Nairobi Work Program on impacts, vulnerability and adaptation to climate change;
"Exercise WHO's stewardship role" with other sectors (transport, energy, agriculture, emergency management) and related UN organizations;
Provide national health sectors with information, tools and advice so they can actively participate in national, regional and international mechanisms;
Promote and Support the Generation of Scientific Evidence
Assess the burden of disease attributable to climate change and project it to future years using existing and new approaches;
Review and develop methodologies and guidelines on how to evaluate vulnerability to climate change-related health effects at local, national and regional levels;
Develop a clearinghouse of existing health protection strategies in Member States, make that information widely available, and assess comparative effectiveness, including cost-effectiveness;
Support and monitor research to improve public health knowledge on the health risks of climate change and on the most effective interventions to manage those risks;
Assess the health impact of adaptation and mitigation policies in other sectors (agriculture, energy, transport) and identify the most effective actions which have the potential to benefit health;
Identify and develop indicators to monitor climate change-related health outcomes within surveillance systems;
Work with other relevant scientific organizations to develop a comprehensive international assessment of the economic costs associated with the health effects of climate change under different scenarios of adaptation and mitigation action and/or inaction (a type of supplement or follow-up to the Stern Review), and help Member States conduct such assessments at the national level;
Strengthen Health Systems to Cope with Health Threats Posed by Climate Change, Including Emergencies Related to Extreme Weather Events and Sea-Level Rise
Provide technical support for building capacity to assess and monitor vulnerability to climate change-related health risks;
Advocate for the strengthening of primary health care (including primary prevention) services to support capacity of local communities to become resilient to climate-related health risks;
Mobilize and guide international support for the urgent strengthening and financing of public health systems at the national level to enable them to take into account climate change risks and to function during emergencies;
Support the preparation, implementation and evaluation of regional and national mitigation and adaptation plans requiring health-system action;
Standardize and support the development of early warning systems related to the health consequences of climate change and climate variability.
The Secretariat says that the program will particularly emphasize work with countries deemed most vulnerable to the effects of climate change on health. It doesn't say how this will be determined initially, which is an interesting question, since part of the project is to develop assessment tools and indicators that help identify who is most vulnerable and to which impacts they may be most vulnerable.
The Secretariat also says that the new program should not have additional impact on approved budgets for the 2008-2009 and 2010-2011 bienniums, but that the planned budget for 2012-2013 may have to be reassessed based on actions emerging from the work in the next couple of years and the support needs of Member States identified.
Tags: agricultura, agriculture, burden of disease, cambio climático, Climate Change, climate change adaptation, climate change mitigation, emergency management, energía, energy, extreme weather events, OMS, public health, salud pública, saude, sea level rise, transport, transportes, UNFCCC, WHO
Subscribe to My Comments Feed
Leave a Reply