« Costa Rica's Biofuel Program | Home | Climate Change Adaptation: Andean Glacier Retreat »
By Keith R | June 6, 2008
Topics: Health Issues, Tobacco Control | No Comments »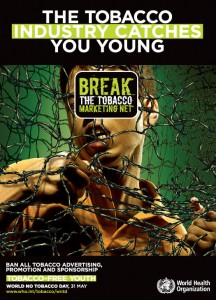 It was only a matter of time. World Health Organization (WHO) officials have long expressed the belief that one of the most effective tools in decreasing tobacco consumption is a a complete ban on all forms of advertising, promotion and sponsorship of tobacco products and bands. They wanted it in the Framework Convention on Tobacco Control (FCTC), or at least a pathway of gradual movement toward total ban. That way, after ad/promotion/sponsorship restrictions are put in place as part of the process of implementing the FCTC, they could be steadily tightened until a total ban becomes a reality.
WHO evidently believes that the time is ripe to begin pushing in earnest toward a full ban, and that the best way to get it to emphasize the impact of tobacco promotion on youth.
In LAC, since Colombia and Nicaragua decided to ratify the FCTC this past April, only 10 holdout nations remain: Argentina, the Bahamas, Costa Rica, Cuba, Dominican Republic, El Salvador, Haiti, St. Kitts and Nevis, St. Vincent and the Grenadines, and Suriname.
________________________
From the World Health Organization (WHO):
WHO wants total ban on tobacco advertising

WHO today urged governments to protect the world's 1.8 billion young people by imposing a ban on all tobacco advertising, promotion and sponsorship.

The WHO's call to action comes on the eve of World No Tobacco Day, 31 May. This year's campaign focuses on the multi-billion dollar efforts of tobacco companies to attract young people to its addictive products through sophisticated marketing.

Recent studies prove that the more young people are exposed to tobacco advertising, the more likely they are to start smoking. Despite this, only 5% of the world's population is covered by comprehensive bans on tobacco advertising, promotion and sponsorship. Tobacco companies, meanwhile, continue targeting young people by falsely associating use of tobacco products with qualities such as glamour, energy and sex appeal.

"In order to survive, the tobacco industry needs to replace those who quit or die with new young consumers," said WHO Director-General Dr Margaret Chan. "It does this by creating a complex 'tobacco marketing net' that ensnares millions of young people worldwide, with potentially devastating health consequences."

"A ban on all tobacco advertising, promotion and sponsorship is a powerful tool we can use to protect the world's youth," the Director-General added.

Since most people start smoking before the age of 18, and almost a quarter of those before the age of 10, tobacco companies market their products wherever youth can be easily accessed – in the movies, on the Internet, in fashion magazines and at music and sports venues. In a WHO study of 13 to 15-year-olds in schools worldwide, more than 55% of students reported seeing advertisements for cigarettes on billboards in the previous month, while 20% owned an item with logo of a cigarette brand on it.

But it is the developing world, home to more than 80% of the world's youth, which is most aggressively targeted by tobacco companies. Young women and girls are particularly at risk, with tobacco companies seeking to weaken cultural opposition to their products in countries where women have traditionally not used tobacco.

"The tobacco industry employs predatory marketing strategies to get young people hooked to their addictive drug," said Dr Douglas Bettcher, Director of WHO's Tobacco Free Initiative. "But comprehensive advertising bans do work, reducing tobacco consumption by up to 16% in countries that have already taken this legislative step."

"Half measures are not enough," added Dr Bettcher. "When one form of advertising is banned, the tobacco industry simply shifts its vast resources to another channel. We urge governments to impose a complete ban to break the tobacco marketing net," he said.

Loading ...
________________________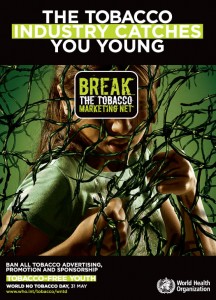 Desde la Organización Mundial de Salud (OMS):
La OMS quiere una prohibición total del tabaco

La Organización Mundial de la Salud (OMS) ha instado hoy a los gobiernos a proteger a los 1800 millones de jóvenes del mundo mediante la prohibición de toda publicidad, promoción y patrocinio del tabaco.

La OMS dirige este llamamiento con antelación al Día Mundial Sin Tabaco, que se celebra el 31 de mayo. La campaña de este año se concentra en las actividades de mercadeo muy elaborado desplegadas por las empresas tabacaleras a fuerza de miles de millones de dólares para atraer a los jóvenes hacia sus productos adictivos.

Según demuestran estudios recientes, cuanto más se expone a los jóvenes a la publicidad sobre el tabaco, más probabilidades habrá de que comiencen a fumar. A pesar de esto, sólo el 5% de la población mundial está protegida por prohibiciones completas de la publicidad, la promoción y el patrocinio. Entre tanto, las empresas tabacaleras apuntan continuamente a los jóvenes con asociaciones falsas entre el consumo de productos de tabaco y cualidades tales como el glamour, la energía y el atractivo sexual.

«A fin de sobrevivir, la industria tabacalera necesita sustituir con nuevos consumidores jóvenes a quienes abandonan el tabaco o mueren», dijo la Directora General de la OMS, Dra. Margaret Chan. «Para ello ha creado una compleja red de mercadeo tabacalero que atrapa a millones de jóvenes de todo el mundo, con consecuencias sanitarias potencialmente devastadoras.»

«La prohibición de toda publicidad, promoción y patrocinio del tabaco constituye un instrumento poderoso que podemos utilizar para proteger a los jóvenes del mundo», añadió la Directora General.

Dado que la mayor parte de los fumadores han comenzado a fumar antes de los 18 años de edad, y casi la cuarta parte de ellos antes de cumplir 10 años, el mercadeo de los productos de las tabacaleras se efectúa por cualquier medio de fácil acceso a los jóvenes, por ejemplo películas cinematográficas, Internet, revistas de moda y eventos musicales y deportivos. En un estudio de alcance mundial sobre jóvenes de 13 a 15 años de edad realizado en escuelas, más del 55% de los alumnos declararon haber visto el mes anterior vallas publicitarias con avisos de cigarrillos, mientras que el 20% de los alumnos poseía algún artículo con el logotipo de una marca de cigarrillos.

Pero la máxima agresividad de las empresas tabacaleras se concentra en los países en desarrollo, donde vive más del 80% de los jóvenes del mundo. Las mujeres jóvenes y las niñas están particularmente expuestas a riesgos ya que las empresas tabacaleras procuran debilitar la oposición cultural a sus productos existentes en países donde las mujeres tradicionalmente no consumen tabaco.

«La industria tabacalera recurre a estrategias de mercadeo depredadoras para enganchar a los jóvenes a su droga adictiva», afirmó el Dr. Douglas Bettcher, Director de la iniciativa Liberarse del Tabaco, de la OMS. «Pero las prohibiciones completas de la publicidad son eficaces y permiten reducir el consumo de tabaco hasta un 16% en los países que han adoptado ya esta medida legislativa.»

«Los paños calientes no bastan», añadió el Dr. Bettcher. «Cuando se prohíbe una forma de publicidad, la industria tabacalera simplemente transfiere sus enormes recursos a otro medio. Exhortamos a los gobiernos a imponer una prohibición completa para romper la red del mercadeo tabacalero», sostuvo.
Tags: advertisements, advertising, Argentina, Bahamas, ban, billboards, cigarrillos, Colombia, Costa Rica, Cuba, Día Mundial sin Tabaco, Dominican Republic, El Salvador, empresas tabacaleras, eventos deportivos, fashion magazines, FCTC, Framework Convention on Tobacco Control, Haiti, Margaret Chan, OMS, patrocinio, películas, promoción, promotion, propaganda comercial, public health, publicidad, revistas de moda, salud pública, saude, smoking, sponsorship, St. Kitts and Nevis, St. Vincent and the Grenadines, Suriname, tabaco, Tobacco Control, tobacco promotion, WHO, World No-Tobacco Day
Subscribe to My Comments Feed
Leave a Reply