« Consensus on Principles for Sustainable Foresty and Climate Change? | Home | Wal-Mart's Commitment to Reduce Plastic Bag Use in LAC »
By Keith R | September 26, 2008
Topics: Advertising/Promotion, Health Issues, Tobacco Control | 2 Comments »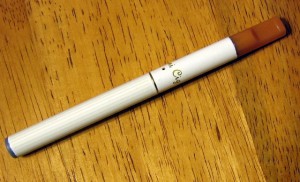 From the World Health Organization (WHO):
Marketers of electronic cigarettes should halt unproved therapy claims

Contrary to what some marketers of the electronic cigarette imply in their advertisements, the World Health Organization (WHO) does not consider it to be a legitimate therapy for smokers trying to quit.

"The electronic cigarette is not a proven nicotine replacement therapy," said Dr Ala Alwan, Assistant Director-General of WHO's Noncommunicable Diseases and Mental Health Cluster. "WHO has no scientific evidence to confirm the product's safety and efficacy. Its marketers should immediately remove from their web sites and other informational materials any suggestion that WHO considers it to be a safe and effective smoking cessation aid."

The typical electronic cigarette is made of stainless steel, has a chamber for storing liquid nicotine in various concentrations, is powered by a rechargeable battery and resembles a real cigarette. Users puff on it as they would a real cigarette, but they do not light it, and it produces no smoke. Rather, it produces a fine, heated mist, which is absorbed into the lungs.

Developed in China in 2004, the electronic cigarette is sold there and in numerous other countries, including Brazil, Canada, Finland, Israel, Lebanon, the Netherlands, Sweden, Turkey and the United Kingdom.

Marketers of the electronic cigarette typically describe it as a means to help smokers break their addictions to tobacco. Some have even gone so far as to imply that WHO views it as a legitimate nicotine replacement therapy like nicotine gum, lozenges and patches.

But WHO knows of no evidentiary basis for the marketers' claim that the electronic cigarette helps people quit smoking. Indeed, as far as WHO is aware, no rigorous, peer-reviewed studies have been conducted showing that the electronic cigarette is a safe and effective nicotine replacement therapy.

WHO does not discount the possibility that the electronic cigarette could be useful as a smoking cessation aid. The only way to know is to test.

"If the marketers of the electronic cigarette want to help smokers quit, then they need to conduct clinical studies and toxicity analyses and operate within the proper regulatory framework," said Douglas Bettcher, Director a.i. of WHO's Tobacco Free Initiative. "Until they do that, WHO cannot consider the electronic cigarette to be an appropriate nicotine replacement therapy, and it certainly cannot accept false suggestions that it has approved and endorsed the product. "

The WHO Study Group on Tobacco Product Regulation is scheduled to address the electronic cigarette, among other topics, 12-14 November 2008 in Durban, South Africa. Convened by WHO Director-General Dr Margaret Chan, its mandate is to advise her on scientifically sound and evidence-based recommendations to the Member States about tobacco product regulation.
_______________________
Desde la Organización Mundial de la Salud (OMS):
Los distribuidores de cigarrilos electrónicos deben dejar de reivindicar efectos terapéuticos no demostrados

Al contrario de lo que se presupone en la publicidad de algunos distribuidores de cigarrillos electrónicos, la Organización Mundial de la Salud (OMS) no considera que sean un tratamiento legítimo para quienes estén tratando de dejar de fumar.

«El cigarrillo electrónico no es un tratamiento sustitutivo con nicotina que tenga una eficacia demostrada», ha dicho el Dr. Ala Alwan, Subdirector General de la OMS para Enfermedades No Transmisibles y Salud Mental. «La OMS no dispone de pruebas científicas que confirmen la seguridad y eficacia del producto. Los distribuidores deben retirar inmediatamente de sus sitios web y otros materiales informativos todo lo que pueda llevar a pensar que la OMS considera que se trata de una ayuda segura y eficaz para dejar de fumar.»

El cigarrillo electrónico típico está hecho de acero inoxidable, tiene una cámara con nicotina líquida en diferentes concentraciones, es alimentado por una batería recargable y se parece a un cigarrillo de verdad. El usuario da caladas como lo haría con un cigarrillo de verdad, pero no lo enciende y no produce humo, sino un ligero vaho caliente que se absorbe en los pulmones.

El cigarrillo electrónico, creado en China en 2004, se vende en ese país y en muchos otros, como Brasil, Canadá, Finlandia, Israel, Líbano, Países Bajos, Suecia, Turquía y Reino Unido.

Los distribuidores del cigarrillo electrónico suelen describirlo como una ayuda a los fumadores que quieren dejar el tabaco. Algunos van más lejos, sugiriendo que la OMS lo considera como un tratamiento legítimo de sustitución con nicotina, como pueden ser los chicles, las pastillas o los parches de nicotina.

Sin embargo, la OMS no tiene conocimiento de ninguna prueba de que, como dicen sus distribuidores, el cigarrillo electrónico ayude a dejar de fumar. La OMS no tiene conocimiento de ningún estudio riguroso, sometido a arbitraje editorial, que demuestre que el cigarrillo electrónico sea un tratamiento sustitutivo con nicotina seguro y eficaz.

Aunque la OMS no descarta la posibilidad de que el cigarrillo electrónico sea útil para ayudar a dejar de fumar, la única forma de demostrarlo es haciendo estudios.

«Si los distribuidores de cigarrillos electrónicos quieren ayudar a los fumadores a dejar el hábito, deben efectuar estudios clínicos y toxicológicos en el marco reglamentario adecuado», ha dicho Douglas Bettcher, Director interino de la Iniciativa Liberarse del Tabaco de la OMS. «Mientras no lo hagan, la OMS no puede considerar que el cigarrillo electrónico sea un tratamiento apropiado de sustitución con nicotina y, por supuesto, no puede aceptar sugerencias falsas de que aprueba o respalda el producto. La OMS sólo aprueba y respalda aquellos tratamiento de sustitución con nicotina que tienen una eficacia y una seguridad demostradas.»

El Grupo de Estudio de la OMS sobre la Reglamentación de los Productos de Tabaco tiene previsto examinar el cigarrillo electrónico, además de otros temas, en una reunión que celebrará en Durban (Sudáfrica), del 12 al 14 de noviembre de 2008. Convocado por la Dra. Margaret Chan, Directora General de la OMS, su mandato consiste en hacer a los Estados Miembros recomendaciones con fundamento científico y basadas en datos probatorios acerca de la reglamentación de los productos de tabaco.
Tags: advertising, Brasil, Brazil, Canada, China, cigarrillos electrónicos, electronic cigarettes, Finland, Finlandia, Israel, Lebanon, Líbano, Netherlands, nicotine gum, nicotine patches, nicotine replacement therapy, OMS, Países Bajos, parches de nicotina, publicidad, Reino Unido, Suécia, Sweden, tratamiento sustitutivo con nicotina, Turkey, Turquía, WHO
2 Responses to "WHO: Electronic Cigarettes Not Legit Therapy / OMS: cigarrilos electrónicos no son tratamiento legítimo"
MIke Says:
February 4th, 2009 at 7:52

Hey guys. These are really cool devices… I have actually have one myself… but when I puff on my device, the tip actually lights up blue. So it is easier to get away with it at places where they ban smoking. I think I can get use to smoking my e cig. Anyways these smoking devices are healthier than regular cigs, because you are taking in water vapor. And they are great conversation starters at clubs and bars.

Bea Says:
October 10th, 2009 at 17:49

Hi,just to tell you that in my case, it really proves to be useful, ive been quite a heavy smoker, for more than 30 years, but since i have this device, i havent smoked "real" cigarettes"… i got used to it. I think it is a better alternative for those who want to stop smoking but cant do it due to different variables ( level of wish, strength, stress, etc)
Leave a Reply