« Consumer Protection in LAC – An Introduction | Home | World Health Day 2007 – World Bank Stresses Health Finance/ Insurance in LAC »
By Keith R | April 3, 2007
Topics: Health Issues | No Comments »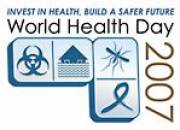 As I noted in a prior entry, April 7th is World Health Day. World Health Day is one of those constructs that allows everybody in a certain community to talk "on message" and focus discussion about a pre-selected theme. The date was picked because it is the anniversary of the founding of the World Health Organization (WHO), the United Nations specialized agency in charge of coordinating international public health policy efforts. This year the chosen theme is "invest in health, build a safer future."
In truth, each participating organization tends to bend the theme to whatever they wish to talk about. For its part, the Pan American Health Organization (PAHO) has chosen to emphasize investing in being prepared for health emergencies.

From the Pan American Health Organization (PAHO):
Emerging Threats Demand New Approach to Preparedness

Recent public health catastrophes point to the need for "all-hazards" planning

The SARS epidemic, the South Asian tsunami, Hurricane Katrina, and avian influenza all underline a growing need for preparedness planning that addresses multiple hazards and coordinates all levels of government and society, said a panel of public health experts today at the Pan American Health Organization (PAHO) in Washington, D.C.

"Whether it's a tsunami, a hurricane, or a pandemic, the systems we need all have to be there," said Dr. Cristina Beato, PAHO's new deputy director and former senior advisor in the U.S. Department of Health and Human Services (HHS). "I think you will see PAHO and others increasingly taking an all-hazards approach to preparedness."

"National preparedness is a mosaic comprised of several pieces and is the result of preparedness of each sector: the private sector, civil society, and all of the public sector, with its various sub sectors," said Dr. Carissa Etienne, assistant director of PAHO. "This is complex and is a challenge for each of us."

During the 2003 SARS epidemic, a high proportion of Canadian cases were among health-care workers and resulted from poor infection-control practices in hospitals. This pointed up a need for cooperation across government agencies, and particularly between health and labor authorities.

"We had assumed that hospitals knew more about infection control than we did," said Helle Tosine, deputy assistant minister in Ontario's Ministry of Labor. "That turned out not to be the case."

Following a review of the SARS experience, Ontario's Ministry of Labor established a "Health and Safety Partnership" with provincial health officials to bolster occupational health and safety practices in health-care settings. The program included an Internal Responsibility System that assigns health workers major responsibility for promoting and reporting threats to health and safety in the workplace.

Weaknesses in the U.S. response to Hurricane Katrina in 2005 spurred HHS to partner with local authorities to prepare better for a possible new hurricane during 2006. The effort included a study of the needs and requirements for evacuating and sheltering vulnerable groups, and included gathering details on the location of nursing home residents and displaced people and assessing weaknesses in local infrastructure caused by Katrina.

"This was probably the first time we've seen such a highly detailed, joint planning process involving both state and local agencies," said Dr. Sandy Bogucki, senior medical advisor in HHS's Office of Preparedness and Emergency Operations.

The U.S. Centers for Disease Control and Prevention (CDC), in its planning for a possible influenza pandemic, emphasizes the need for coordination between local and national authorities and for action at the community level.

"Community-based interventions are extremely important," said Francisco Averhoff, chief of the CDC's Quarantine and Border Health Services Branch, Division of Global Migration and Quarantine. "Nonpharmaceutical interventions, such as school and daycare closures and social distancing, can help delay transmission and outbreak peak. This gives us more time to get a pandemic vaccine and to distribute antivirals, and it allows the health-care infrastructure to deal with a more spread-out case load. It also decreases the total number of cases."

According to Averhoff, modeling studies show that children may be responsible for infecting up to 43 percent of all influenza cases, making school closures the most important nonmedical intervention in case of an influenza pandemic. Other key measures include voluntarily home confinement of sick people, allowing employees to work from home, and cancelling public events.

"Evidence from the 1918 pandemic shows that these kinds of interventions may be effective in mitigating the effects of a pandemic," said Averhoff. "Multiple interventions are more effective than those taken alone. But to be effective, they must be done early; if they're undertaken too late, they have little effect."

Gregory Gist, senior policy advisor in Citigroup's Office of Business Continuity, said that his and other large corporations are increasingly preparing for a variety of potential disasters as part of their business continuity planning. "The idea is that it's not just what hits you, but the effects of what hits you," he said. "The secret is to test, test, test your [preparedness] plans and to take lessons from other experiences."

Bogucki added: "We should never underestimate the need across the board for planning and preparedness, whether for a hurricane, a tsunami, or a pandemic. We have to build in early detection and warning systems, then take actions that are planned and pre-resourced to save lives and to mitigate the impact."

The panel on preparedness for large-scale health threats was part of a series of activities surrounding World Health Day, which this year focuses on health security. World Health Day is held annually on April 7 to mark the anniversary of the founding of the World Health Organization.

The Pan American Health Organization, founded in 1902, works with all the countries of the Americas to improve the health and quality of life of their peoples. It serves as the Regional Office of the World Health Organization (WHO).
Tags: avian influenza, CDC, Citigroup, Día Mundial de la Salud, Hurricane Katrina, Ontario, OPS, PAHO, pandemic, preparedness, SARS, WHO, World Health Day
Subscribe to My Comments Feed
Leave a Reply