« An IDB-Sponsored "Blueprint for Green Energy in the Americas" | Home | Consumer Protection in LAC – An Introduction »
By Keith R | April 3, 2007
Topics: Health Issues | No Comments »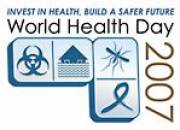 April 7th is World Health Day. What? You didn't even know there was such a thing? Then you probably are not involved in national or international public health policy. (Or so they tell me.)
World Health Day is one of those constructs that allows everybody in a certain community to talk "on message" and focus discussion about a pre-selected theme. The date was picked because it is the anniversary of the founding of the World Health Organization (WHO), the United Nations specialized agency in charge of coordinating international public health policy efforts. This year the chosen theme is "invest in health, build a safer future."
In truth, each participating organization tends to bend the theme to whatever they wish to talk about. WHO, for example, wanted to have all its work viewed as related to promoting, ensuring and addressing "international health security," and therefore worthy of greater attention and investment in this age of preoccupation about security issues.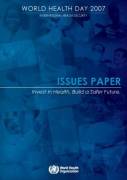 WHO has already put out an "issues paper" on international health security which — surprisingly — covers alot of ground while remaining concise, readable and actually a pretty good starting point for discussion and debate about the issues it highlights.
And yes, the fact that I am talking about here on The Temas Blog means I think it is very much relevant for the nations of Latin America and the Caribbean (LAC). Do I need to explain why? A region where hurricanes, volcanoes, floods and mudslides happen every year? Where cholera, dengue or hantavirus can spread quickly? Where AIDS is a serious issue not being adequately addressed by any LAC government (except perhaps Brazil's)?
The brief profiles such issues as
emerging and re-emerging rapidly spreading diseases [SARS, avian influenza ("bird flu"), leptospirossis, etc.);
environmental change (such as the impact of climate change on health);
the ongoing danger of bioterrorism;
sudden and intense humanitarian emergencies caused by natural disasters, chemical spills or radioactive accidents; and
the impact of HIV/AIDS.
For each it provides a half-page overview of the issue, with a chart or two, a couple of bulleted discussion points and a few hyperlinks (usually WHO webpages) for further information.
— Keith R
Tags: AIDS, avian influenza, bioterrorism, bird flu, cambio climático, chemical spills, Climate Change, Día Mundial de la Salud, HIV, humanitarian emergencies, international health security, mudanças climáticas, natural disasters, OMS, radioactive accidents, SARS, SIDA, VIH, WHO, World Health Day
Subscribe to My Comments Feed
Leave a Reply