« World Health Day 2007 – PAHO Stresses Preparedness | Home | The Probable Impact of Climate Change on Chile »
By Keith R | April 4, 2007
Topics: Health Issues | No Comments »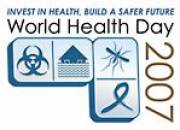 As I noted in a prior entry, April 7th is World Health Day. World Health Day is one of those constructs that allows everybody in a certain community to talk "on message" and focus discussion about a pre-selected theme. The date was picked because it is the anniversary of the founding of the World Health Organization (WHO), the United Nations specialized agency in charge of coordinating international public health policy efforts. This year the chosen theme is "invest in health, build a safer future."In truth, each participating organization tends to bend the theme to whatever they wish to talk about.
For their part, WHO focused on "international health security," while the Pan American Health Organization (PAHO) chose to emphasize investing in being prepared for health emergencies.
And the World Bank? Well, to my surprise, they have chosen to focus on Latin America and the Caribbean (LAC), with a stress on health financing and health insurance.
While I am certain this is an important worthy issue needing to be addressed, I have to wonder if the Bank could not have found some other pressing and timely topic to address, like financing preparations for major health emergencies, or improving the epidemiological surveillance and disease early warning network in LAC, or how best to help LAC organize and finance responses to emerging and re-emerging diseases…
Something else bothers me about the press releases issued by the Bank and reproduced below. While I was very happy at first that the Bank's health policy people had chosen to focus on LAC for a change, I resisted the urge to rush it "into print" and instead conducted my usual "background check."
You see, believe it or not, press releases do not go directly into The Temas Blog without some double-checking first. I like to confirm their claims, where possible, and decide if, with just a wee bit of research and write-up on my part, the information provided can be improved. Unlike some blogs, I don't pass off a cut-and-paste of press releases or news articles as my own writing, with a tiny footnote at the end indicating source that most readers will miss. If I use the release or article, I say so upfront with source noted prominently (usually with hyperlink), and whatever is used from the press release is put into quote boxes so it's clear it's a citation.
What I found when I checked into this bit of Bank PR irks me:
The publication touted is presented as if new ("launched today"), but in fact is

not

: it was originally published in July 2006.
The publication is presented now as a "report," whereas when originally released, it was a "book." Why does that matter? Well, usually when the Bank calls something a "report," you can obtain a PDF download of it for free because they want to promote dissemination, discussion and debate. "Books" are usually for-sale only, sometimes by third-party press. "Beyond Survival" is the latter — if you want to read it and debate its case studies and conclusions, you must pony up US$20 to Stanford University Press.
Why did the Bank chose to take this for-sale publication off the shelf and present it as something new, instead of presenting a fresh study on some topic related to this year's theme for World Health Day, I cannot say. I just hope it has nothing to do with the fact that the book's co-author is the current Acting Director of Health for the Bank.
I'm sure it's a good book worthy of consideration (but since I'm not going to pay the $20 plus postage and handling and wait however long it takes to receive it before reviewing, I cannot vouch for it). However, the Bank should have been honest and upfront about it, said something along the lines of "we don't have something else ready that fits this year's World Health Day theme well, but we do have this excellent for-pay book from last year that has not gotten the attention it deserves, and we think is very relevant to the theme, so we're stressing it instead."
After this discovery, the only reasons I decided to publish these press releases at all are (1) others probably will publish it verbatim, questioning nothing in it, so it's probably up to me to say something; (2) the issue it covers is indeed important, and should be more widely discussed and debated than it has been.
That said, I will be even less trusting of Bank releases in the future and recommend other bloggers likewise be cautious about Bank PR.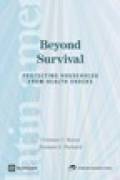 From the World Bank:
Rising Health Care Costs and Lost Wages Can Impoverish Households in Latin America–New World Bank Report

Despite Latin America's economic growth of 5 percent in the last three years and significant progress in reducing poverty in recent years, a World Bank report launched today to mark World Health Day warns that illness, accidents, and normal life-cycle events such as old age can jeopardize people's health and throw their households and families into poverty.

The report –"Beyond Survival: Protecting Households from Health Shocks in Latin America"– is based on six case studies in: Argentina, Chile, Colombia, Ecuador, Honduras, and Mexico, and argues that applying a classical insurance system could better protect Latin American households which are over-burdened without-of-pocket spending and lack sufficient access to instruments with which to pool risks.

"With total health expenditures accounting for 6.4 percent of gross domestic product, Latin America and the Caribbean is the highest-expending region in the world after the countries of the Organization for Economic Cooperation and Development," said Cristian Baeza, a World Bank Acting Director of Health and co-author of the report. "Public expenditures on health care are low in most countries in the region, but private spending on health – particularly spending out of pocket paid when services are needed – is correspondingly high," added Truman Packard, World Bank Senior Economist and co-author of the report.

The report carries four main messages for policy makers in the Latin American and Caribbean (LAC) region:

Health out-of-pocket payments — and loss of income as a consequence of illness — can impoverish households and plunge already poor people into a trans-generational cycle of abject poverty.
People need protection from the potentially ruinous costs of health care and loss of income due to illness. The costs rival losses of income from unemployment as a cause of poverty.
Risk pooling in LAC has mostly benefited formally employed salaried workers who are covered by mandatory public and quasi-public risk pooling mechanisms.
Extending risk pooling to the large and growing informal labor sector is a priority in LAC. This means inventing contribution mechanisms for non-poor households to participate in risk pooling that are not linked to workplace or labor status.

"Despite nearly two decades of bold reforms in the health sector, households in the Latin America and the Caribbean region are still overexposed to health shocks that can force them to cut consumption of other basic services and goods and even result in destitution," said Guillermo Perry, World Bank Chief Economist for the Latin America and the Caribbean Region. "Around the world, including in Latin America, health care costs are rising," Perry added.

"Beyond Survival breaks new ground in the ongoing debate about health finance and financial protection from the costs of health care," said Keith Hansen, World Bank Sector Manager for Health in the Latin America and the Caribbean Region. "This book reviews existing and new evidence on the mechanisms and magnitude impoverishing effects of health events and the importance of public policy to prevent such impoverishment," Hansen added.
Desde el Banco Mundial:
El aumento de los gastos en salud y la pérdida de ingresos pueden empobrecer a los hogares de América Latina — Nuevo informe del Banco Mundial

A pesar de que América Latina registró un crecimiento económico de 5% durante los últimos tres años y avances importantes en la lucha contra la pobreza en los últimos años, un informe del Banco Mundial publicado hoy para conmemorar el Día Mundial de la Salud advierte que enfermedades, accidentes y ciclos vitales normales como la ancianidad pueden poner en peligro la salud de las personas y empobrecer a las familias.

El informe, titulado "Beyond Survival: Protecting Households from Health Shocks in Latin America" (Más allá de la supervivencia: proteger a los hogares contra crisis de salud en América Latina), se funda en seis estudios de casos prácticos en Argentina, Chile, Colombia, Ecuador, Honduras y México, y señala que aplicar un sistema clásico de seguros puede proteger mejor a los hogares latinoamericanos, los cuales están sobrecargados con pagos en efectivo que deben sufragar de su propio bolsillo y no disponen de suficiente cobertura conjunta de riesgos.

"El gasto total en salud representa 6,4% del producto interno bruto de América Latina y el Caribe, nivel que sitúa a la región como aquella que más gasta en salud después de los países de la Organización de Cooperación y Desarrollo Económicos", declaró Cristian Baeza, director interino de salud del Banco Mundial y uno de los autores del informe. "El gasto público en atención de salud es bajo en la mayoría de los países de la región y por ende, el gasto privado –particularmente gastos que los hogares pagan en efectivo cada vez que necesitan servicios– es bastante elevado", agregó Truman Packard, economista senior del Banco Mundial y otro de los autores del informe.

El informe entrega cuatro mensajes para las autoridades a cargo de formular políticas en la región de América Latina y el Caribe (ALC):

Los gastos en efectivo en salud – y la pérdida de ingresos como resultado de una enfermedad – pueden empobrecer a los hogares y hundir a las personas que ya son pobres en un círculo de miseria que trasciende las generaciones.
La gente necesita protección contra los costos potencialmente ruinosos de la atención médica y la pérdida de ingresos debido a una enfermedad. Estos costos compiten con la pérdida de ingresos como consecuencia del desempleo como causa de la pobreza.
En esta región, la cobertura conjunta de riesgos se ofrece principalmente a los trabajadores asalariados formales, quienes en América Latina y el Caribe están cubiertos por mecanismos obligatorios públicos y cuasi públicos de cobertura.
Es de máxima prioridad que la cobertura conjunta de riesgos cubra asimismo el enorme y creciente sector laboral informal de ALC. Ello implica que es necesario crear mecanismos de aportación para que los hogares no pobres participen de un sistema de cobertura conjunta de riesgos que no esté vinculado a su lugar del trabajo o a la situación laboral.

"A pesar de dos decenios de audaces reformas en el sector de la salud, los hogares de la región de América Latina y el Caribe todavía están sobreexpuestos a las consecuencias de las crisis de salud que los pueden obligar a reducir drásticamente el consumo de otros bienes y servicios básicos o incluso dejarlos en la indigencia", señaló Guillermo Perry, economista jefe del Banco Mundial para la región de América Latina y el Caribe. "Los costos de la salud están aumentando en todo el mundo y América Latina no es una excepción", agregó.

"Más allá de la supervivencia ofrece una mirada innovadora en el actual debate sobre financiamiento de la salud y protección financiera contra los costos de la atención médica", afirmó Keith Hansen, gerente del sector salud del Banco Mundial para la región de América Latina y el Caribe. "Este libro examina datos disponibles y nuevos acerca de los mecanismos y la magnitud de los efectos empobrecedores de las contingencias de salud y la importancia de las políticas públicas para prevenir ese empobrecimiento", agregó Hansen.
Tags: América Latina, Argentina, Banco Mundial, Chile, Colombia, Día Mundial de la Salud, Ecuador, health care costs, health finance, Honduras, international health security, Latin America, Mexico, OMS, risk pooling, Stanford University Press, WHO, World Bank, World Health Day
Subscribe to My Comments Feed
Leave a Reply