« World No-Tobacco Day in LAC: Brazil Targets Teens, Adopts Brutal Images | Home | No Twig Left Behind »
By Keith R | June 7, 2008
Topics: Health Issues, Tobacco Control | No Comments »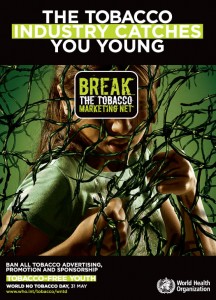 From the Pan American Health Organization (PAHO):
World No Tobacco Day 2008 Observed with Awards in the Americas

World No Tobacco Day is being observed May 31 with a focus on tobacco marketing, and awards in recognition of outstanding contributions to tobacco control.

The World Health Organization (WHO) is urging governments to protect the world's 1.8 billion young people by imposing a ban on all tobacco advertising, promotion and sponsorship, and honoring the Heads of Government of the Caribbean Community (CARICOM) with special recognition to The Honourable. Dr Denzil Douglas, Prime Minister of St Kitts and Nevis, The Right Honourable Arthur Owen, Former Prime Minister of Barbados, and The Honourable Patrick Manning, Prime Minister of Trinidad and Tobago.

At the recent Summit of Heads of Government on the issue of the Chronic Non-Communicable Diseases (NCDs), they led the conference to declaring a commitment to pursue immediately an agenda on tobacco control including raising and earmarking tobacco taxes, promoting smoke-free environments, banning advertising and promotion and introducing effective health warnings, among other actions.

In addition, awards were given to representatives of youth advocacy groups in Argentina, Colombia and Uruguay, in appreciation for their activities against tobacco. Javier Rivera of Rosario, Argentina, and Sebastián Parada of Mendoza, Argentina undertook an air monitoring initiative, taking a measuring instrument to restaurants, bars, and discos to measure the degree of smoke particles in the air as part of the Bloomberg Smoke-Free Argentina project. Florencia Maldonado Torres of Montevideo, Uruguay prepared an exhibit about tobacco for young people, which has been very successful, with thousands of visitors attending. Luis Enrique Cuesta Martínez of Bogotá, Colombia organized capacity building events as well as protests to demand the deposit of the Framework Convention on Tobacco Control adherence document in the United Nations. These groups also attended the Iberoamerican Tobacco Control Conference in Brazil in September, where they signed a Youth Declaration call to action aimed at young people from all over the Americas. They are now planning national workshops in Argentina and Uruguay.

In Brazil, the Aliança de Controle do Tabagismo, established in 2006, won an award for its mobilization in tobacco control, which now counts with more than 350 registered member organizations and activists from all over Brazil. It includes consumer organizations, women's groups, grassroots organizations, environmental organizations, corporate watch organizations, social justice organizations, medical societies, professional associations, lawyers' organizations, human rights organizations, small farmer organizations, agro-ecology groups, journalists, and others. ACT has a head office in São Paulo and staff in other parts of Brazil, and recently won a Bloomberg Foundation award of more than one million dollars for advocacy against tobacco.

In Bolivia, the COJLAT anti-tobacco commission won a Certificate of Appreciation for its development and publication of audiovisual educational materials and active supported of the ratification of the WHO Framework Convention on Tobacco Control agreement in Bolivia. They have also been very active in the promotion of Smoke-free Environments in public and private sectors.

Speaking about the World Health Day theme, WHO Director-General, Margaret Chan said, "In order to survive, the tobacco industry needs to replace those who quit or die with new young consumers. It does this by creating a complex 'tobacco marketing net' that ensnares millions of young people worldwide, with potentially devastating health consequences. A ban on all tobacco advertising, promotion and sponsorship is a powerful tool we can use to protect the world's youth," the Director-General added.

Recent studies prove that the more young people are exposed to tobacco advertising, the more likely they are to start smoking. Despite this, only 5 percent of the world's population is covered by comprehensive bans on tobacco advertising, promotion and sponsorship. Tobacco companies, meanwhile, continue targeting young people by falsely associating use of tobacco products with qualities such as glamour, energy and sex appeal.

Since most people start smoking before the age of 18, and almost a quarter of those before the age of 10, tobacco companies market their products wherever youth can be easily accessed – in the movies, on the Internet, in fashion magazines and at music and sports venues. In a WHO worldwide school-based study of 13-15 year-olds, more than 55 percent of students reported seeing advertisements for cigarettes on billboards in the previous month, while 20 percent owned an item with a cigarette brand logo on it.
Tags: advertising, Aliança de Controle do Tabagismo, Arthur Owen, ban, bars, billboards, Bloomberg Foundation, Bloomberg Smoke-Free Argentina, Bogotá, Bolivia, Brasil, Brazil, CARICOM, COJLAT, Colombia, Denzil Douglas, discotheques, FCTC, health warnings, Iberoamerican Tobacco Control Conference, Margaret Chan, Mendoza, Montevideo, non-communicable diseases, OMS, OPAS, OPS, PAHO, Patrick Manning, promotion, restaurants, sponsorship, tabagismo, tabaquismo, Tobacco Control, tobacco promotion, tobacco taxes, Uruguay, WHO
Subscribe to My Comments Feed
Leave a Reply