« Brazilian Attitudes About Cancer / Opinião dos Brasileiros Sobre o Câncer | Home | Another Historic Court Judgment Against Officials Not Doing Their Job »
By Keith R | June 1, 2007
Topics: Advertising/Promotion, Health Issues, Tobacco Control | No Comments »
Synopsis in English: How did Argentina celebrate World No-Tobacco Day? Besides events emphasizing kids (including the release of balloons in the national colors in a busy downtown Buenos Aires intersection – see picture), Health Minister Ginés González García announced the official launch of a new component to the National Tobacco Control Strategy entitled "Homes and Automobiles Free of Tobacco Smoke."
The new campaign will not only employ print, radio and television ads [such as the TV ad "cunita" ("the cradle") provided below — click the image to view in a pop-up window — which tells about the good and productive life the baby will have — if the parents stop smoking around him in the home.] to try to persuade adults to stop smoking in their homes and vehicles for the sake of their kids' health (and that of non-smoking relatives and friends).
It will also employ educational programs targeted at kids in school and young adults in university about the health dangers of secondhand smoke, in the hopes that they will become the toughest and most effective lobbyists of their parents and relatives. This includes passing out "smoke-free home" stickers kids can put on their homes (see sample below) and a special website just for kids with all sorts of materials they can learn from and use. [It includes an impressive opening flash video about the daily death count of Argentines dying from tobacco smoke, complete with death knells chiming ominously in the background.]

"This is a new advance in the collective social conscience, such that one does not only take care of one's self and try to smoke less," said the Minister, "but rather also take care of those who live in their house. The same is true of automobiles, because there are many persons that sometimes are embarrassed to ask that [people] not smoke in the car."
Every day the Ministry tries to do something to combat smoking, he said, primarily using its imagination and powers of persuasion and alliances with various sectors of society, because Congress has yet to pass the comprehensive anti-tobacco bill that the President sent to it in 2005. But it is difficult to counter the powers of the advertising and promotion tactics used by the tobacco companies and their media allies, he observed. González García took the occasion to once more call on Congress to act. He pointed out that the provinces of Tucumán, Córdoba and Santa Fe had adopted similar laws creating smoke-free public places and their success in applying and enforcing their laws showed that the whole country could do likewise.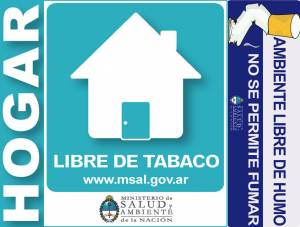 Desde el Ministerio de Salud (MSal):
LANZO GONZALEZ GARCIA LA ESTRATEGIA DE HOGARES Y AUTOS LIBRES DE HUMO

Un nuevo capítulo de la Política Nacional de Control de Tabaco fue presentado hoy por el ministerio de Salud de la Nación, al lanzar la estrategia "Hogares y autos libres de humo de tabaco", durante una actividad de difusión en el centro porteño con motivo de la celebración del Día Mundial sin Tabaco, que incluyó una suelta de globos presidida por el ministro Ginés González García.

"Muchas veces hay personas que no se dan cuenta y perjudican en su propia casa a lo que más quiere, que es su familia y particularmente a los pibes", expresó el funcionario al defender la iniciativa, que se suma a la medida de registrar a empresas e instituciones libres de humo de tabaco, que ya tiene 410 establecimientos certificados y a más de 850 en trámite de registración en todo el país.

"Este es un nuevo avance en la conciencia social colectiva, de manera tal de no sólo cuidarse y tratar de fumar menos, sino de cuidar a los que viven en la casa", dijo Ginés, quien añadió que "lo mismo pasa con los autos, porque hay muchas personas que a veces por vergüenza no piden que no se fume en el auto".

El ministro defendió la habilitación de espacios libres de humo al señalar que con ellos "ayudamos a los que fuman, porque así fuman menos", y ejemplificó con la disposición vigente en el edificio de la cartera a su cargo, "donde las personas que todavía siguen fumando –ya que hay muchas que dejaron– cuentan cómo han bajado la cantidad de consumo".

"También ayudamos a los que no fuman, que no hay por qué convertirlos en fumadores pasivos y hacerlos pasivos de enfermedades y de molestias, ya que el cigarrillo –más allá de que uno crea que no lo va a enfermar–, no sólo enferma y mata sino que también molesta", agregó el titular de la cartera sanitaria nacional.

Durante toda la jornada, en la intersección de la avenida 9 de Julio con las calles Av. Belgrano, Moreno, Av. de Mayo, Bartolomé Mitre, Corrientes, Lavalle, Córdoba, M. T. de Alvear, Santa Fe y Av. del Libertador, jóvenes nucleados en la Unión Antitabáquica Argentina (UATA), exhibieron carteles con mensajes alusivos a la fecha: "Defienda los espacios públicos y los lugares de trabajo libres de humo de tabaco" y "Declare su hogar y su auto libres de humo de tabaco". Además, distribuyeron a los automovilistas folletos informativos y stickers.

"Todos los días hacemos algo, estamos usando la imaginación y el compromiso de muchos sectores para cambiar una mentalidad donde durante muchos años se impuso el cigarrillo como algo que era parte de la estructura social, y también hay que combatir el sistema de publicidad donde dicen de todo menos lo que son, porque vinculan al cigarrillo con el deporte, con el amor o con la vida alegre y la verdad no tiene nada que ver con eso", sentenció el titular de la cartera sanitaria.

Acerca de la demora del Congreso para sancionar la ley de control de tabaco que impulsa, González García dijo que "todavía no conseguimos la norma nacional, pero seguro la vamos a tener dentro de poco", a lo que agregó que sí la hay en provincias "como por ejemplo Tucumán, Córdoba o Santa Fe, donde es impresionante como se respeta. Y esto es importante porque esto no es cuestión de tener un vigilante al lado de cada uno, sino que cada uno tenga la responsabilidad que tenemos que tener como ciudadanos, de tratar de no fumar –y si no podemos lograrlo– al menos no perjudicar ni molestar al otro".
Argentine TV Ad Urging Parents to Stop Smoking
at Home for the Sake of Their Child
(click to watch video in pop-up window)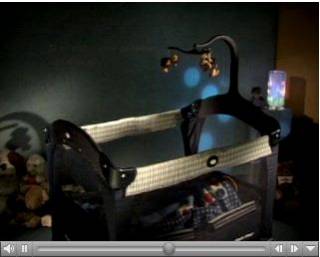 Tags: Argentina, Córdoba, Día Mundial sin Tabaco, environmental tobacco smoke, folletos informativos, González García, MSal, Santa Fe, secondhand smoke, smoke-free, stickers, tabaco, tabagismo, tabaquismo, Tobacco Control, Tucumán, UATA, World No-Tobacco Day
Subscribe to My Comments Feed
Leave a Reply