« More Dumps Than Municipalities / Mais Lixões que Municípios | Home | Member States Ask CAN to Take the Lead on Climate Change »
By Keith R | June 5, 2007
Topics: Advertising/Promotion, Health Issues, Tobacco Control | No Comments »
As part of its package of materials for World No-Tobacco Day (31 May), the Pan American Health Organization (PAHO) released a nine-minute video (in Spanish) produced by it and Uruguay's Ministry of Public Health (MSP) featuring Uruguay's Public Health Minister, Dr. María Julia Muñoz. The video discusses Uruguay's successful set of decrees making all enclosed public places 100% smoke-free, and why the government thinks it has succeeded. I've included the video below (click on the image to view).
If you understand Spanish, I recommend watching the video. Even if you don't understand Spanish, you may find interesting the section in which they demonstrate some of the television ads used to increase public awareness of the health dangers of smoking.
The Minister credits not one single action for the success of the measure, but rather several. One "key to success" as she calls is an extensive (months) public consultation and education process undertaken before the initiative actually was implemented. Media saturation, community and civic group meetings, presentations to trade unions, industry groups and the owners of bars, discotheques, restaurants, hotels, casinos made certain that everyone knew when the measure would take effect, exactly what it entailed and how serious the government was about enforcing it.
Other "keys" mentioned in the video include (1) the implementation of comprehensive programs (therapy, free medicines, mutual support) to help smokers wanting to quit to do so; (2) some stiff fines (about US$1,200 for the first violation, double that for the second); (3) a well publicized call-in line for citizens to report establishments violating the rules.
On World No-Smoking Day itself PAHO held a video conference with officials from Argentina, Chile and Uruguay, part of it devoted to a discussion by Uruguayan Ministry's number two man, Subsecretary Miguel Fernández Galeano of all the measures Uruguay has taken (not just banning smoking public places) to combat tabaquismo (tobacco consumption). He repeated some of the points made in the video by his boss, but particularly stressed the roles of (1) involving the public in the process; (2) the network of 120 clinics across the country that help Uruguayans kick the habit.
Fernández Galeano said that while it may take 5-10 years before Uruguay can measure what impact the program has had in reducing cancer and other diseases linked to smoking, the measures are already showing appreciable effect in one area: workplace absenteeism has diminished since it was introduced.
MSP/PAHO video on Uruguay's Anti-Tobacco Program
(in Spanish)
(click image to view in pop-up window)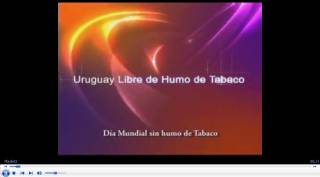 Tags: Argentina, bars, casinos, Chile, discotheques, fines, hotels, industry groups, MSP, multas, OPS, PAHO, public health, restaurants, salud pública, saude, smoke-free, smoking cessation, tabagismo, tabaquismo, Tobacco Control, trade unions, Uruguai, Uruguay
Subscribe to My Comments Feed
Leave a Reply