« Chile Creates a Center for Renewable Energy | Home | Jamaican Voices for Climate Change »
By Keith R | August 19, 2009
Topics: Food/Beverage Issues | No Comments »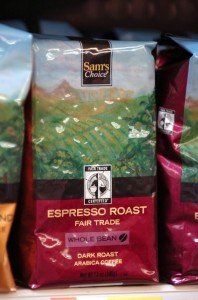 From Walmart:
Sam's Club Introduces New Fair Trade Certified Coffee from Brazil

Brazilian coffee farmers link with mass market coffee consumers

Today, Walmart, TransFair USA, SEBRAE-Minas Gerais and the U.S. Agency for International Development (USAID) announced that a new Fair Trade Certified coffee from Brazil will be sold to Sam's Club members across the country. The two new Fair Trade Certified™ Member's Mark coffee options will be available in more than 600 Sam's Club locations in the United States. These new products are part of the innovative Responsible Sourcing Partnership Project that links Brazilian coffee farmers with mass market coffee consumers in the United States through Fair Trade certification.

"We are excited to be expanding our offering of high quality Fair Trade Certified coffee at clubs throughout the U.S.," said Jill Turner-Mitchael, senior vice president of Merchandising, Sam's Club. "This partnership falls in line with the company's mission of providing opportunity in communities around the world, as nearly 30,000 Brazilian producer family members are being positively impacted."

Through the Responsible Sourcing Partnership Project, Brazilian producers and their families receive increased employment opportunities, expanded access to new domestic and international markets, increased use of environmentally-sound production methods, and, in turn, improvements in their quality of life. Partner cooperatives are located in the Brazilian states of São Paulo, Minas Gerais, and Espírito Santo.

Jeffery Bell, director of USAID/Brazil, said, "USAID believes that public-private partnerships are the most effective mechanism to respond to global challenges. The Responsible Sourcing Partnership Project is a successful alliance that combines our complementary assets to promote sustainability, expand social and economic opportunities within the Brazilian coffee value chain."

The project aims to expand and improve the quality of Fair Trade Certified coffee supply through investments in infrastructure, technical assistance with production and post-harvest processing, as well as training in coffee quality management. These investments will result in increased producer capacity through organizational strengthening including financial management operations and marketing. The partnership also raises the marketing capacity of Brazilian coffee growers to improve the reputation of Brazilian coffee, raises awareness of Fair Trade impact and empowers producers in the marketplace.

Paul Rice, TransFair USA president and CEO, said, "Sam's Club is an innovative partner in offering high-quality Fair Trade Certified coffee in a manner that both expands the marketplace and delivers value back down the supply chain to the farmer. A year from now we will be able to trace Member's Mark coffee sales directly to improved environmental management at Fair Trade coffee farms and higher quality of life in farming communities."

In 2008, imports of Fair Trade Certified coffee grew more than 30 percent. Fair Trade is a market-based approach to sustainable development, seeking to empower millions of disadvantaged producers worldwide while protecting the environment for future generations. Fair Trade empowers U.S. consumers to make a difference in the world simply by adjusting their shopping list. The dramatic growth of Fair Trade products proves that consumers are voting for a better world with their purchases, demanding sustainable, ethically-sourced goods.

Roberto Simões, SEBRAE Minas Gerais president, said, "The Fair Trade program is in line with the purpose of SEBRAE's activity to increase business and promote Small and Medium Enterprises with social, environmental and economic sustainability. We support entrepreneurship and cooperation, and the program matches with our intention of helping local producers access international markets."

Sam's Club also sells Fair Trade Certified bananas, dried fruit and wine, among other products.
_____________________
Desde Walmart:
Sam's Club Apresenta Novo Café com Certificado de Comércio Justo do Brasil

Agricultores brasileiros de café se ligam ao mercado de consumidores de café em massa

Hoje, o Walmart, a TransFair USA, o SEBRAE-Minas Gerais e a Agência Americana para Desenvolvimento Internacional (USAID) anunciaram que um novo café com Certificado de Comércio Justo do Brasil será vendido aos sócios do Sam's Club. As duas novas opções do mais Fino Café com Certificado de Comércio Justo da marca Member's Mark estarão disponíveis em mais de 600 lojas Sam's Club nos Estados Unidos. Estes novos produtos fazem parte de um inovador Projeto de Parceria de Abastecimento Responsável, que liga os produtores de café brasileiros com o mercado de massa de consumidores de café nos Estados Unidos por meio da certificação de Comércio Justo.

"Estamos empolgados com a expansão de nossas ofertas de café de alta qualidade com Certificado de Comércio Justo em clubes em todos os EUA," disse Jill Turner-Mitchael, vice-presidente sênior de Merchandising do Sam's Club. "Esta parceria ajusta-se ao 'viver melhor' da nossa missão de prover oportunidades em comunidades ao redor do mundo, já que cerca de 30.000 membros de famílias de produtores brasileiros estão sendo impactados positivamente".

Através do Projeto de Parceria de Abastecimento Responsável, os produtores brasileiros e suas famílias recebem melhores oportunidades de emprego, maior acesso a novos mercados domésticos e internacionais, aumento do uso de métodos de produção ambientalmente legítimos, e em troca, melhoram sua qualidade de vida. As cooperativas parceiras estão localizadas nos estados brasileiros de São Paulo, Minas Gerais e Espírito Santo.

Jeffrey Bell, diretor da USAID/Brasil, disse, "A USAID acredita que as parcerias público-privadas são o mecanismo mais eficiente para responder aos desafios globais. O Projeto de Parceria de Abastecimento Responsável é uma aliança de sucesso que combina nossos recursos para promover a sustentabilidade, e aumenta as oportunidades sociais e econômicas dentro da cadeia de suprimento de café no Brasil.

O projeto tem por objetivo expandir e melhorar a qualidade do café com Certificado de Comércio Justo através de investimentos na infra-estrutura, assistência técnica na área de produção e beneficiamento pós-colheita, bem como treinamento na área de gerenciamento da qualidade do café. Esses investimentos resultarão no aumento da capacidade de produção por meio do fortalecimento organizacional, incluindo operações de gestão financeira e marketing. A parceria também intensifica a capacidade de comunicação dos agricultores brasileiros de café para melhorar a reputação do café brasileiro, chama a atenção sobre o impacto do Comércio Justo e potencializa o número de produtores no mercado.

Paul Rice, presidente e CEO da TransFair USA, disse, "O Sam's Club é um parceiro inovador na oferta de café de alta qualidade com Certificado de Comércio Justo, de tal forma que tanto expande o mercado quanto presta um serviço na rede de abastecimento para os agricultores. Daqui a um ano, conseguiremos relacionar as vendas do café mais diferenciado da marca Member's Mark diretamente à melhora do manejo ambiental em fazendas de café de Comércio Justo e à alta qualidade de vida em comunidades agrícolas."

Em 2008, as importações de café com Certificado de Comércio Justo cresceram mais de 30 por cento. O Comércio Justo é uma abordagem que se baseia no mercado para o desenvolvimento sustentável, procurando envolver milhões de produtores em todo o mundo, ao mesmo tempo em que protege o meio-ambiente para as gerações futuras. O Comércio Justo dá aos consumidores americanos o poder de fazer a diferença no mundo, simplesmente modificando suas listas de compras. O crescimento impressionante de produtos de Comércio Justo prova que os consumidores estão votando por um mundo melhor por meio de suas compras, exigindo produtos sustentáveis e com procedência ética.

Roberto Simões, presidente do SEBRAE Minas Gerais , disse, "O programa de Comércio Justo está de acordo com o propósito das atividades do SEBRAE para o aumento dos negócios e promoção de Pequenas e Médias empresas, com sustentabilidade em seus três eixos: social, ambiental e econômico. Apoiamos o empreendedorismo e a cooperação, e o programa ajusta-se à nossa intenção de ajudar os produtores locais a alcançarem mercados internacionais."

O Sam's Club também vende bananas, frutas secas e vinhos com Certificado de Comércio Justo, entre outros produtos.
Tags: bananas, cafe, coffee, comercio justo, dried fruit, Espírito Santo, fair trade, frutas secas, Minas Gerais, Sam's Club, São Paulo, Sebrae, TransFair USA, USAID, vinhos, Walmart, wine
Subscribe to My Comments Feed
Leave a Reply