« Brazil Increases Pesticide Packaging Take-Back | Home | Japan Gives $5 mil. to IDB's SECCI / Japón contribuye US$5 millones al SECCI del BID »
By Keith R | March 29, 2009
Topics: Pharmaceutical Issues | No Comments »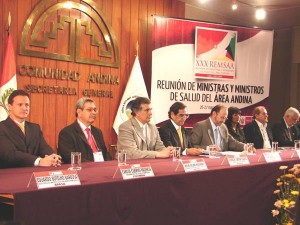 Last Friday the 30th Meeting of the Health Ministers of the Andean Area (RMSAA) agreed on other important health measures — a coordinated epidemiological surveillance system, joint plans to combat HIV/AIDS, protect health in border areas and to combat child malnutrition — but the one that caught my eye was the new Andean Medicines Policy.
Not because it's the first time the Andean nations have breached the policy topic. In fact, a rudimentary policy was first developed in the early 1990s with help from the World Health Organization's (WHO) Action Programme on Essential Drugs (now part of the Department of Essential Medicines and Pharmaceutical Policies – EMP) and adopted in 1993.
No, it's because this is a revamped medicines policy, one that the nations involved appear determined to translate into action, and one that may serve as the basis for a later similar effort at the level of the bigger 12-nation Union of South American Nations (Unasur).* In other words, it may have significant implications for both public health policy and the pharmaceutical market in South America.

Andean Health Policy Cooperation
Unlike other areas of Andean policy cooperation, health involves more than just the four member states of the Andean Community (CAN) (Bolivia, Colombia, Ecuador, Peru) and work in the area has its own legal framework, decision-making structure and technical secretariat. Under the Hipólito Unanue Convention ("CONHU") governing work in this area, Chile and Venezuela (two former members of CAN) are intimately involved, and the work is coordinated by the autonomous Andean Health Organism (Organismo Andino de Salud – ORAS), not the CAN Secretariat.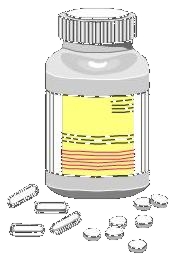 Key Elements of the Andean Medicines Policy
Generics:

Promote the widespread use of international nonproprietary name (INN) or generic name;
Promote improvements in production, quality, distribution, prescription, dispensing, use of and information on generic medicines to the public and health professionals;
Promote mechanisms to effectively increase of the supply of generics on the market.

Prices:

Promote the implementation and maintenance of structured subregional mechanisms for Drug Price Monitoring for exchanging information on drug prices;
Conduct price studies under methodlogies and reference systems standardized at the subregional level, allowing comparability of information.

Supply and Procurement:

Countries will seek optimized and transparent supply mechanisms, price negotiation and joint procurement of essential drugs, giving priority to high-cost drugs, those with serious difficulties in access or that are not available in countries.
Assess for subregional use existing regional mechanisms for joint procurement negotiation, such as the Pan American Health Organization's (PAHO) Strategic Initiative Fund, or a similar mechanism.

Local Production:

Evaluate technology transfer possibilities and the development of a pharmaceutical and biotechnology industry within the Andean market;
Identify essential medicines in short supply and foster partnerships within the subregion for the local production of generic versions of them.

Intellectual Property:

Create mechanisms to assess the impact of industrial property protection (patents) and test data protections on access to medicines, with a view to protecting public health. Pursue maximum flexibility in application of such protections on the basis of public health or emergencies.
Regional studies will measure the impact on access to medicines due to the implementation of the World Trade Organization's (WTO) Agreement on Trade-Related Aspects of Intellectual Property (TRIPs) and the free trade agreements, bilateral or regional.

Drug Classification: Promote harmonization of regulations that define, among others, adequate classification parameters for both prescription (Rx) and over-the-counter (OTC) medicines, as well as medicines subject to special controls (such as narcotics and psychotropics).
Evaluation of Medicines:

Implement updated pharmacological norms for the evaluation of sanitary registration or authorization data, as a tool that permits the objectivity, transparency, uniformity and efficacy.
Provide that the evaluation of medicine selection be based on technical-scientific aspects of efficacy, safety and quality, as well as evidence-based medicine and cost-effectiveness studies.

Essential Medicine Lists:

Promote the utilization of WHO criteria for selecting essential medicines.
Make effective the use and permanent updating of essential medicine lists as a tool for selecting and prioritizing medicines according to the epidemiological reality of each country. The lists' use should be made obligatory in the public sector.
Develop a subregional list of essential medicines, utilizing the criteria indicated by WHO.

Rational Prescription: Provide incentive to the elaboration or adoption of norms for the rational prescription of medicines, taking into account the essential medicine lists and therapeutic protocols designed in line with local realities.
Drug Information, Marketing:

Strengthen the regulatory, control and oversight mechanisms for publicity, informational and promotional activities directed at health professionals.
Stimulate and decisively aid the development and access to independent information on medicines.
Define ethical standards for advertising medicines sold directly to the public (over-the-counter medicines).

Public Pharmacies and Dispensaries: Each country should encourage the development of state pharmaceutical services, using as a key strategy in implementing effective networks institutional pharmacies and public institutions for the dispensing of medicines.
Ensuring Quality, Safety and Efficacy. National regulatory authorities are to

develop policies and strategies to ensure efficacy, safety and quality of medicines and their proper storage:
monitor and control over all stages of the medication cycle, including post-approval monitoring;
ensure that the facility responsible for producing, distributing and dispensing drugs meets quality standards.
Strengthen reference quality control laboratories, both national and regional, as well as provide accreditation under international technical norms.

Inspection, Compliance: Promote the scientific and technical capabilities of the national regulatory authority in the inspection of compliance with good practices in all phases of manufacturing, marketing, supply and use of the drug;
Drug Research: Strengthen regulations and controls on the stages of drug research, specifically in the design, evaluation, authorization and clinical studies in humans.
Pharmacovigilance:

Insert and prioritize proactive pharmacovigilance in public health policies regarding the post-authorization use of medicines and other pharmaceutical products.
Complement at the regional level the pharmacovigilance activities undertaken by each national regulatory authority through the creation and Implementation of a subregional pharmacovigilance system.

International Norms:

Strengthen and optimize technical and management capabilities to promote the evaluation, adoption or adaptation of norms recommended by international and foreign health agencies, as well as those developed by the WHO or PAHO's Pan American Network for Drug Regulatory Harmonization (Red-PARF).
Establish technical-scientific training program to guarantee access to world-class technological and regulatory advances, including those involving pre-market authorization of new medicines and for the approval of clinical trials or study protocols.

Subregional Harmonization: Progressively harmonize at the subregional level relevant aspects of medicines regulation, such as requisites and pharmacological norms for the evaluation and approval for sanitary registration or authorization; as well as regional strategies for the emission or regional recognition of sanitary registrations, certifications of quality and good manufacturing practice (GMP) certifications.
___________
* Unasur members include Agentina, Bolivia, Brazil, Chile, Colombia, Ecuador, Guyana, Paraguay, Peru, Suriname, Uruguay and Venezuela.
____________________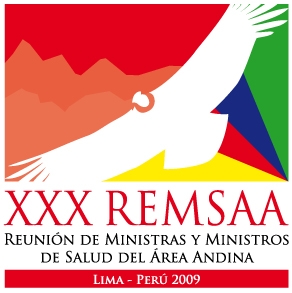 From the Andean Community (CAN):
Health accomplishments underscored during Meeting of Health Ministers of the Andean Area

The coordination of the epidemiological surveillance system at the Andean and South American levels and the creation of the South American Health Council were, among others, the accomplishments emphasized at the opening of the Thirtieth Meeting of Health Ministers of the Andean Area (RMSAA), held last night at the headquarters of the Andean Community General Secretariat.

Peruvian Prime Minister Yehude Simon chaired the opening session, which was attended by Ministers Ramiro Tapia of Bolivia, Caroline Chang of Ecuador, Oscar Ugarte of Peru, and Vice-Ministers Carlos Ignacio Cuervo of Colombia, Julio César Alvarez of Venezuela, and Pedro Crocco of Chile, together with the Executive Secretary of the Andean Health Body, Oscar Feo; the Secretary General of the Andean Community, Freddy Ehlers, and the Ambassadors of the Andean countries.

During the ceremony, Caroline Chang, Representative of Ecuador, transferred the Chairmanship of REEMSA, the highest-level organ of the Andean Health Body – Hipólito Unanue Convention (ORAS-CONHU), to her Peruvian counterpart, Oscar Ugarte. An assessment was also made of the health accomplishments of the past year.

Among the accomplishments mentioned was the formulation and approval of the 2009-2012 Strategic Plan –the first of the Andean Health Body– that is "absolutely consistent with the Health Agenda approved by the South American Presidents and Ministers," in the words of the Executive Secretary of ORAS-CONHU, Oscar Feo.

Also stressed were the coordination of the epidemiological surveillance systems and of the Andean Policy on Medicines at the South American level; the development of Andean plans to fight HIV/AIDS, health in border areas (PASAFRO); and the Andean plan to fight infant malnutrition, among others, which were largely carried out in coordination with the MERCOSUR countries and PAHO/WHO, thereby "perfecting and bringing nearer the dream of South American unity."

The Ecuadorian Minister, Caroline Chang, stated that this has been an important year for health in the Andean area, because of the joint actions that have been taken. She pointed out that the experiences of the countries have enriched Andean integration in the health area and that it is now necessary to continue moving toward South America's integration, started with the recent establishment of the South American Health Council.

The Minister of Health of Peru, Oscar Ugarte, for his part, stated that Bolivia, Colombia, Ecuador, Peru, Chile, and Venezuela are linked together particularly by this joint experience in fighting for the public health of our Andean and Latin American countries. "It is one of the richest experiences," he stressed, adding that the challenge now is to approve solutions to the problems the countries face in common. "I am convinced that we will have the instruments with which to continue our joint fight against poverty and to improve and ensure access to health services," he added.
_______________
Desde la Comunidad Andina (CAN):
Destacan logros en materia de salud durante Reunión de Ministros de Salud del Area Andina

La articulación de sistemas de vigilancia epidemiológica a nivel andino y suramericano y la creación del Consejo Suramericano de Salud fueron, entre otros, los logros destacados en la inauguración de la XXX Reunión de Ministras y Ministros de Salud del Area Andina (REMSAA), realizada anoche en la sede de la Secretaría General de la Comunidad Andina.

La ceremonia de inauguración fue presidida por el Primer Ministro del Perú, Yehude Simon, y contó con la participación de las ministros Ramiro Tapia de Bolivia, Caroline Chang de Ecuador, Oscar Ugarte del Perú y los viceministros Carlos Ignacio Cuervo de Colombia, Julio César Alviarez de Venezuela y Pedro Crocco de Chile, así como del Secretario Ejecutivo del Organismo Andino de Salud, Oscar Feo; el Secretario General de la Comunidad Andina, Freddy Ehlers y los Embajadores de los países andinos.

Durante el acto, se efectuó el traspaso de la Presidencia de la REEMSA – máxima instancia del Organismo Andino de Salud – Convenio Hipólito Unanue (ORAS-CONHU)- de parte de la Titular del Ecuador, Caroline Chang, a su par del Perú, Oscar Ugarte. Asimismo, se realizó un balance de los logros obtenidos en materia de salud en el último año.

Entre dichos logros, se mencionaron la elaboración y aprobación del Plan Estratégico 2009-2012 -la primera del Organismo Andino de Salud-, que "guarda absoluta consistencia con la Agenda de Salud aprobada por los Presidentes y Ministros Suramericanos", según especificó el Secretario Ejecutivo del ORAS-CONHU, Oscar Feo.

Se resaltó también la articulación de los sistemas de vigilancia epidemiológica y de la Política Andina de Medicamentos a nivel suramericano; el desarrollo de los planes andinos de lucha contra el VIH Sida, salud en las fronteras (PASAFRO); y el plan andino de lucha contra la desnutrición infantil; entre otros, los cuales, en buena parte, se desarrollan en forma coordinada con los países del Mercosur y con la OPS/OMS, "perfilando y acercando el sueño de la unidad suramericana".

La ministra del Ecuador, Caroline Chang, manifestó que éste ha sido un año importante para la salud en el área andina, por las acciones que se han desarrollado en forma conjunta. Indicó que las experiencias vividas han permitido fortalecer la integración andina en materia de salud y ahora se necesita seguir avanzando hacia la integración suramericana, iniciada con la reciente conformación Consejo Suramericano de Salud.

Por su parte, el Ministro de Salud del Perú, Oscar Ugarte, dijo que a Bolivia, Colombia, Ecuador, Perú, Chile y Venezuela les une particularmente esta experiencia conjunta en la lucha por la salud pública de nuestros países andinos y latinoamericanos. "Es una de las experiencias más ricas", subrayó y dijo que el reto ahora es aprobar soluciones a problemas comunes que tienen los países. "Estoy convencido que tendremos instrumentos para que nosotros podamos continuar la lucha conjunta en el combate a la pobreza y para mejorar y garantizar el acceso a los servicios de salud", añadió.
Tags: access to medicines, AIDS, Andean Community, biológicos, Bolivia, Chile, clinical research, Colombia, Comunidad Andina, Convenio Hipólito Unanue, desnutrición infantil, Ecuador, epidemiological surveillance, essential medicines, estudios clínicos, farmacovigilancia, intellectual property, malnutrition, medicamentos, medicamentos esenciales, medicines, Medicines Observatory, MERCOSUR, Observatorio de Medicamentos, OMS, OPS, ORAS-CONHU, PAHO, PASAFRO, Peru, pharmaceuticals, pharmacovigilance, productos farmacéuticos, propiedad industrial, public health, Red-PARF, RMSAA, salud pública, technology transfer, transferencia tecnológica, UNASUR, Venezuela, vigilancia epidemiológica, WHO
Subscribe to My Comments Feed
Leave a Reply