By Keith R | September 24, 2009 @ 8:39 pm |
Topics: Climate Change | No Comments »

It's interesting to see the high-level support expressed at the Summit on Climate Change by the Latin American nations of Colombia, Ecuador and Guyana for an internationally-agreed mechanism for Reducing Emissions from Deforestation and Forest Degradation (REDD) in the post-2012 climate change accord to be negotiated later this year in Copenhagen.  However, conspicuous by their absence from such top-level  expressions of support were the Brazilians, without whom it is doubtful a meaningful REDD agreement can be reached at Copenhagen.
______________
From the UN Food and Agriculture Organization (FAO):
REDD: North-South Agreement for New Emissions Reduction Mechanism

High level event on forests and climate change supports emissions reduction mechanism

In an unprecedented display of cooperation between developed and developing countries on climate change, eighteen Heads of State gathered at UN headquarters in New York to publicly express their commitment and support for REDD—Reducing Emissions from Deforestation and forest Degradation in developing counties.

They asserted that the new climate change agreement to be negotiated in Copenhagen must address in an effective and equitable way the role of forests as a mitigation option.

Following the previous day's Summit on Climate Change, and in advance of the critical Climate Change Conference in Copenhagen taking place this December, UN Secretary-General Ban Ki-moon convened leaders and dignitaries from developed and developing countries to dialogue and publicly support REDD. After remarks by Secretary-General Ban, Presidents and Prime Ministers from Africa (Republic of Congo); Asia and the Pacific (Papua New Guinea); Latin America and the Caribbean (Guyana); industrialized countries (Australia, Norway, Sweden), and World Bank President Zoellick took the stand to support progress and actions on REDD. Statements by other high ranking officials included Bangladesh, Belgium, Colombia, the Democratic Republic of Congo, Ecuador, Indonesia, Japan and the People's Republic of China also underlined their commitment.

The event marked the largest gathering of countries to date on the issue of REDD, with the participation of over 80 countries and over 150 dignitaries and leaders from international and non-governmental organizations, academia, think tanks and the private sector from around the world concerned with climate change and forests.

"This convergence of world leaders highlights a positive, growing momentum in support of REDD and signals how this mechanism may be feasible from a technical, financial and collaboration perspective," Secretary-General Ban said about the event. "While drastic reductions in fossil fuel-related emissions are crucial in addressing climate change, reducing greenhouse gas emissions from forests and land use is pivotal to the overall equation."

Participating developing countries expressed their willingness to undertake significant cuts in deforestation and forest degradation, provided that they receive sufficient financial support. Secretary-General Ban highlighted global emissions can be substantially reduced by preventing deforestation.

A report by the Informal Working Group on Interim Finance for Reducing Emissions from Deforestation and Forest Degradation (IWG-IFR) estimates a 25 percent reduction in deforestation could be achieved with a financial commitment of 15-20 billion Euros ($22-29 billion) by 2015.

Deforestation and the degradation of forests are responsible for just under one-fifth of global greenhouse gas emissions, more than all the world's cars, trucks, ships and planes combined. In addition to storing over one trillion tons of the world's carbon, forests provide for essential human needs, including adaptation. Yet under the current Kyoto Protocol, developing countries cannot receive credit for the social and environmental benefits their forests provide. The absence of rewards for maintaining forests means they continue to be cut, burnt and degraded. A REDD mechanism, that will be discussed during the climate change negotiations this December in Copenhagen, proposes to change the perverse incentives that make forests worth more dead than alive.
By Keith R | September 24, 2009 @ 8:04 pm |
Topics: Renewable Sources | 1 Comment »

From the Global Environment Facility (GEF):
Innovative Renewable Energy Insurance Facility Introduced to Cover Risks in Developing Countries

RSA Insurance Group (RSA), and CarbonRe, with support from the Global Environment Facility (GEF) and the United Nations Environment Programme (UNEP), have launched an innovative mechanism for insuring renewable energy projects in developing countries. The global renewable energy insurance facility, which will be operated via the new internet website "insurance4renewables", will offer standard and customized insurance solutions for renewable energy projects in developing countries.

Risk management and risk transfer are key components in the successful development of renewable energy projects. Without adequate insurance cover, the planning, construction and operation of mid- to large-scale renewable energy projects would not be viable. This initiative sends a strong message to the international community, who will be meeting at the end of the year in Copenhagen to agree on a crucial post-Kyoto climate change framework agreement. It shows that the right environment can be created to ensure growth and sustainability of renewable energy investments and that all countries can benefit from and contribute to the climate change mitigation efforts. Nearly one third of global investments in renewable energy projects are happening in developing countries. This share can grow at a faster pace if insurance solutions for renewable energy projects are made extensively available to developing countries in the same way as they have been made available in industrialized ones.

To address this need, RSA, Munich Re and CarbonRe have jointly launched "insurance4renewables", a global renewable energy insurance facility that will be operated online at http//www.insurance4renewables.com. This innovative risk management approach was developed under the umbrella of the United Nations Environment Programme (UNEP) and the Global Environment Facility (GEF). Both UNEP and GEF are seeking to raise investors' awareness of risk mitigation solutions for renewable energy projects and build public-private partnerships to bring necessary standard and innovative risk mitigation tools to developing countries' markets.

Insurance4renewables is intended to offer tailor-made products for renewable energy projects and to support the development of insurance solutions that meet the requirements of renewable energy projects operating in developing countries where often the lack of data provides a barrier to insurers who aim to underwrite a number of renewable energy risks. CarbonRe, an insurance broker specializing in clean energy projects, is the appointed broker for access to this unique facility. CarbonRe will work together with two leading global insurance groups. This network will offer outstanding expertise embracing a broad spectrum of technologies such as wind power, photovoltaics, solar thermal and biomass and biogas systems in every phase of construction and operation. Besides the traditional insurance products for construction, operation and transit, the facility will be offering on a case–by-case basis innovative covers such as carbon counterparty credit risk insurance, carbon all risk insurance, carbon delivery guarantee insurance/Kyoto Multi Risk Policy and lack-of-sun/wind insurance.

The partners in the initiative will continue to expand the website's range of offerings as the demand for products and information grows.

Monique Barbut, Chief Executive Officer of the GEF said: "Creative market mechanisms are unleashing investment, innovation and furthering the penetration of wind and solar to geothermal and other clean tech energy systems. Insurance has an important role, especially as more developing countries climb on board the clean energy train. Thus I welcome this innovative insurance4renewables initiative as a part of the catalysts towards a sustainable 21st century."

Achim Steiner, UN Under-Secretary General and UNEP Executive Director, added: "Renewable energy is one of the key factors in the transition towards a low-carbon, resource-efficient green economy. Also a key to accelerating access to electricity for the two billion people without it."

Peter Röder, member of Munich Re's Board of Management: "The initiative shows yet again how public-private partnerships can give rise to something meaningful and how expertise creates value that benefits everyone. Munich Re has been drawing attention to the necessity of climate protection for a long time, and generating energy from renewable sources is an important part of this. With our know-how, we can offer customized insurance covers for such systems. That benefits the climate, the client and us as a company."

"We recognize the importance of renewable energy in developing countries and are pleased to be able to provide insurance solutions that will better enable the achievement of their energy goals", added Ken Norgrove, CEO of Renewable Energy, RSA.

Dirk P. Kohler, CEO of CarbonRe: "Risk management and risk transfer is key to the successful development of renewable (clean) energy projects, and insurance4renewables will provide the best available insurance and reinsurance services to boost projects in developing countries and emerging markets."
By Keith R | September 24, 2009 @ 7:11 pm |
Topics: Climate Change, Conservation, Sustainable Agriculture | No Comments »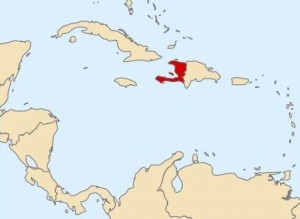 From the Inter-American Development Bank (IDB):
Haiti to combat environmental decay with IDB funds

A $3.44 million grant will support sustainable land and forest management practices, improve preservation of Macaya Park

The Inter-American Development Bank on Sept. 23 approved a $3.44 million grant to help Haiti combat rapid environmental degradation through the integration of sustainable land and forest management practices.

The grant, financed by the IDB/Global Environment Facility (GEF), will support reforestation in key watersheds in the southwestern part of the country as well as implementation of a carbon stock and sequestration monitoring system to help prevent greenhouse gas emissions in the area, which is home to the 7,500-hectare Macaya Park.

Haiti has lost virtually all of its forests, and severe land erosion in this mountainous country intensifies during the hurricane season, undermining efforts to improve living conditions in the Western Hemisphere's poorest nation. The project to be funded by the grant funds will be executed over four years and has four components:

Component 1 will strengthen national watershed administration capacity based on a sustainable land and forest management (SLFM) approach and municipal capacity in land use planning. This will include measures to improve the management of Macaya Park in a joint effort between the Environment Ministry and local communes.
Component 2 will support a program to adopt SLFM technologies to boost planters' and breeders' revenues. These measures are intended to build local capacity to protect soil and sequester carbon while favoring fruit and timber tree plantations and greater livestock productivity in the upper parts of the watersheds.  This component will also help to restore 200 hectares of Macaya Park forests, solve land tenure conflicts, build small dams and water tanks, promote sheep breeding, and co-finance a coffee-washing center.
Component 3 will use help to clarify the complex land tenure situation within and around the park and to proceed with its physical demarcation, a crucial measure for its effective protection and management.
Component 4 will set aside $308,000 to monitor and help prevent GHG emissions and promote carbon sequestration in the area.

The IDB-GEF grant will complement a $30 million grant for Haiti that the IDB approved earlier this month to finance anti-flooding works in three critical watersheds and promote sustainable agriculture development.
By Keith R | September 23, 2009 @ 10:18 pm |
Topics: Waste & Recycling | No Comments »
As more and more public administrations (municipal, state, federal) in Brazil mandate the procurement and use of recycled paper, whether by law or green procurement policy, the pulp and paper industry has seen the writing on the wall and asked Brazil's technical strandards-setting body, the Brazilian Association of Technical Norms (ABNT), to formulate a Brazilian standard on what constitutes recycled content for paper and board.  ABNT's Brazilian Committee on Pulp and Paper (ABNT/CB-29) created in June 2008 a study commission on recycled paper.
After participation by 93 representatives of producers, consumers and others, ABNT has published norm "ABNT NBR 15755:2009 – Recycled paper and board – Content of Recycled Fiber – Specification."  That NBR designation indicates that it is a mandatory, not voluntary, norm.  Under the norm in order to be called "recycled" in Brazil, paper or board must contain at least 50% recovered cellulose fiber (post-consumer and/or pre-consumer), and at least 25% of the total "recycled" product must use post-consumer material.
By Keith R | September 23, 2009 @ 7:00 pm |
Topics: Health Issues | No Comments »
From the Inter-American Development Bank (IDB):
IDB, Global Network to mobilize $30 Million to fight neglected tropical diseases

Announcement made during Clinton Global Initiative today

The Inter-American Development Bank (IDB) and the Global Network for Neglected Tropical Diseases announced today their commitment to mobilize $30 million from the public and private sectors to fight neglected tropical diseases in the Americas. The announcement was made in New York during the Clinton Global Initiative.

The new resources will be used to raise awareness and funding for control and elimination of neglected tropical diseases (NTDs) in the Americas. The Pan American Health Organization (PAHO), the regional office of the World Health Organization for the Americas (WHO), will offer technical support for the measures to be financed by the new fund. These efforts will work alongside existing programs aimed at reducing the suffering from NTDs for people in the Americas.

Several additional organizations are joining this partnership because the new fund will offer an important opportunity to make major strides in fighting NTDs in the region. The institutions joining the initiative include:

The Brazilian National Soccer Team – committing to raising awareness of NTDs in Brazil and the Americas
Deworm the World – donating 20 million deworming tablets to treat intestinal worms in preschool and school-age children in the region
GlaxoSmithKline (GSK) – reaffirming its support through its long-standing donation of albendazole for the global elimination of lymphatic filariasis (LF)
Lew Lara/TBWA – committing to providing in-kind advertising and brand marketing strategy services for the partnership's initial advocacy efforts in the Americas
Maureen Orth – as a Global Network Regional Ambassador, is committing to raise awareness in Colombia of the devastating impact NTDs have on the physical and cognitive development of children and the links between deworming and education
Miss Universe Organization – current and former pageant participants will go to regions to raise awareness and help deliver drug treatments
Partners for Philanthropic Change – committing to secure $10 million for NTD partnerships to be used toward NTD control in the Americas

"NTDs are some of the most common disabling and disfiguring diseases afflicting the poorest people living in the Americas," said Kari Stoever, Managing Director of the Global Network. "This commitment will provide more than 30 million people suffering from NTDs with preventive treatment and other public health services, while also raising awareness and political will for further action."

NTDs produce extreme poverty through their impact on children's physical and cognitive development, pregnancy outcomes and worker productivity. Based on their prevalence, soil transmitted helminths and Chagas disease cause the greatest NTDs burden in the Americas, followed by dengue, schistosomiasis, leishmaniasis, trachoma, leprosy, and lymphatic filariasis. More than 230 million people in the region are currently living with these devastating diseases. However, with a firm commitment from the public and private sectors, it is possible to eliminate onchocerciasis (river blindness), lymphatic filariasis and trachoma throughout the region, as well as schistosomiasis in the Caribbean.

This partnership is a concrete example of how organizations and governments can work together to support new investments to reach control and elimination goals under President Obama's Global Health Initiative. The new Regional Fund to be established with the money raised will specifically go to efforts in Latin American and the Caribbean. The funds will support country ownership and capacity, and beneficiaries include national governments, national programs and nonprofits. The partnership will promote integration with existing primary care initiatives such as vitamin A and immunization campaigns, and encourage collaboration with other programs to fight global diseases.

The IDB has been a leader in championing this approach through its efforts to create new linkages between water and sanitation projects and public health programs. PAHO is a long-time regional leader providing technical cooperation in health care systems and disease prevention, control and elimination to the countries of Latin America and the Caribbean.
By Keith R | September 22, 2009 @ 4:21 pm |
Topics: Energy Efficiency | No Comments »

Yesterday Uruguay promulgated an ambitious Law on the Efficient Use of Energy ("UEE Law") that may be  the broadest energy efficiency law yet in Latin America and the Caribbean (LAC). The law is largely the same as the bill proposed in 2008 by the President and drafted with help from a project funded by the Global Environment Facility (GEF).
Uruguay has struggled in recent years to meet its energy demands, at times having to mandate tough restrictions on energy usage by commercial and residential users alike to compensate for shortfalls in supply. It depends heavily on imported fossil fuels and hydroelectric generation (vulnerable to drought), although the country is working to diversify into renewable energy sources (see here and here).
A Master Plan
The Law's centerpiece is a 15-year National Energy Efficiency Plan that will map priorities and scheduled actions for implementing the Law, including:
national energy efficiency targets;
the energy-consuming equipment that will be subject to mandatory labeling;
energy efficiency norms for equipment, vehicles and buildings;
targets for maximum energy consumption or minimum energy efficiency for energy-consuming equipment, "when sound reasons and favorable market conditions exist."
Energy Labels
The Law says that no equipment utilizing energy for its functioning can be marketed in Uruguay that does not include nationally standardized information on energy consumption and performance via energy efficiency labels or seals. The information provided to the consumer regarding the energy consumption and performance of the equipment will be based on energy efficiency norms, in line with national technical norms, or absent that, those emitted by international standards organisms and included in national regulations. Equipment without proper labeling can be fined up to 100% of their sale price, and customs can block their import.
Be Efficient or Be Taxed
The Law gives the Executive Branch a choice: it either will set differential internal tax rates on all energy-consuming equipment marketed in Uruguay, or, failing that, energy efficiency minima setting minimum performance levels based on pertinent technical indicators. In so deciding the Executive is to consider the socioeconomic impact of the instruments, the adequacy of national production of more efficient technologies, and the population's accessibility to more energy-efficient technologies.
Article 14 places a 180% specific internal tax rate on equipment and artifacts of low energy efficiency, and empowers the Executive to change taxes on vehicles to reflect their fuel efficiency classification and use of alternative energy.
By Keith R | September 22, 2009 @ 11:22 am |
Topics: Chemicals, Hazardous Substances, Sustainable Agriculture | No Comments »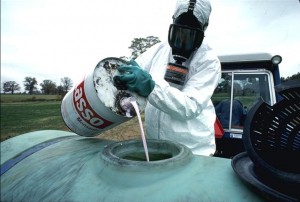 I've mentioned in the past that Brazilian states sometimes get impatient waiting for the federal government to act on environmental issues and elect to take their own action, which eventually prods the feds into action (sometimes because industry complains about conflicting state rules on the same subject). It looks that may be about to happen regarding pesticides.
Earlier this year I posted about the plans of the National Health Surveillance Agency (Anvisa) to ban or restrict 12 active ingredients for pesticides for health or environmental reasons based on a review of new or additional data and regulatory actions taken by other nations on 14 active ingredients. Anvisa hoped to have this process wrapped up by mid-year, but this timetable has since slipped.
The state that is Brazil's largest agricultural producer, and the state with the largest population, São Paulo, may not wait. In fact, they may even go further than Anvisa intends to. A bill was recently introduced in the state assembly that would ban — not just restrict — every one of the 14 pesticides on Anvisa's review list. These are:
abamectin
acephate
carbofuran
cyhexatin
endosulfan
phorate
phosmet
glyphosate
lactofen
methamidophos
paraquat
methyl parathion
tiram
trichlorfon
In addition, the bill calls for (a) the state to take all necessary measures to recover and ensure an adequate final destination for the banned chemicals; (b) promote organic foods; (c) holding an annual Agrotoxics Protection Week in the week containing 13 May during which the state will educate the public about the environmental and health risks of pesticides.
The bill's sponsor, Simão Pedro [Worker's Party (PT)], argues that SP should take this step to show leadership in environment and health issues.
It will be interesting to see whether SP's strong agricultural and chemical lobbies will allow this bill to reach a plenary vote.
By Keith R | September 21, 2009 @ 5:24 pm |
Topics: Tobacco Control | No Comments »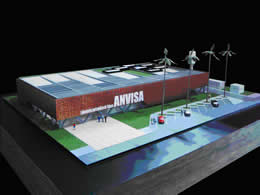 Brazil's National Sanitary Vigilance Agency (Anvisa) announced today that in 2010 it will construct a Control Laboratory for Tobacco-Derived Products on Ilha do Fundão, the artifical island home to "University City" and the Federal University of RJ (UFRJ) in the metropolis of Rio de Janeiro.
The R$8 million Laboratory will be the reference center for Latin America in the World Health Organization's (WHO) Tobacco Laboratory Network (TobLabNet) and will conduct testing of the components of cigarettes and other tobacco products. Currently such tests are conducted outside the region.
By Keith R | September 21, 2009 @ 9:06 am |
Topics: Waste & Recycling | No Comments »

I've posted in the past about innovative Brazilian programs in the states of Ceará (CE), Mato Grosso (MT) and Rio de Janeiro (RJ) to get people to turn in recyclables in exchange for getting a reduction in their monthly electric power bill.  One of the programs I liked was Consciência EcoAmpla, run by Endesa's subsidiary in RJ state, Ampla.  Now it's added another twist that to my eyes makes it even more interesting.
What has made the EcoAmpla program noteworthy?  For one, the range of recyclables that they accept.  Their dozen collection posts [Araruama, Cabo Frio, Niterói (several), Petrópolis, São Gonçalo, São Pedro da Aldeia, Teresópolis] accept most metal (aluminum cans, iron, bronze, stainless steel, lead, antimony, tin — copper is not accepted), most paper (white paper, colored paper, cardboard, newspapers, magazines), plastic packaging (particularly PET, plastic bags), glass bottles and containers, Tetrapak, and used cooking oil (which will be sold to companies that make soap and biodiesel).
Another is the way Ampla arranges the trade — they use personalized electronic cards.  When a client brings in recyclables to the center, they are weighed and their value is calculated depending on type (aluminum cans or PET bottles, for example, get better values than cardboard). The value is credited to the card, which can be used as discounts when the client goes to pay his/her electric bill.
Ampla says that in one year its EcoAmpla program has received 400 metric tons of recyclables, registered 35,000 clients in the program and given $67,000 in discounts on electric bills.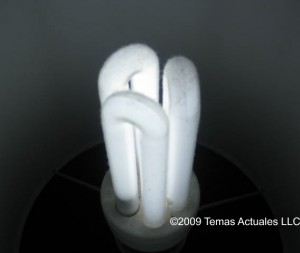 The new twist is that Ampla is encouraging clients to exchange their used "yellow" (incandescent) light bulbs for (more expensive but more efficient) compact fluorescents.  And if they trade in 10 bulbs in one month, they can participate in a drawing to win one of five (energy-efficient) Cônsul 300 refrigerators to be given away.  By getting their customers to switch to CFLs, Ampla helps households lower their monthly household bills — and of course it frees up some capacity for Ampla.
What's next for the program?  Introducing a mobile trade-in post in Niterói.
I've said it in the past, but it bears repeating: I would love to see Endesa implement this program in the other markets in which they operate in Latin America, namely Argentina (Edesur), Chile (Chilectra), Colombia (Codensa) and Peru (Edelnor).  I also would like to see other power utilities follow suit.

Loading ...
By Keith R | September 20, 2009 @ 10:26 am |
Topics: Climate Change | No Comments »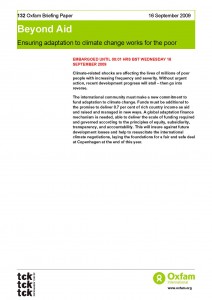 From Oxfam International:
Rich countries must not raid aid to pay climate debt

A new Oxfam report has today warned that at least 4.5 million children could die unless world leaders deliver additional funds to help poor countries fight the growing impact of climate change, rather than diverting it from existing aid promises.

The warning comes as world leaders prepare to join President Obama at his first United Nations address on climate change, at next week's Climate Summit in New York on 22nd September. The meeting will be followed by the G20 Summit on the 24th September, where climate finance will be high on the agenda. With only Denmark, the Netherlands and the UK in support of additional funds, Oxfam is concerned that December's climate negotiations in Copenhagen could fail, unless action is taken now by Heads of State.

The report, 'Beyond Aid,' also warns that at least 75 million fewer children are likely to attend school and 8.6 million fewer people could have access to HIV/AIDS treatment if aid is diverted to help poor countries tackle climate change. Without at least $50 billion a year in addition to the 0.7 per cent of national income rich countries have already pledged as aid, recent progress toward the Millennium Development Goals could stall and then go into reverse.

There have been great strides toward the Millennium Development Goals (MDGs) since their inception in 2000. In just seven years,

90 per cent of children in poor countries have been enrolled in school.
Between 1999 and 2005 there was a 24 per cent drop in the number of people living in extreme poverty,
and between 1990 and 2007 the number of deaths in children under five plummeted by 3.6 million, despite population growth.

But despite these gains, poor countries are struggling to meet the MDGs and many goals still fall short of the mark. Diverting aid for climate adaptation would strain an already overstretched system. For example, whilst Zambia now has free healthcare for all people living in rural areas and around 149,000 people are receiving lifesaving treatment for HIV/AIDS, one in six children still die before they reach the age of five and the number of mothers losing their life in pregnancy and childbirth is increasing. Ghana has abolished all primary school fees, resulting in 1.2 million more children being able to attend school. Yet almost half of Ghana's population lives on less than US$1 a day and four out of ten men and women in Ghana cannot read or write.

"Funds must be increased – not diverted – to help poor countries adapt to climate change and this cannot be seen as a two for one deal by politicians. Rich countries must not steal money from poor hospitals and schools in order to pay their climate debt to the developing world," said Jeremy Hobbs, Executive Director of Oxfam International.

"World leaders must show they are not content to stand by and watch recent successes in combating poverty, such as children attending school, mothers surviving child birth and the sick receiving life saving drugs, reversed," he added.

Oxfam points to the Global Fund, set up in 2002 to fight AIDS, tuberculosis and malaria, as an example of how political will on a global scale can mobilize money quickly and effectively. To date, the Global Fund has approved funding for $15.6 billion in more than 140 countries.

Like the Global Fund, a fund for climate adaptation must be made available quickly, equitably governed, managed under streamlined arrangements and transparent. Currently there is no single route for delivering money for adaptation. A 'spaghetti bowl' of aid channels means it is impossible to determine which governments have and have not delivered their promises. To date, less that half the money pledged for adaptation funding has been delivered.

Climate shocks and the short-term measures that poor people take in order to cope can have long-term impacts, potentially spanning generations. Without adequate support to adapt to the changing climate, the effect is a downward spiral into deeper poverty and increased vulnerability. In the absence of additional adaptation funding, Oxfam is seeing people in poor countries going without food, pulling their children out of school or selling off cattle and other assets critical to their livelihoods, so that they can pay for debt caused by continuing failed crops and other climate shocks.

Efforts to help communities adapt to climate change have proved successful in Oxfam projects around the world. In Char Atra in Bangladesh, where increased flooding has caused people to lose both homes and lives, 70 per cent of people now have access to clean water during flooding, death due to diarrhea has been virtually abolished and over 100 homes have been raised above flood level. Likewise investment in small-scale farmers, such as training in new cropping techniques, the introduction of drought-resistant seeds and effective irrigation systems has helped ensure that food is available even in times of drought and failing rains. With 20 million people under threat of rising sea levels, 26 million people displaced as a direct result of climate change and many facing hunger and loss of life due to climate shocks, the twin challenge of addressing poverty and alleviating climate change has never been more pressing for aid agencies.
« Previous Entries
Next Entries »