Temas Reading List: Air Quality
Pan American Health Organization (PAHO/OPS). Evaluación de los Efectos de la Contaminación del Aire en la Salud de América Latina y el Caribe. 2005. Spanish. 72pp
This is the first region-wide technical assessment of air pollution in the Latin America and the Caribbean (LAC) region, and its impact on the health of its inhabitants. As such, it will be the principal reference on the subject for several years to come.
______________________________________
Simoni, Daniela. Contaminación atmosférica y conciencia ciudadana. Published by the UN Economic Commission for Latin America & the Caribbean (ECLAC/CEPAL). Spanish. 2003. 278 pp.
This book focuses on an issue critical for the success of plans for air pollution control: citizens' awareness regarding air pollution. How best to promote citizen participation in decision-making on policy so that the result is a socially acceptable standard of air quality? The book is divided into two parts: the first examines two studies, one on citizen awareness of the need for air pollution control, the other on links between participation, citizenship and pollution. Part 2 of the book examines the results of pilot projects on this issue carried out with CEPAL help in Mexico City, Santiago (de Chile) and São Paulo. "During the project's implementation it became clear that none of these cities has achieved a degree of citizens' awareness that goes beyond the most basic level and that a proactive approach to environmental protection is still a very distant goal."
_______________________________________
World Bank. "Improving Air Quality in Metropolitan Mexico City: An Economic Valuation." English. 2002. 62 pp.
A Policy Research Working Paper in which Bank economists try to estimate the economic benefits (in 1999 US$) of various air pollution policy options. "By estimating the magnitude of the benefits from air pollution control, the authors provide motivation for examining specific policies that could achieve the air pollution reductions that they value. They also provide unit values for the benefits from reductions in ambient air pollution (for example, per microgram of PM10) that could be used as inputs into a full cost-benefit analysis of air pollution control strategies."
_______________________________________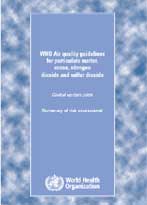 World Health Organization. WHO Air quality guidelines for particulate matter, ozone, nitrogen dioxide and sulfur dioxide – Global update 2005 English and Spanish. 2006. pp. The first major overhaul of WHO's widely-observed Air Quality Guidelines (AQGs) since 1997. WHO first released AQGs in 1987 in response to requests from governments for some guidance on what standards to set for particular airborne contaminants based on scientific assessment of their health impacts, using technical studies and epidemiological data. The "global" version of the AQGs were updated in 1997, although WHO's European Office (EURO) has been working on scientific assessment and updating the guidelines for regional use since then. This new version of the AQGs relies heavily on EURO's work. Unlike prior AQGs versions, this one addresses all regions of the world and attempts uniform targets for air quality (rather than ranges "based on local conditions," as were previously used for some contaminants). The new AQGs pose a significant challenge to LAC policymakers, because they dramatically lower standards for nitrogen dioxide (NO2) and sulfur dioxide (SO2), tighten standards for ozone (O3) and for the first time set global standards for large (10 microns in diameter or smaller) and fine (2.5 microns in diameter or smaller) particulate matter — and while doing so, set particulate standards substantially tougher than those in place in most LAC nations.
For a more complete discussion of the updated ACGs, see the Temas Blog review.

Tags: air pollution, Air Quality, air quality guidelines, Banco Mundial, calidad del aire, CEPAL, conciencia ciudadana, contaminación atmosférica, contaminación del aire, cost-benefit analysis, ECLAC, epidemiological data, Mexico City, nitrogen dioxide, NO2, O3, OMS, OPS, ozone, PAHO, particulates, PM10, PM2.5, public health, qualidade do ar, salud pública, Santiago, São Paulo, saude, SO2, sulfur dioxide, WHO, World Bank
Subscribe to My Comments Feed
Leave a Reply