Temas Reading List: Environmental Governance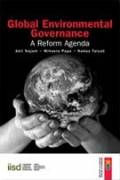 Najam, Adil; Papa, Mihaela; Taiyab, Nadaa. Global Environmental Governance: A Reform Agenda. Published by International Institute for Sustainable Development (IISD). English. 2006. 124 pp.
This report examines the "the sum of organizations, policy instruments, financing mechanisms, rules, procedures and norms that regulate the processes of global environmental protection" — or global environmental governance (GEG), for short — explains its evolution, analyzes its perceived shortcomings, and makes recommendations on how to improve it. If you deal with international environment issues at all, this book provides some worthwhile food for thought. It's particularly timely as the world debates whether or not to convert the UN Environment Programme (UNEP) into a full-fledged UN Environment Organization, and how best to reorganize how the UN system as a whole deals with sustainable development.
For a more complete discussion of this report, see the Temas Blog review.
_______________________________
Zaelke, Durwood; Kaniaru, Donald; Kružíková. Making Law Work: Environmental Compliance & Sustainable Development. Published by the International Network for Environmental Compliance & Enforcement, and the Institute for Governance & Sustainable Development. English. 2005. US$180.50 – order from Amazon.
Although not specific to LAC nations, this excellent two-volume work includes many examples from the region and, in any case, provides valuable lessons and ideas that can be applied in LAC. It selects the best literature available on how to improve environmental compliance and enforcement from the disciplines of law, politics, economics, social sciences and international relations. The book examines both theory and practice, and explores policy options and choices for a wide range of instruments, from the more traditional to newer ones such as emissions trading, right-to-know, using NGOs and ordinary citizens as watchdogs, and the rise of trans-governmental networks of regulators, legislators, judges and enforcement officials.
______________________________
OECD. Voluntary Approaches for Environmental Policy: Effectiveness, Efficiency and Usage in Policy Mixes. English. 2003. 144 pp. US$21 when ordered directly from OECD.
Many governments have shifted from traditional "command-and-control" environmental policy approaches to emphasis on voluntary industry initiatives, and industry frequently advocates such an approach. But do they work? Do they provide the environmental benefits they aim or claim to provide, and do they what they do in a cost-effective manner? This book is the first serious non-industry attempt to answer those questions, examining not only on theory and available literature, but also case studies. The conclusion — surprising given how many times the OECD has advocated voluntary approaches in the past — is that the environmental effectiveness frequently is questionable, and their economic efficiency is usually low.
_______________________________

Tags: emissions trading, environmental compliance, environmental enforcement, Environmental Governance, IISD, OCDE, OECD, PNUMA, right-to-know, UN system, UNEP, voluntary measures
Subscribe to My Comments Feed
Leave a Reply