Temas Reading List: Mining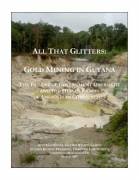 International Human Rights Clinic, Harvard Law School. All That Glitters: Gold Mining in Guyana. 2007. English. 73 pp.
A well-organized, easy-to-read, logically- and well-written report that looks at the shortcomings of the current gold mining regime in Guyana — its environmental, health and social impacts — as well as certain "structural impediments" (judicial system, border insecurity, etc.) through the lens of how it affects the human rights of the country's Amerindians. Their diagnosis of the Guyanese mining regime and systemic ills seems thorough and well thought-out, and most of their policy recommendations sound.
For a more complete discussion of this report, see the Temas Blog review
_____________________________________
International Development Research Centre (IDRC)/Mining Policy Research Initiative (MPRI). Mining Royalties. MPRI series Minería y Desarrollo Sustentable, No. 2. 2004. 12pp. English, Spanish and Portuguese.
Experts discuss current trends and debate regarding the benefits and limitations of tax and royalty systems applicable to mining. The publication also discusses the systems currently used in Canada and Chile.

_____________________________________
National Studies on Mining and Sustainable Development (2002)
_____________________________________
MPRI/Center for Environment Studies (CIPMA). Minería, Minerales y Desarrollo Sustentable en América del Sur. Spanish. 2002. 623pp.
This is an overview of sustainable development issues in the mining sector affecting South America, part of a special research project (MPRI) launched by Canada's IRDC. It includes detailed looks at the mining sectors of Bolivia, Brazil, Chile, Ecuador and Peru, and proposes an agenda for further investigation and debate.
_____________________________________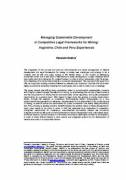 Bastida, Elizabeth. Managing Sustainable Development in Competitive Legal Frameworks for Mining: Argentina, Chile and Peru Experiences. Published by the Mining, Minerals & Sustainable Development (MMSD) project. English. 2002. 25pp.
This paper, produced under the MMSD commissioned by the World Business Council for Sustainable Development (WBCSD) and managed by the Sweden-based International Institute for Environment & Development (IIED), attempts to examine how developing countries grapple with balancing short-term demands for attracting investment with longer-term objectives of environmental protection and social development, and uses the cases of Argentina, Chile and Peru to illustration the tension between policy emphases.
_____________________________________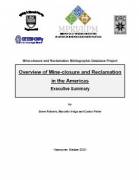 Peiter, Carlos; Roberts, Steve; Veiga, Marcello. Overview of Mine-closure and Reclamation in the Americas. 2000. 85pp. English, Spanish and Portuguese.
Although legislative changes underway in some countries (such as Peru) may soon make some of the content of this report outdated, overall it provides a good review of the thematic issues involved in mine closure and reclamation and how they are treated in both North and South America.
_____________________________________

Tags: América del Sur, Americas, Amerindians, Argentina, Bolivia, Brasil, Brazil, Chile, CIPMA, desarrollo sostenible, desarrollo sustentable, Ecuador, extractive sectors, gold, Guyana, Harvard, IDRC, IIED, mine closure, mineração, minería, mining royalties, MPRI, oro, ouro, Peru, reclamation, South America, sustainable development, WBCSD
Subscribe to My Comments Feed
Leave a Reply