Temas Reading List: Urban Environment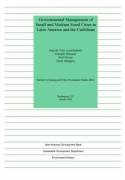 de Vries, Jaap; Schuster, Micaela; Procee, Paul; Mengers, Harry. Environmental Management of Small and Medium Sized Cities in Latin America and the Caribbean. Published by the Inter-American Development Bank (IDB). English. 2001. 52 pp.
This paper argues that too much attention has been focused on helping the large cities cope with their environment problems, and too little is known about the challenges facing small and medium cities, which constitute the overwhelming majority of municipalities in Latin America and the Caribbean.
____________________________________

Subscribe to My Comments Feed
Leave a Reply