« Greener Cell Phones? | Home | Quiz: Who is 5-Time World Champion Recycler of Aluminum Cans? »
By Keith R | January 13, 2007
Topics: Uncategorized | No Comments »
Things may get crazy for awhile here on the The Temas Blog.
When I launched this endeavor at the end of August, I admittedly set some very difficult goals for this blog to meet. While I thought about restricting its scope to one subject area or subset, I decided instead to cover all the topics I enjoy, contemplate and yes sometimes even tackle in the course of my work with Temas Actuales. That means environmental protection, health issues, consumer protection and occupational safety and health.
I also thought about whether to restrict the geographic coverage of the blog in some fashion — only treat true regional or subregional issues, for example, or omit the Caribbean, or focus only on the largest markets (Argentina, Brazil, Chile, Colombia, Mexico and Venezuela). But I decided against such narrowing.
Why? No, not because I'm crazy or masochistic (although there have been moments in the last four months when I have wondered…). As I said in my opening statement of mission for this blog, I did it because I have not found anything like it in the blogosphere, and feel that others will benefit from the information, discussion and interchange if I build it and build it right. I still believe that, and understand it takes time and dedication. The problem is, as I am sure many fellow bloggers can relate to, that it requires so much time and so much energy.
I also originally planned to post daily, if not more often. That proved wildly optimistic.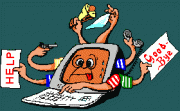 The thing is, while the post numbers may not reflect it, I did work on the blog almost daily. I would start drafts and save them (particularly those due to finish a multi-part series), or would do outlines, notes, thoughts and musings in a simple wordpad file (easiest for patching into the html box on my WordPress blog). I have a ton of them, many dating back to September and October.
Time slipped by, all too fast. What to do with the backlog, some of which is getting quite ripe by now?
I was tempted to just chalk it up to experience, archive them and forget about it. Sorely tempted.
Instead, I've winnowed out the very outdated, the ones that now (with 20/20 hindsight) seem less important, and the ones that won't be ready for prime-time without alot more work.
All of which is the long-winded way of saying I am about to emit a lot of material here in a little time, not all of it "the latest and greatest," but I think still worth reading. I hope you'll agree and stick with me during the ride.
— Keith R
Subscribe to My Comments Feed
Leave a Reply