« Implications of the Stern Review for LAC, Part I | Home | Jamaica to Privatize Wigton Windfarm »
By Keith R | December 27, 2006
Topics: Uncategorized | No Comments »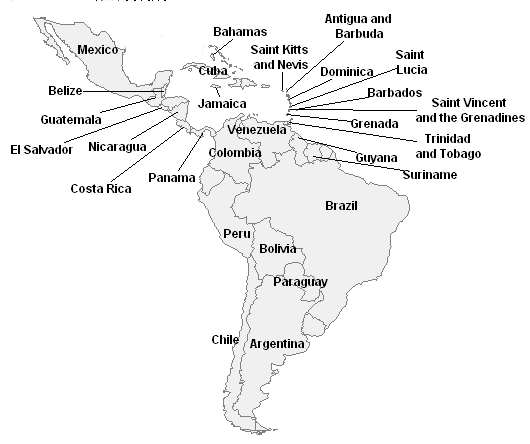 Ricardo from Ricardo's Blog and I have launched an effort to bring the best Latin American Blogs into a Blogroll. We want to be able to capture the best blogs with a regional focus so we can showcase the best talent and help each other. If you author a Latin American blog and want your blog to appear here, this post will tell you how to do it.
First of all, your blog has to cover Latin American issues. Blogs written by Latin Americans but not focused on regional issues will not be considered. The blog can be in Spanish, Portuguese or English (or all of the above!). The blog cannot sponsor any type of derogatory, hate or sexual material. All blogs are evaluated before they are allowed to join the blogroll.
The first blogs that join the blogroll have a saying on new members. We are focused on quality so we will not accept all the blogs that are submitted. Our goal is to have a blogroll of a manageable size, which we estimate to be around 30 blogs. All members on the blogroll need to publish the list on their sites.
If you want to join us just leave us a comment with the following fields:
Name of the Blog
URL
Brief description
Why do you want to join?
——————————————
Ricardo de Ricardo's Blog y yo hemos lanzado un esfuerzo de traer los mejores blogs latinoamericanos en un Blogroll. Deseamos capturar los mejores blogs con foco regional para mostrar el mejor talento y ofrecer apoyo mutuo. Si sea autor de un blog latinoamericano y quisieras que su blog apareciera aquí, explicamos como realizarlo.
En primer lugar, su blog tiene que cubrir asuntos latinoamericanos. No consideraremos los blogs escritos por latinoamericanos pero que no se tratan asuntos regionales. El blog puede ser escrito en español, portugués o inglés (¡o en los tres idiomas!). El blog no puede patrocinar ningún tipo de contenido derogatorio, odioso o sexual (erótico). Todos los blogs serán evaluados antes de que se permiten ser listados en el blogroll.
Los primeros blogs en el blogroll tienen voto sobre cuales otros entrarán en el blogroll. Nuestro énfasis será calidad y por eso no aceptaremos todos los blogs que apliquen. Nuestra meta es tener un blogroll de un tamaño manejable, que estimamos para ser alrededor 30 blogs. Todos los miembros en el blogroll necesitan publicar la lista en su blog. Si deseas ser socio dejarnos un comentario que cubre los campos siguientes:
Nombre del Blog
URL
Breve descripción
¿Por qué desea Ud. ser parte del blogroll?
——————————————–
Ricardo de Ricardo's Blog e eu lançamos um esforço de trazer os melhores blogs latinoamericanos num Blogroll. Nós queremos capturamos os melhores blogs com foco regional para mostrar o melhor talento oferecer apoio mútuo. Se você for o autor dum blog latinoamericano e quiser seu blog aparecer aqui, explicamos como fazer-o.
Antes de tudo, seu blog tem que cobrir os assuntos latinoamericanos. Os blogs escritos pelos latinoamericanos mas não focalizado nos assuntos regionais não serão considerados. O blog pode estar no espanhol, no português ou no inglês (ou nos três!). O blog não pode patrocinar nenhum tipo de conteúdo pejorativo, odioso ou sexual (erótico). Todos os blogs serão avaliados antes que estejam permitidos entrar no blogroll.
Os primeiros blogs no blogroll têm voto sobre quais do outros entram no blogroll. Nosso ênfase será qualidade e por isso não aceitaremos todos os blogs que são submetidos. Nosso objetivo é ter um blogroll de um tamanho fácil manejar, que nós estimemos para ser cerca de 30 blogs. Todos os membros no blogroll necessitam publicar a lista em seus sites.
Se você quiser ser sócio deixa-nos um comentário que cobre os seguintes campos:
Nome do Blog
URL
Descrição breve
Por que você quer entrar no blogroll?
— Keith R
Subscribe to My Comments Feed
Leave a Reply