« Aluminum Recycling Reconsidered | Home | Ecological Bricks Update »
By Keith R | August 29, 2007
Topics: Uncategorized | No Comments »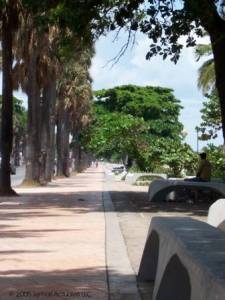 A Temas Anniversary
A year ago The Temas Blog was born. It's been one heck of a year.
I had some idea of the daunting task I was setting myself when I started this venture, but I had all the enthusiasm and energy of a neophyte blogger.
A year later, I have less energy — I think because I invested so much of it in the blog! My appreciation/understanding of the difficulty of the task is deeper [¡ay mama! What was I thinking! An entire region and three — not just one — broad issue areas! Am I nuts?!], but I remain determined to see it through.
And Miles to Go Before I Rest…
When I began I thought I'd be lucky to have enough material to post 2-3 times a week, and envisioned having the time and energy for an average of 10-12 posts per month. As it went on, I found that I had much more material than I had energy and time to blog about, but I somehow managed in one year to make over 400 posts and about a dozen free-standing pages (the glossary in English and Spanish, the guide to consumer protection in LAC, etc.).
I have done a lot, yet have not accomplished nearly what I wanted to and I have soooo much left to blog about.
I guess that means that I'll stick around — at least awhile longer.
Is it Worth It?
Blogging — at least the way I blog — is a lot of work, consuming much time and energy. Is it worth it? Hard to say. Until now it's been strictly a labor of love, without a thought as to how to pay for some of those man-hours invested. Anybody out there with a bright idea how I might make this blog work for me for a change? Beyond installing Google Adsense, that is.
Has it been worth it from your perspective, dear readers? Do you enjoy reading The Temas Blog? Do you read things here that interest you that you cannot find elsewhere, or perspectives you haven't gotten elsewhere? Am I providing "value-added"?
Which Way Forward?
Going forward, what changes, additions, subtractions or improvements would you Temas Blog readers like to see? Put another way, what posts have you liked best, and why? Which did you like least, and why? Which would you like to see more of? Are there subjects, issues or countries you want to see me cover more often and/or in greater depth?
Are there other things you would like me to add to the "Temas Tools" section? Perhaps another guide/overview, such as the one I did for environmental provisions in constitutions, or the overviews of consumer laws, agencies and NGOs in the region? [One is already under development: an overview of food safety regimes in LAC.] A Portuguese version of the glossary? (Surprisingly enough, the Spanish version of the glossary has proven to be the most popular page I have in this blog!) A new section for the Recommended Reading List? Maps? Photos? A guide to LAC's protected areas? Something completely different?
How about the style and presentation? For those of you who have been reading for some time, do you like the new theme? Can you spot any problems with it on your browser? (If so, please let me know immediately.) Are there features I should add (such as polls)? Any you would like to see go?
— Keith R
Subscribe to My Comments Feed
Leave a Reply