« Fostering a Renewable Electricity Market in Mexico | Home | Certifying Efficient Public Lighting »
By Keith R | August 17, 2007
Topics: Environmental Protection, Food/Beverage Issues, Packaging, Waste & Recycling | No Comments »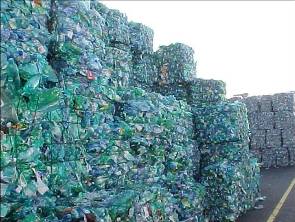 Synopsis in English: Brazil's National Sanitary Vigilance Agency (ANVISA) has published for public comment a proposal for a technical regulation setting out criteria for the recycling of packaging and equipment containing the plastic polyethylene terephthalate (PET). In essence, the proposal would replace a 1998 regulation not allowing recycled post-consumer PET to enter into contact with non-alcoholic carbonated beverages, and allow the use in food and beverage packaging of post-consumer recycled PET meeting a new "food grade" standard.
As ANVISA makes clear in the notice copied below, this draft regulation is not proposed for Brazil alone — rather it is the text proposed to become the standard on this subject for all MERCOSUR member states (Argentina, Brazil, Paraguay and Uruguay, as well as Venezuela once its membership is fully ratified). [A MERCOSUR technical regulation akin to the Brazilian regulation, was adopted by the member states in 1999.] The MERCOSUR officials hope that this standard will give a big boost to PET recycling and the collection, sale and trade in post-consumer PET packaging and end-of-life products with large PET components. [As I noted in an earlier post, Brazil is already a world leader in PET recycling.]
ANVISA is accepting comments from the public until 09 October at the postal, fax and email contacts indicated below.
_____________________________________
Desde a Agência Nacional de Vigilância Sanitária (ANVISA):
Anvisa propõe critérios para reciclagem de plásticos PET

A Agência Nacional de Vigilância Sanitária (Anvisa) colocou em discussão, com a sociedade, os critérios para a reciclagem de embalagens e equipamentos plásticos de Polietileno Tereftalato (PET). A proposta da Anvisa, aberta a contribuições até o próximo dia 9 de outubro, trata do aproveitamento seguro desses produtos para a fabricação de novas embalagens de alimentos.

O texto da Consulta Pública 74 sugere regras para que os plásticos PET sejam reciclados de forma que se assegure a saúde da população. Segundo o gerente de Ações de Ciência e Tecnologia de Alimentos da Anvisa, Lucas Dantas, novas tecnologias de reciclagem de PET garantem a limpeza e descontaminação do produto descartado após o consumo, independentemente do sistema de coleta.

Segurança – No processo de fabricação de uma nova embalagem a partir de produtos PET, os materiais passam por várias etapas. Ao receber o plástico descartado, a indústria seleciona, lava, separa, seca, transforma por meio de extrusão ("passagem forçada de um metal ou plástico através de um orifício", ou seja, uma das etapas do processamento) e cristaliza o material plástico para dar origem à matéria-prima conhecida como resina PET. "Este produto serve como base para a produção de embalagens que serão utilizadas para alimentos", explica Dantas.

De acordo com a legislação sanitária, as embalagens e os equipamentos em contato direto com alimentos devem atender a normas específicas de boas práticas de fabricação. Essas regras contribuem para evitar que a qualidade dos produtos seja prejudicada e que haja risco à saúde humana.

Mercosul – A Consulta Pública 74 foi discutida e harmonizada, no último mês de junho, na Comissão de Alimentos do Mercado Comum do Sul (Mercosul). Após a conclusão do processo de consulta, a Anvisa submeterá o texto à referida comissão, que possivelmente irá publicá-lo como "Resolução Mercosul". Em seguida, o Brasil e demais países do bloco (Argentina, Paraguai e Uruguai, além da Venezuela, em processo de adesão) – que também estão em processo de consulta pública sobre a adequada reciclagem de produtos PET – terão um prazo de 180 dias para incorporar os regulamentos ao ordenamento jurídico de cada nação.

As normas sanitárias para alimentos devem ser iguais entre os países membros do bloco com o objetivo de permitir o livre trânsito desses produtos. Por isso, os requisitos técnicos são os mesmos no Mercosul. As exigências para a conformidade da segurança e aprovação das embalagens pela autoridade nacional sanitária competente valem tanto para a produção nacional quanto para importação, incluindo registro obrigatório e rotulagem específica das embalagens.

Plástico – O PET é o material utilizado, principalmente, na fabricação de garrafas plásticas para refrigerantes e sucos, entre outros alimentos. A adequada reciclagem dessas embalagens, seguindo as exigências do regulamento técnico proposto pela Anvisa, irá favorecer o meio ambiente.

Participação – Críticas e sugestões relativas à Consulta Pública 74 podem ser encaminhadas para o endereço da Anvisa: Gerência-Geral de Alimentos, SEPN 511, Bloco A, 2º andar, Ed. Bittar II, Asa Norte, Brasília-DF, CEP 70.750.541; para o fax (61) 3448-6274; ou para o e-mail: gacta@anvisa.gov.br
Tags: Anvisa, Argentina, Brasil, Brazil, embalagens de alimentos, extrusão, food packaging, garrafas plásticas, juices, MERCOSUL, MERCOSUR, non-alcoholic carbonated beverages, Paraguay, PET, PET resin, polyethylene terephthalate, reciclagem, reciclaje, recycled PET, recycling, refrescos, refrigerantes, registro obrigatório, resina PET, soft drinks, sucos, Venezuela
Subscribe to My Comments Feed
Leave a Reply