« Paraná Goes for 100% Take-Back of Pesticide Packaging | Home | HP's Cartridge Recovery Program in LAC »
By Keith R | August 7, 2007
Topics: Biodiversity, Climate Change, Conservation, Economics & the Environment, Sustainable Forest Use | No Comments »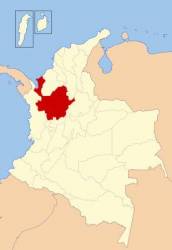 Synopsis in English: Last week the Environment Ministry signed an agreement with the World Bank for the first project in Colombia, and one of the first in the world, involving the sale of carbon credits for "reduction of emissions from deforestation" (i.e., "avoided deforestation").
The project involves some 1,410 hectares in San Nicolás Valley in Antioquia Department (a "department" is akin to a state or province in other countries). The project will not only pay to keep more forest cover from being lost in the valley, but involve 465 families there and create 277 jobs in recovering abandoned pastures, creating new forest plantations involving native trees, protection of the habitats of local fauna and water conservation. Their work will be undertaken in cooperation with the Autonomous Regional Corporation for the Negro and Nare River Basins (Corporación Autónoma Regional de las Cuencas de los Ríos Negro y Nare – Cornare), the Corporación Más Bosques ("More Forests Corporation") and an association representing the campesinos of the San Nicolás Valley.
All in all it is estimated to capture about 270,000 tons of CO2, for which the World Bank will pay US$1 million in carbon credits, to be resold to countries (probably European) seeking to meet their greenhouse gas emission goals under the Kyoto Protocol.
_____________________________________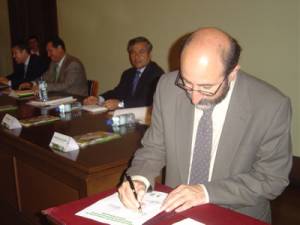 Desde el Ministerio de Ambiente, Vivienda y Desarrollo Territorial (MAVDT):
PROYECTO PILOTO EN EL MUNDO: VENTA DE US$1 MILLÓN EN CERTIFICADOS DE REDUCCIÓN DE CO2 EN ANTIOQUIA

Inicialmente se beneficiarán 465 familias del nordeste antioqueño y se generarán 277 empleos directos

Entidades colombianas firmaron este jueves con el Banco Mundial un convenido para venderle certificados de reducción de gases efecto invernadero (C02) por 1 millón de dólares.

El proyecto, que busca frenar la deforestación en el Valle de San Nicolás (Antioquia), propone alternativas productivas para las comunidades y el cuidado de los bosques locales para evitar su tala y así la emisión de 80.000 toneladas de CO2 que de no evitarse contribuirían al calentamiento global.

Este es el primer proyecto de Reducción de Emisiones por Deforestación (RED), o deforestación evitada en el país y uno de los primeros en el mundo.

"El pago por deforestación evitada consiste en un reconocimiento económico al trabajo de conservación de nuestras selvas y bosques", dijo el ministro de Ambiente, Vivienda y Desarrollo Territorial, Juan Lozano Ramírez, durante la firma del acuerdo.

Además este proyecto contiene por primera vez en Colombia –agregó- un componente de apoyo comunitario que beneficia a gente buena y honrada, luchadora y batalladora como son todas las comunidades del oriente antioqueño. Esto demuestra que el esfuerzo por proteger la riqueza natural tiene un reconocimiento.

El Ministro aplaudió la labor que viene adelantando la Corporación Autónoma Regional de las cuencas de los Ríos Negro y Nare (Cornare) y la Corporación Más Bosques (Asociación con los campesinos del Valle de San Nicolás) en la regeneración y cuidado de los bosques a través de estos proyectos.

El convenio también incluye un proyecto de reforestación en el mismo Valle de San Nicolás que aplica al Mecanismo de Desarrollo Limpio (MDL). Los compradores serán países industrializados que necesitan estos certificados para cumplir con sus cuotas bajo el Protocolo de Kyoto, cuyo objetivo es la mitigación del cambio climático global.

Este componente del proyecto consiste en recuperar pasturas abandonadas y establecer plantaciones forestales con especies nativas, y sistemas agroforestales y silvopastoriles.

Con él se beneficiarán 465 familias antioquenas que tendrán ingresos por los productos provenientes de estos sistemas además de la venta de las toneladas de las 270,000 toneladas de CO2 capturadas.

El proyecto de 1.410 hectáreas también tiene beneficios como la creación de 277 empleos en su etapa inicial, la protección del hábitat de la fauna local y la conservación del agua.

"Es hora de reclamarle al mundo desarrollado su responsabilidad frente a países como el nuestro que empiezan a padecer los efectos adversos del calentamiento global en sus ecosistemas de páramo, en sus zonas de nevado, y en sus zonas costaneras. Nosotros creemos que el mundo desarrollado tiene que hacer un esfuerzo financiero significativo, para mitigar estos efectos del calentamiento global", dijo el Ministro.
Tags: Antioquia, avoided deforestation, Banco Mundial, calentamiento global, cambio climático, carbon credits, clean development mechanism, Climate Change, Colombia, conservación del agua, Cornare, Corporación Más Bosques, créditos de carbono, deforestación, deforestation, gases de efecto invernadero, greenhouse gases, MAVDT, mecanismo de desarrollo limpio, mecanismo de desenvolvimento limpo, plantaciones forestales, reforestación, sistemas agroforestales, sistemas silvopastoriles, Valle de San Nicolás, water conservation, World Bank, zonas costaneras
Subscribe to My Comments Feed
Leave a Reply