« The Dark Side of Scrap II | Home | Aiming to Eliminate Chagas by 2010 »
By Keith R | July 9, 2007
Topics: Climate Change, Energy Efficiency, Environmental Protection, Protection of the Ozone Layer | No Comments »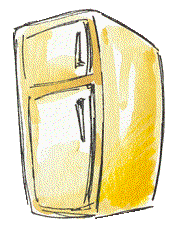 The Environment Secretariat (SEA) of the Brazilian state of Rio de Janeiro (RJ) recently signed an agreement with a power company (Ampla) to initiate a program of the exchanging old refrigerators and air conditioners for new ones among the state's poor families. A similar agreement is to be signed with Light, another power provider in the state.
The idea, as State environment Secretary Carlos Minc puts it in the official press release copied below, is a triple play: to improve energy efficiency among household appliances, cut greenhouse gas emissions in the process (by reducing electricity consumption), and remove from service older refrigerators and air conditioners still operating with coolants (primarily chlorofluorocarbons – CFCs) that deplete the Earth's ozone layer.

The RJ program will allow any low-income family registered with the state as having income below a certain level to exchange for free their old refrigerator or air conditioner for a newer, CFC-free model whose energy efficiency has been certified by the Procel program and which meets the dictates of state law 2.457/95 (authored by Minc himself when he was a State Deputy) which forbade the sell of refrigerators whose coolant could not be easily removed and recycled. The utility handles the distribution of the refrigerators and ensures that the old models are removed so that they are actually retired rather than sold.
SEA hopes to retire some 25,000 old refrigerators and air conditioners in RJ per year this way.
Why only target poor families, and why give it to them for free? The thinking evidently is that better-off families have the resources to gradually replace their household appliances for more efficient, ozone-friendly ones, but poor families will hang onto old, inefficient units long past their normal product life because they cannot afford to replace them. Trying to squeeze more product life out of these old units through informal repair increases the possibility of release of ozone-depleting gases.
Brazilian studies suggest that as much as 70% of the electricity consumption in poor households is tied to old, inefficient refrigerators. Most poor families should see their electric drop to a quarter of the prior monthly total, and many of those interviewed as prospective beneficiaries of the program talk of utilizing the savings to purchase other things they have needed but could not afford, such as glasses or medicines.
The purchase of the new refrigerators used in the program is financed by the federal Energy Efficiency Fund. The Fund is fed by earmarking 0.25% of every electric bill, and is managed by the Ministry of Mines and Energy (MME). For its part, RJ state pledges not to apply the 10% ICMS tax to the new refrigerators involved in the program. Last but not least, the families participating in the program must pledge not to make illegal non-metered electrical hook-ups to power lines (question: if they are discovering violating this pledge, are their refrigerators seized?).
This month (July) RJ will be opening in Duque de Caixas a plant to take the old appliances to safely recover the coolants and ensure their adequate disposal.
The SEA press release does not say what happens with the old refrigerators and air conditioners once their coolants are extracted, but I am endeavoring to find out. I hope that they are not simply being sent to landfill or scrap yard before being properly dismantled, and any hazardous and easily recyclable materials removed. It would be a shame not to take advantage of this program in order to start an appliance waste recovery and dis-assembly program.
Rio is Only the Latest, and Not the Last
RJ is the fifth Brazilian state to initiate participation in the underlying federal program. The northeastern state of Bahia, in cooperation with Grupo Neoenergia via its Electricity Company of the State of Bahia (Companhia de Eletricidade do Estado da Bahia – Coelba) subsidiary, kicked it off last August. The program there involved exchanging 12,000 old refrigerators, plus three incandescent light bulbs per household for three compact fluorescents (CFLs), mostly in and around the state capital of Salvador.
More recently Neoenergia's Pernambuco subsidiary, the Energy Company of Pernambuco (Companhia Energetica de Pernambuco – Celpe), launched a similar, smaller program in the Metropolitan Region of Recife, involving 3,000 refrigerators and 90,000 CFLs.
In the case of both Bahia and Pernambuco, the several tons of CFCs collected from the old refrigerators is sold to the federal government and the money from the sale reinvested by the state governments as social projects to generate employment in poor neighborhoods. The feds use the CFCs to service other old equipment not yet retired from the market, so as to avoid the importation of the ozone-depleting chemicals.
Neoenergia also committed to ensuring that the insulating foam in the old refrigerators is stripped out and properly disposed of, and the remaining metal components scrapped and sold to dealers, with the proceeds from the sale earmarked for projects in the poor communities.
The Amazonian state of Pará initiated a similar program last year, involving the trade-in of refrigerators by some 3,000 poor families. It was followed by the Amazonian state of Acre at the beginning of June 2007. The Acre program involves the state-owned utility Eletroacre and will involved 12,000 families before it is through. The program is particularly critical for Eletroacre, which wants to reduce the amount of diesel it consumes to provide power to homes in that state, thereby reducing significantly its (and the state's) carbon emissions. Eletroacre calculates that it will save 10,000 liters of diesel a month as a result of the refrigerator trade-ins.
Just days before Rio announced its program, the Federal District (DF) and Energy Company of Brasilia (Companhia Energética de Brasília – CEB) launched one whereby it will exchange 4,000 refrigerators and 75,000 CFLs.
The state of Tocantins, together with the (Companhia de Energia Elétrica do Estado de Tocantins – Celtins), is about to launch a refrigerator and CFL exchange program for 350 poor families in Araguaína. Celtins reckons that it will save 350 MW a year.
Eventually the federal government hopes to have exchange programs operating in every state.
— Keith R
______________________________
Desde a Secretaria del Ambiente do Estado de Rio de Janeiro (SEA):
SEA inicia troca de geladeiras usadas para eliminar gases que agravam aquecimento global

Duas importantes iniciativas para proteção da camada de ozônio e para combater o aquecimento global foram lançadas hoje (27/06) pelo secretário estadual do Ambiente, Carlos Minc, em parceria com o governo federal e a empresa de energia elétrica Ampla: acordos de cooperação que incluem a troca de geladeiras usadas por novas que não utilizem gases CFCs e economizem energia.

Os acordos de cooperação foram assinados durante o seminário Cooperação entre Governos e Iniciativa Privada para Proteção da Camada de Ozônio e do Sistema Climático Global, realizado no Hotel Rio Othon Palace, em Copacabana.

No primeiro acordo, o Rio se compromete a unir esforços para eliminação dos CFCs, pela troca de geladeiras. A meta do governo estadual é promover cerca de 25 mil trocas de geladeiras e ares-condicionados por ano. O primeiro ato desse programa está previsto para julho. O outro acordo, firmado com a Ampla, visa à promoção de ações voltadas para a eficiência energética.

Financiadas pelo Fundo de Eficiência Energética, as geladeiras "verdes" – que estarão isentas do pagamento de ICMS – serão doadas para pessoas de baixa renda. Além de geladeiras pouco eficientes e que agridem a camada de ozônio, por causa de liberação dos gases CFCs, será incentiva a troca de aparelhos de ar-condicionado.

De acordo com o secretário Carlos Minc, a troca de aparelhos velhos por novos será processada pelas concessionárias junto às famílias cadastradas pelo Estado dentro de critérios de carência financeira que as caracterizem como de baixa renda.

Além disso, será inaugurada, também em julho, em Duque de Caxias, na Baixada Fluminense, uma fábrica que dará destinação adequada ao CFC, a fim de impedir a liberação para a atmosfera desse gás que destrói a camada de ozônio que protege a Terra dos raios ultravioletas do Sol.

– Este é um programa três em um: protege a camada de ozônio, não emitindo CFCs; aumenta a eficiência energética, pois os aparelhos novos gastam bem menos energia elétrica que os antigos; diminui o efeito estufa, porque os CFCs também aumentam a temperatura da Terra; e eleva a arrecadação das operadoras de energia e do próprio estado, por meio de mais impostos, porque o morador que trocar o aparelho se compromete a não fazer "gatos" na rede elétrica – explicou o secretário de Ambiente, adiantando que os mesmos convênios deverão ser assinados em breve com a Light, outra concessionária de energia.

Os acordos prevêem a troca de geladeiras e aparelhos de ar-condicionado antigos por novos fabricados dentro de normas estabelecidas pela Lei estadual 2.457/95. Esta lei proíbe a fabricação de aparelhos que usam gases CFCs e obriga as empresas de manutenção desses equipamentos a retirar esses gases e reaproveitá-los, evitando a instalação de novos CFCs e que os velhos gases sejam liberados na atmosfera.

Pelos convênios assinados, a compra de aparelhos novos será financiada com recursos do Fundo de Eficiência Energética, do Ministério de Minas e Energia. A contrapartida do governo estadual é o compromisso de isentar de ICMS a transação comercial desses aparelhos.

Minc explicou que o fundo é capitalizado com a destinação de 0,25% da conta de energia elétrica cobrada dos consumidores e tem duas destinações: financiar pesquisas de eficiência energética e custear programas como o da emissão de gases nocivos à atmosfera.

– Este convênio é um ato importante dos governos federal e estadual, num momento histórico, quando se comemoram os 20 anos do Protocolo de Montreal, que tem por meta a eliminação das substâncias destruidoras da camada de ozônio. O Rio de Janeiro está dando a sua contribuição para que o futuro possa ser melhor para todos – completou Minc.

Também estiveram presentes na abertura do seminário, entre outras, a secretária de Mudanças Climáticas e Qualidade Ambiental do Ministério do Meio Ambiente, Thelma Krug, representando a ministra Marina Silva, o diretor presidente da Ampla, Cristian Fierro, e a chefe da Unidade do Protocolo de Montreal, Suely Carvalho.
Tags: Acre, air conditioner, Ampla, Araguaína, Bahia, Brasil, Brasilia, Brazil, cambio climático, Carlos Minc, Celpe, Celtins, CFCs, chlorofluorocarbons, Climate Change, clorofluorcarbonos, Coelba, compact fluorescents, Distrito Federal, Duque de Caixas, eficiencia energética, electrodomésticos, Eletroacre, eletrodomésticos, Energy Efficiency, Federal District, greenhouse gases, household appliances, ICMS, lámparas fluorescentes compactas, mudanças climáticas, Neoenergia, neveras, Pará, Pernambuco, Procel, Recife, Rio de Janeiro, Salvador, Tocantins
Subscribe to My Comments Feed
Leave a Reply