« Update: Colombian Eco-Authorities Now Have Sharp Teeth? | Home | Update: Tackling Greenhouse Gas Emissions from Livestock in LAC »
By Keith R | August 8, 2008
Topics: Environmental Protection, Sanitation, Waste & Recycling | No Comments »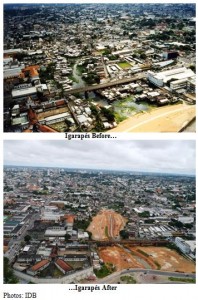 Temas Observations: Two small points about this loan: (1) this loan comes close on the heels of Fiocruz's announcement of a major program to assess the environment and health challenges facing Manaus; (2) the loan was made to Amazonas state, not the municipality or the federal government.
_______________________
From the Inter-American Development Bank (IDB):
Brazil's Amazonas gets IDB support to improve living conditions in Igarapés

IDB loan will directly benefit more than 15,500 families in Manaus

Brazil's Amazonas state will obtain a US$154 million loan from the Inter-American Development Bank to finance the construction of drainage, sewage, solid waste collection and disposal systems. The project will benefit people living in areas prone to flooding and waterborne disease in its capital, Manaus.

The project will finance works in the Igarapés of Educandos/Quarenta and São Raimundo watersheds, home to more than 600,000 people. The IDB loan will finance urban renewal and reorganization, including the construction of drainage, flood control structures and homes. It will also finance the execution of socio-cultural activities needed to resettle the families living in risky areas. Approximately 15,500 people will be free from the frequent flood impacts after the program's completion.

By controlling the direct discharge of sewage and solid waste to the Igarapés, the program will also contribute to the improvement of the Igarapés' water quality. The aim is to reduce the incidence of severe diarrhea by more than half, and the level of biodegradable organic matter (BOD5) from 240 mg/l to approximately 20 mg/l. Another outcome is the reduction in the number of squatter settlements by 5 percent in Manaus.

The IDB has focused its efforts in improving living conditions of low-income families in fast-growing Brazilian cities. Like other Brazilian metropolitan areas, Manaus has expanded rapidly, with the population growing more than five-fold in the past three decades to approximately 1.7 million. Many migrants occupy areas on the banks of streams, known as igarapés, which are affected by the periodic floods that occur during the January-June rainy season.

The IDB loan, which will mature in 25 years with a 5-year grace period, will finance 70 percent of the total cost of the project. The loan will be denominated in U.S. dollars and will charge the London Interbank Offered Rate (Libor).

The facility will complement another loan from the Bank granted to the state in 2006 to begin sanitation and other water works in Educandos/Quarenta watershed, which is located in the heart of the city of Manaus.
________________________
Desde o Banco Interamericano de Desenvolvimento (BID):
Estado do Amazonas recebe apoio do BID para melhorar as condições de vida nos igarapés

Empréstimo do Banco vai beneficiar diretamente mais de 15 mil famílias em Manaus

O Estado do Amazonas vai receber empréstimo de US$154 milhões do Banco Interamericano de Desenvolvimento para financiar obras de drenagem e escoamento de esgoto e sistemas de coleta e disposição de lixo. O projeto vai beneficiar famílias que vivem em áreas mais vulneráveis a enchentes e que mais sofrem com doenças causadas por água contaminada em Manaus.

O projeto financiará obras nos igarapés de Educandos, Quarenta e São Raimundo, lar de mais de 600 mil pessoas. O empréstimo do BID vai permitir a renovação e reorganização urbana, incluindo a construção de estruturas de drenagem, controle de enchentes e de casas. Também serão financiadas atividades socioculturais durante o processo de reassentamento das famílias que vivem em áreas de risco. Aproximadamente 15,5 mil pessoas vão ficar livres dos impactos das enchentes depois que o programa estiver finalizado.

Ao controlar a descarga direta de esgoto e lixo nos igarapés, o programa vai contribuir com a melhoria da qualidade da água na região. O objetivo é reduzir a incidência de diarréia aguda nas comunidades em menos da metade e o nível de resíduo biodegradável orgânico de 240 mg/litro para aproximadamente 20 mg/l. Outro resultado esperado é a redução do número de assentamentos irregulares em 5% na cidade de Manaus.

O BID tem focado seus esforços no Brasil na melhoria das condições de vida das famílias de baixa renda nas cidades brasileiras que crescem mais rapidamente. Como outras áreas metropolitanas, Manaus se expandiu rapidamente. A população aumentou mais de cinco vezes nas três últimas décadas e hoje é de aproximadamente 1,7 milhão de pessoas. Muitos imigrantes chegam à cidade e ocupam as áreas às margens dos córregos e riachos, conhecidos como igarapés, afetados periodicamente por enchentes, principalmente entre os meses de janeiro e julho, o período de chuvas na região.

O empréstimo do BID tem prazo de 25 anos, com cinco anos de carência e vai financiar 70% do total do projeto. O empréstimo é em dólares americanos e terá juros na taxa do London Interbank Offered Rate (Libor).

Essa operação vem complementar outro empréstimo do BID concedido ao Estado do Amazonas em 2006 para o início das obras de saneamento e abastecimento de água nos igarapés de Educandos e Quarenta, localizados no coração da cidade de Manaus.
________________________
Desde el Banco Interamericano de Desarrollo (BID):
El estado brasileño de Amazonas consigue apoyo del BID para mejorar las condiciones de vida en los Igarapés

Préstamo del BID beneficiará directamente a más de 15.500 familias en Manaus

El estado de Amazonas obtendrá un préstamo de US$154 millones del Banco Interamericano de Desarrollo para financiar la construcción de los sistemas de drenaje, depuración de aguas residuales y desechos sólidos y sistemas de eliminación de basura. El proyecto beneficiará a las personas que viven en la capital de Manaus en áreas que son propensas a las inundaciones y a las enfermedades producidas por aguas contaminadas.

El proyecto financiará obras en las cuencas de los Igarapés de Educandos/Quarenta y de São Raimundo, donde viven más de 600.000 personas. El préstamo del BID financiará la renovación y reorganización urbanas, incluyendo la construcción de sistemas de drenaje, así como el control de inundaciones en estructuras y casas. También financiará la ejecución de actividades socio-culturales que son necesarias para la reubicación de las familias que viven en áreas de riesgo. Después de que se haya implementado el programa, aproximadamente unas 15.500 personas serán protegidas de los impactos frecuentes de las inundaciones.

Al controlar que se viertan directamente en las cuencas de los Igarapés las aguas residuales y los deshechos sólidos, el programa también contribuirá al mejoramiento de la calidad del agua de los Igarapés. El objetivo es reducir la incidencia de diarreas severas en más de la mitad, y el nivel de materias orgánicas biodegradables (BOD5) de 240 mg/l a aproximadamente 20 mg/l. Otro posible resultado en Manaus es la reducción del número de asentamientos ilegales en cinco puntos porcentuales.

El BID ha focalizado sus esfuerzos en mejorar las condiciones de vida de las familias de bajos ingresos en las ciudades de mayor crecimiento en Brasil. Como otras áreas metropolitanas del país, Manaus se ha expandido rápidamente, con una población que ha crecido más de cinco veces en las últimas tres décadas, hasta llegar a 1,7 millones de personas en la actualidad. Muchos inmigrantes ocupan áreas en las riberas de los arroyos, conocidos como igarapés; las cuales son afectadas por inundaciones periódicas que ocurren durante el período de lluvias que va de enero a junio.

El préstamo del BID, que vence en 25 años y con un período de gracia de 5 años, financiará el 70 por ciento del costo total del proyecto. El préstamo tiene una denominación en dólares americanos y una tasa de interés Libor.

La operación se complementa con otro préstamo del Banco otorgado al mismo estado en 2006 para empezar los trabajos de saneamiento y otras obras de agua potable en la cuenca de Educandos/Quarenta, que se encuentra ubicada en el corazón de la ciudad de Manaus.
Tags: aguas negras, aguas residuales, alcantarillado, Amazonas, biodegradable organic matter, Brasil, Brazil, coleta de lixo, controle de enchentes, desechos sólidos, diarréia, drainage, drenagem, drenaje, Educandos, environment, esgoto, flood control, Igarapés, inundaciones, Libor, Manaus, meio ambiente, qualidade da agua, Quarenta, resíduo biodegradável orgânico, saneamento, Sanitation, São Raimundo, sewage, waste collection, waste management, water quality, waterborne disease, watershed management
Subscribe to My Comments Feed
Leave a Reply