« WHO Calls for Combatting Occupational Cancers | Home | The Carbon Market 2007, Worldwide and in LAC »
By Keith R | May 2, 2007
Topics: Energy & the Environment, Environmental Protection, Renewable Sources | 4 Comments »
The Bank makes a point of detailing how they believe they have minimized the adverse environmental impact of this dam project. In fact, they almost sound defensive about it. Are any of my readers familiar with the project, that they can confirm or refute the Bank's claims? Just curious.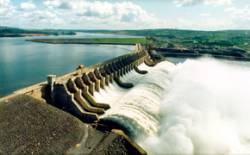 From the Inter-American Development Bank (IDB):
IDB approves US$87.8 million loan for hydroelectric project in Ecuador

Baba Project includes construction of 8-km diverter to Daule Peripa reservoir

The Inter-American Development Bank (IDB) today approved a US $ 87.8 million loan for the construction of a dam, the "Baba dam," at the confluence of the Baba and Toachi rivers, equidistant between the cities of Quito and Guayaquil.

The project consists of the construction, operation and maintenance of the Baba dam and the construction of an 8-km. diverter from the reservoir formed by the Baba dam to the Daule Peripa reservoir and the Marcel Laniado de Wind (MLW) generation plant.

The MLW plant currently uses only 80MW of its total installed capacity of 213MW. The objective of the project is therefore to allow for the use of the idle installed capacity of the MLW plant in order to generate an additional average of 388GWh of energy per year.

"Ecuador suffers from a deficit in hydro-generation investments, and its capacity to cover current demand is decreasing," said project team leader, Jean-Marc Aboussouan. "This shortfall, combined with rapidly increasing demand for energy due to a growing economy, electrification and urbanization means Ecuador must import increasing amounts of electricity."

According to Aboussouan, the additional energy the MLW plant will be able to generate after construction of the Baba dam represents approximately 22% of the country's current electricity imports.

The total cost of this public-private partnership project is approximately US $ 195.2 million. The private sector will contribute both capital and debt financing. Its key participant is the Brazilian company Odebrecht Investimentos em Infra-Estrutura Ltda. (OII). The public sector will contribute through revenues generated from the existing energy produced at the MLW.

The IDB's participation has contributed significantly to the project's environmental and social management, particularly as it relates to the design of an adequate compensation and resettlement plan, developing a more integrated and effective environmental management system and helping develop innovative solutions to water issues downstream of the dam, explained Aboussouan.

The Bank and other project shareholders have held various public participation events, including consultation on original project design and meetings about the adopted alternative design.

The alternative project design proposed by Odebrecht has allowed for substantial reduction in land acquisition and resettlement. Instead of 240 families that would have had to be relocated in the original design, only 43 families will have to be relocated; and land acquisition is limited to 1,099 hectares compared to the original 3, 760 hectares.

Under the adopted design, no protected areas or ecological sensitive habitats will be affected.

Construction of the Baba dam is expected to last two years.
Desde el Banco Interamericano de Desarrollo (BID):
BID aprueba préstamo de US$87,8 millones para represa hidroeléctrica en Ecuador

Proyecto Baba incluye canal de desvío de 8 km a embalse Daule Peripa

El Banco Interamericano de Desarrollo (BID) aprobó hoy un préstamo por 87,8 millones de dólares para la construcción de la represa de Baba en la confluencia de los ríos Baba y Toachi, equidistante de las ciudades de Quito y Guayaquil, en Ecuador.

El proyecto consiste en la construcción, operación y mantenimiento de la represa de Baba y un canal de desvío de 8 kilómetros desde el embalse formado por dicha represa hasta el embalse de Daule-Peripa y la planta generadora Marcel Laniado de Wind. (MLW).

Actualmente la planta MLW sólo utiliza 80 MW de su capacidad instalada total de 213 MW. El objetivo de este proyecto es posibilitar el uso de la capacidad adicional de la planta de MLW para generar hasta 388GWh adicionales en promedio de energía al año.

"Ecuador padece un déficit de inversiones en generación de energía hidroeléctrica y su capacidad de cubrir la actual demanda también se está reduciendo", dijo el Jefe de Equipo del BID Jean-Marc Aboussouan. "Este déficit, combinado con una demanda de energía que se incrementa aceleradamente debido al crecimiento de la economía, la electrificación y la urbanización, obliga a Ecuador a importar un volumen de electricidad cada vez mayor".

Según Aboussouan, la energía adicional que la planta MLW podrá general después de la construcción de la represa Baba equivale al 22% del volumen de energía eléctrica que Ecuador importa actualmente.

El costo total de este proyecto de asociación público-privada es de aproximadamente 195,2 millones de dólares. El sector privado proporcionará capital y financiamiento mediante endeudamiento. Su participante clave es la compañía brasileña Odebrecht Investimentos em Infra-Estrutura Ltda. (OII). El sector público contribuirá a través de ingresos generados de la energía que actualmente produce la planta de MLW.

La participación del BID ya ha supuesto una importante contribución a la gestión medioambiental y social del proyecto, especialmente en relación al diseño de un plan adecuado de indemnización y reasentamiento, a la elaboración de un sistema de gestión ambiental más integrado y eficaz, y la colaboración para elaborar soluciones innovadoras con respecto a los temas hídricos aguas abajo de la represa, explicó Aboussouan.

El Banco y otras partes interesadas del proyecto han sostenido varios eventos de participación pública, incluyendo consultas sobre el diseño original del proyecto y reuniones sobre el nuevo diseño adoptado.

El nuevo diseño propuesto por Odebrecht permitió reducir de manera substancial las adquisiciones de tierras y los reasentamientos. El número de familias que serían reubicadas disminuyó de 240 a 43, y la adquisición de tierras se limitó a 1.099 hectáreas, en comparación con las 3.760 hectáreas del plan original.

Bajo el diseño revisado no se verá afectada ninguna área protegida ni ningún hábitat ecológicamente sensible.

Se espera que la construcción de la represa Baba dure dos años.
Tags: Baba dam, BID, Daule Peripa reservoir, Ecuador, embalse Daule Peripa, energia hidroeléctrica, hydroelectric, IDB, Odebrecht, represa de Baba, represa hidroeléctrica, resettlement, rio Baba, rio Toachi
4 Responses to "IDB Loan for Dam in Ecuador / Préstamo del BID para Represa Hidroeléctrica en Ecuador"
Leave a Reply