« Legislators from the Americas to Meet on Climate Change | Home | An Alcohol Control Bill for Uruguay »
By Keith R | September 9, 2008
Topics: Conservation, Environmental Protection, Sustainable Tourism | No Comments »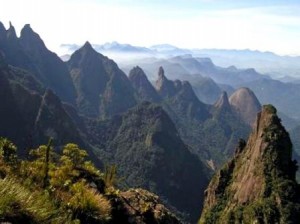 Synopsis in English: Environment Minister Carlos Minc recently announced a package of R$50 million to stimulate ecotourism in six federal conservation units (unidades de conservação federais – UCFs) with a view to investing in infrastructure (primarily visitor centers, belvederes and guided trails) and contracting concessions for visitors services (restaurants, guides, etc.).  Adventure tourism will also be promoted.  The six UCFs are the National Parks of Serra dos Órgãos (Rio de Janeiro – RJ), Jaú (Amazonas – AM), Chapada dos Veadeiros (Goiás – GO), Aparados da Serra (Rio Grande do Sul – RS), Serra da Capivara (Piauí – PI), and the National Marine Park of Fernando de Noronha (Pernambuco – PE).
Minc feels that these UCFs can be better protected if more people can visit, enjoy and appreciate them.  He pointed out that, of the 3.5 million visitors now visiting UCFs, more than 90% of them visit only two — the Iguaçu National Park in Paraná (site of the famous Iguaçu Falls) and Tijuca National Park (site of Corcovado, the statue of Christ overlooking Rio).
Minc also has suggested that the government authorize the construction of parkways through UCFs that would ease tourist access to their sights, as long as the roads are constructed carefully not to harm the park environment and vehicles are required to move at low speeds (much like the practice in US National Parks).
________________________
Desde Agência Brasil:
Minc anuncia R$ 50 milhões para estimular ecoturismo

O ministro do Meio Ambiente, Carlos Minc, informou hoje (31) que, até setembro, o governo lançará um pacote de R$ 50 milhões para estimular o ecoturismo em seis unidades de conservação federais, com previsão de investimentos em infra-estrutura e licitação para concessão de serviços de atendimento ao visitante.

Os recursos, segundo Minc, serão distribuídos entre os Parques Nacionais da Serra dos Órgãos (RJ), do Jaú (AM), da Chapada dos Veadeiros (GO), dos Aparados da Serra (RS), da Serra da Capivara (PI) e o Parque Nacional Marinho de Fernando de Noronha (PE). Os investimentos federais deverão custear a construção de centros de visitantes, trilhas guiadas, mirantes e a contratação de guias.

Os serviços de restaurantes e turismo de aventura deverão ser concedidos a empresa privadas, por meio de licitação pública, segundo Minc.

"O objetivo é defender melhor, curtir melhor e fazer com que as unidades de conservação gerem lucro", disse Minc, após dar posse ao novo presidente do Instituto Chico Mendes de Conservação da Biodiversidade, Rômulo Mello.

De acordo com o ministro, as unidades de conservação federais recebem cerca de 3,5 milhões de visitantes por ano, mas 90% da visitação é concentrada nos Parques Nacionais do Iguaçu (PR) e da Tijuca (RJ).

Minc adiantou, ainda, que o governo deverá autorizar a construção de "estradas-parque", linhas que poderão cruzar as unidades de conservação, desde que sigam exigências como baixa velocidade e uso de materiais não poluentes.
Tags: adventure tourism, Amazonas, belvederes, Brasil, Brazil, Carlos Minc, centros de visitantes, Corcovado, ecotourism, ecoturismo, environment, Fernando de Noronha, Goiás, guided trails, Instituto Chico Mendes, meio ambiente, mirantes, Paraná, Parque Nacional da Chapada dos Veadeiros, Parque Nacional da Serra da Capivara, Parque Nacional da Tijuca, Parque Nacional do Iguaçu, Parque Nacional do Jaú, Parque Nacional dos Aparados da Serra, Parque Nacional Serra dos Órgãos, parques nacionales, Pernambuco, Piauí, restaurants, Rio de Janeiro, Rio Grande do Sul, trilhas guiadas, unidades de conservação, visitor centers
Subscribe to My Comments Feed
Leave a Reply