« Toward a Green Building Rating System for Mexico | Home | CVRD Opts for Railroad Ties of Recycled Plastic »
By Keith R | October 2, 2007
Topics: Climate Change, Economics & the Environment, Energy & the Environment, Environmental Protection | 1 Comment »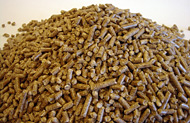 From the United Nations Food and Agriculture Organization (FAO):
Converting wood waste into pellets to reduce greenhouse gases

Costa Rica pioneers "green" project for poor countries

Costa Rica's pilot project to convert polluting wood residues into a profitable "green" energy source, presents new prospects for timber industries in developing countries, FAO said today.

The project converts large stockpiles of sawdust and other residues from wood industries into wood pellets which can be used as a renewable source of energy, and as a substitute for fossil fuels.

"Costa Rica's pioneer project will help to reduce greenhouse gas emissions and contribute to sustainable development," says Jan Heino, FAO Assistant Director-General for Forestry, working with the government of Costa Rica to provide technical assistance.

In many countries, surplus wood residues from sawmills occupy large amounts of space and often pollute local rivers. The decay of these residues leads to emissions of methane, a very potent greenhouse gas that contributes to climate change. Moreover, the residues can ignite spontaneously and thus present a fire risk for the sawmill owner.

Global trade in carbon credits

The project in Costa Rica is based on the Kyoto Protocol's so called Clean Development Mechanism (CDM). Public or private entities may fulfill their obligations under the Protocol through investing in "Clean Development" projects in developing countries. While reducing emissions, CDM projects aim to promote sustainable development in the host country. Emission reductions achieved through a CDM project can be traded as tons of carbon dioxide equivalent for a value of approximately US$ 10 for one ton.

Under the CDM, the pilot project for the production and use of wood pellets in Costa Rica could have a two fold benefit: on the one hand, through avoiding methane emissions from woodwaste produced by local sawmills, and on the other, by substituting fossil fuels with wood pellets, a renewable fuel, in local industries.

A medium to large scale sawmill, for example, could generate carbon credits for avoiding methane for a value of more than US$1 million over a crediting period of seven years and other companies could receive about the same amount for replacing fossil fuels through pellets. The pilot project will assist smaller sawmill operations, which often cannot avoid accumulating stockpiles and their frequently negative environmental impacts.

To date the CDM has met with strong demand and market approval in both developed and developing countries, according to the United Nations Framework Convention on Climate Change (UNFCCC), with some 800 projects registered in 48 countries and 1300 others in the pipeline. The CDM as a whole is estimated to generate around two billion tons of carbon credits by the end of 2012, the end of the first commitment period of the Kyoto Protocol, an amount that corresponds to the annual emissions of Russia.

In order for countries to benefit from CDM projects, they must have first ratified the Kyoto Protocol. They must also establish a so called Designated National Authority, usually a body within a relevant government ministry that can approve CDM project proposals. Countries must also be able to prove that without the CDM project, there would be more greenhouse gas emissions.

FAO initiated a revision of the existing CDM methodology for small-scale methane avoidance projects, and is awaiting approval by the UNFCCC's Executive Board. As a result of this revision, developing countries like Costa Rica would be able to capture greater benefits from the CDM opportunities.
_______________________________
Desde la Organización de la Naciones Unidas para la Agricultura y la Alimentación (FAO):
Combustible con residuos de la madera para combatir el efecto invernadero

Costa Rica es pionera en un proyecto ecológico para los países pobres

El proyecto piloto de Costa Rica para convertir desechos contaminantes en una fuente de energía "verde" y rentable ofrece nuevas alternativas a la industria maderera de los países en desarrollo, según anunció hoy la FAO.

El proyecto supone la conversión de grandes cantidades de serrín y otros residuos de la industria maderera en pellets (cilindros de serrín triturado y prensado, ndr) que pueden ser utilizados como fuente renovable de energía, y son una alternativa a los combustibles fósiles.

"El proyecto pionero de Costa Rica ayudará a reducir las emisiones de gases causantes del efecto invernadero y contribuirá al desarrollo sostenible", señaló Jan Heino, Subdirector General de la FAO al frente del departamento de Bosques, que proporciona asesoramiento técnico al Gobierno de Costa Rica.

En muchos países, los residuos sobrantes de los aserraderos ocupan un espacio considerable y a menudo contaminan los ríos de la zona. La descomposición de estos residuos genera emisiones de metano, un gas que contribuye en gran medida al efecto invernadero y al cambio climático. Es más, los residuos pueden arder de forma espontánea, por lo que representan un riesgo de incendio para el aserradero.

Comercio mundial de créditos de carbono

El proyecto en Costa Rica está basado en el denominado Mecanismo para un Desarrollo Limpio (MDL) incluido en el Protocolo de Kyoto. Las entidades públicas o privadas pueden cumplir con las obligaciones que implica el Protocolo invirtiendo en proyectos de "Desarrollo limpio" en países en desarrollo. Al tiempo que reducen las emisiones perjudiciales, los proyectos MDL tienen como objetivo promover el desarrollo sostenible en el país donde se llevan a cabo.

La reducción de emisiones alcanzada mediante un proyecto MDL puede ser canjeada por su equivalente en toneladas de dióxido de carbono (CO2), con un valor aproximado de 10 dólares EE.UU. por tonelada.

Bajo el MDL, el proyecto piloto para la producción y uso de pellets de madera en Costa Rica tendría un doble beneficio: de un lado, evitando las emisiones de metano procedente de los desechos madereros de los aserraderos locales, y por otro, sustituyendo los combustibles fósiles por pellets de madera –una fuente de energía renovable- en la industria local.

Un aserradero de tamaño medio a grande, por ejemplo, puede generar créditos de carbono por evitar emisiones de metano por valor de más de un millón de dólares EE.UU. por un periodo de siete años, y otras empresas pueden recibir una cantidad similar por reemplazar los combustibles fósiles con pellets. El proyecto piloto ayudará a los aserraderos pequeños, que a menudo no pueden evitar la acumulación de desechos y los efectos negativos que ello supone para el medio ambiente.

Iniciativa bien recibida

Hasta la fecha el MDL ha tenido una fuerte demanda y ha sido bien recibido por el mercado tanto en los países desarrollados como aquellos en desarrollo, según la Convención Marco de las Naciones Unidas sobre el Cambio Climático (CMCC), con cerca de 800 proyectos registrados en 48 países y otros 1 300 en preparación. Se calcula que en conjunto, el MDL generará cerca de 2 000 millones de toneladas de créditos carbono a finales de 2012, cuando termine el primer periodo de compromiso del Protocolo de Kyoto. Esa cantidad corresponde a las emisiones anuales de Rusia.

Para que los países puedan beneficiarse de los proyectos MDL, deben haber ratificado antes el Protocolo de Kyoto. Tienen también que haber establecido lo que se llama Autoridad Nacional Designada -normalmente una institución dentro de un ministerio gubernamental-, que pueda aprobar las propuestas de los proyectos MDL. Los países tienen que ser capaces también de probar que sin el proyecto MDL, se producirían más emisiones de gases de efecto invernadero.

La FAO ha iniciado la revisión de la metodología del Mecanismo para un Desarrollo Limpio existente para los proyectos a pequeña escala que pretenden evitar las emisiones de metano, y está esperando la aprobación de la Junta Ejecutiva del CMCC. Como resultado de esta revisión, países en desarrollo como Costa Rica serán capaces de obtener mayores beneficios de las oportunidades que abre el MDL.
Tags: aserraderos, carbon credits, clean development mechanism, Costa Rica, créditos de carbono, desechos madereros, energía verde, FAO, gases de efecto invernadero, green energy, greenhouse gases, industria maderera, Kyoto Protocol, madera, mecanismo de desarrollo limpio, mecanismo de desenvolvimento limpo, metano, methane, Protocolo de Kyoto, sawmills, wood, wood pellets, wood residues
One Response to "Wood Pellets, "Green" Energy and Carbon Credits / Pellets de madera, energía "verde" y créditos de carbono"
Primer edificio con balance energético positivo | Sustentator en Español Says:
November 15th, 2009 at 3:02

[…] termodinámico asociado a una fuente de calor que funciona con una energía renovable (caldera a pellets de madera), y un sistema de enfriamiento adiabático. La circulación del aire es asegurada por una central […]
Leave a Reply